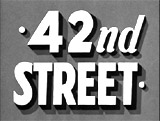 In Lloyd Bacon's classic backstage musical with landmark, spectacular designs, scores of chorus girls, large extravagant and escapist musical 'production numbers', sumptuous art deco sets, surrealistic imagery, optical effects, zoom lenses, fast-paced timing and rhythmic editing, and wise-cracking, crisp and bawdy dialogue:
the first of Busby Berkeley's films with chorus girls as kaleidoscopic patterns in the movie musical that invented all the cliches
the sequence of show producers Jones (Robert McWade) and Barry (Ned Sparks) preparing to stage Pretty Lady - a Broadway musical, despite the Depression; they had hired the well-known "musical comedy director" Julian Marsh (Warner Baxter), a famous Broadway director who was unseen and in close-up who signed the Jones/Barry contract; the bankrupt, wild-eyed and broke Marsh, due to the Stock Market Crash in 1929, was only interested in recouping his economic fortunes ("Money!"), and although haggard and ill, he assured his producers: "Well, this is my last shot! I'll make a few more actors. But this time, I'm gonna sock my money away so hard that they'll have to blast to find enough to buy a newspaper. That's why I'm goin' ahead with Pretty Lady. And Pretty Lady's got to be a hit. It's my last show and it's got to be my best. You're counting on me. Well, I'm counting on Pretty Lady, because it's got to support me for a long time to come"
Marsh's Harsh Words for Cast During the Show's Production
the scene of the highly-driven Marsh's description of the 5-week harsh routine of preparing for the production of his last Broadway show Pretty Lady - he glared, growled, and made many harsh demands as he paced back and forth in front of the lucky chorines, while smoking nervously; in his vicious, bellowing voice, he ferociously delivered a dyspeptic pep talk and verbal lashing to his female cast: "All right, now, everybody. Quiet, and listen to me. Tomorrow morning, we're gonna start a show. We're gonna rehearse for five weeks and we're gonna open on scheduled time. (He brandished his cigarette) - And I mean scheduled time. You're gonna work and sweat and work some more. You're gonna work days and you're gonna work nights. And you're gonna work between time when I think you need it. You're gonna dance until your feet fall off and you're not able to stand up any longer. BUT five weeks from now, we're going to have a show!..."
the most notable scene - one of the most famous exhortations of motivational instructions in film history; just before the opening night's show, the show's haggard-looking director Marsh coaxed naive understudy chorus girl Peggy Sawyer (Ruby Keeler) onto the stage from the wings to replace the show's ailing star Dorothy Brock (Bebe Daniels) with a broken ankle -- with the famous words: "Now, Sawyer, you listen to me and you listen hard. 200 people, 200 jobs, $200,000 dollars, five weeks of grind and blood and sweat depend upon you. It's the lives of all these people who've worked with you. You've got to go on, and you have to give and give and give. They've got to like you, they've got to. Do you understand? You can't fall down, you can't, because your future's in it, my future and everything all of us have is staked on you. All right now, I'm through. But you keep your feet on the ground, and your head on those shoulders of yours and go out. And Sawyer, you're going out a youngster, but you've got to come back a star!"
Director Marsh to Replacement Peggy Sawyer: "You've got to come back a star"
Dorothy also encouraged Peggy as her replacement: "Go out there and be so swell that you'll make me hate you"
the film's three major production numbers in the finale included: "Shuffle Off to Broadway" - about a newlywed couple on their honeymoon on a train named the Niagara Limited (sung and danced by Ruby Keeler and Clarence Nordstrom as "The Groom") when the observation deck on the caboose of the newlyweds' train opened up to reveal a cross-section of the entire interior of the train; each of the compartments were occupied by chorines wearing satin PJs or nightgowns, some with curlers or applied cold-cream
also "I'm Young and Healthy" (sung by Dick Powell as leading man co-star Billy Lawler) - a number (with overhead shots) that was set amidst dazzling white chorines on circular revolving turntables, with further circles and lines of endlessly-reproduced chorus girls in kaleidoscopic patterns
and the "42nd Street" production number - in which star Ruby Keeler tap-danced heavily atop a taxi - when the camera pulled way, it revealed that she was on a set that depicted the busy intersection of Broadway and ("naughty, gaudy, bawdy") 42nd Street (a mammoth set with rows of identical-looking chorus girls) -- and then she was perched atop and peeking over the skyscraper-skyline of NYC with Powell, waving to the audience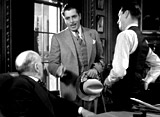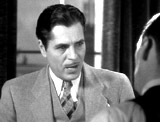 Show Director Julian Marsh Assuring Show Producers of Success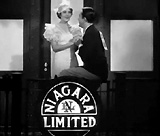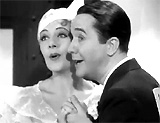 "Shuffle Off to Broadway"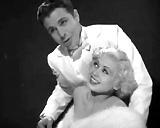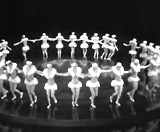 "I'm Young and Healthy"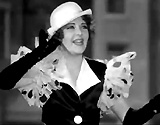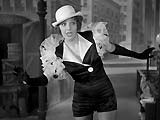 Peggy's Performance of a Clumsy and Heavy-Footed Tap-Dance in "42nd Street"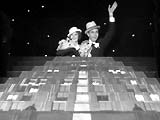 "42nd Street"