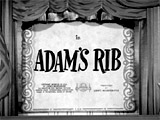 In director George Cukor's battle-of-the-sexes romantic comedy:
the scene of the attempted assault/murder of her philandering, two-timing husband Warren Attinger (Tom Ewell) by wife Doris Attinger (Judy Holliday) after reading an instruction manual about how to use a gun
the two main characters - husband/wife Amanda and Adam Bonner (Katharine Hepburn and Spencer Tracy) - who revealed their different viewpoints about the sexes during an early driving scene in the city: Amanda: "There are lots of things that a man can do and in society's eyes, it's all hunky-dory. A woman does the same thing - the same, mind you, and she's an outcast...All I'm saying is, why let this deplorable system seep into our courts of law, where women are supposed to be equal?"
the realization that they would be dueling lawyers -- prefaced by Adam's first learning of his wife's role as defense attorney against him: "I'm going to defend her" - (he toppled a tray of drinks)
Dueling Lawyers

Arguing

Confrontation on Massage Table
("A little slap")

Battling in Court
also the scene of the Bonner's confrontation on a massage table at home when he slapped her behind hard: ("What are you - sore about a little slap?" and her reply: "I know a slap from a slug")
the scene of Doris' speech in court to defend herself
and the closing dialogue including Adam's phrase to Amanda: "Vive la difference!"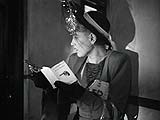 Doris Reading Gun Instruction Manual


"Deplorable System"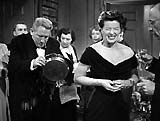 Adam Spilling Tray of Drinks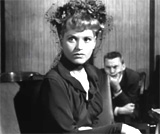 Doris in Court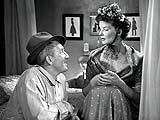 "Vive la difference!"