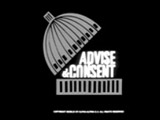 Advise & Consent (1962)
In this complex and controversial drama about party politics with a big-name cast was directed by Otto Preminger - based upon Allan Drury's highly influential and best-selling, Pulitzer Prize-winning political potboiler of 1959. It was both praised for its daring homosexual subplot (taken directly from the novel) and also condemned for its datedness. In one scene, it stereotypically portrayed a NYC gay bar (Club 602) with the voice of Frank Sinatra singing on the jukebox and the effeminate bartender beckoning for a horrified homosexual character to enter:
the plot was about the cancer-stricken US President's (Franchot Tone) controversial and unpopular nomination of independent-minded Robert A. Leffingwell (Henry Fonda) to the position of Secretary of State. He sought the "advice" and "consent" of the US Senate for confirmation. In the Senate, the President's appointment was: supported by Senate Majority Leader Bob Munson (Walter Pidgeon) from Michigan, and opposed by southern Senator Seabright "Seab" Cooley (Charles Laughton), who branded Leffingwell as an ex-left-wing, former Communist Party member
| | | |
| --- | --- | --- |
| Senator Bob Munson (Walter Pidgeon) - Supportive of Leffingwell's Nomination | Dixiecrat Senator Seabright Cooley (Charles Laughton) - Opposed to Leffingwell's Nomination | Herbert Gelman (Burgess Meredith) - Damaging Testimony Against Leffingwell : "He's a Communist!" |
the head of the Senate nominating sub-committee to gather testimony regarding Leffingwell's appointment was stringently-honest, idealistic and principled Utah Senator Brigham Anderson (Don Murray). When testifying under oath before the Senate subcommittee, Leffingwell denied the "Communist" accusation from Sen. Cooley. However, he was confronted by the testimony of a surprise witness - Treasury Dept. clerk Herbert Gelman (Burgess Meredith), who openly declared: "He's a Communist" - Gelman claimed that in the past in Chicago, Leffingwell had participated in secret meetings and discussions within a "Communist cell" using code names. He also claimed that he had been a student in Leffingwell's class, and lost his job at the Federal Power Agency where Leffingwell also worked at the time. Leffingwell countered by claiming that Gelman was mentally-unstable, and was not registered as one of his university students.
in fact, after the hearing, Leffingwell met privately with the President who had appointed him, and admitted that he had lied, and asked to have his name withdrawn: "I lied at the hearing. I knew Herbert Gelman. I knew him in Chicago. I knew him at those meetings. They were communist meetings, Mr. President. I was never a party member, but I was young, looking for a cause. Didn't take long to discover that wasn't it, and I dropped out." The President refused - claiming it was only a 'youthful indiscretion.'
then it was revealed that Senator Anderson also had a "nasty secret" from his own past. When Anderson returned home, he was asked by his wife Ellen Anderson (Inga Swenson) about accusations that she had received through anonymous telephone calls: "He said that before you go on with the Leffingwell matter, you ought to remember what happened in Hawaii...Then he hung up. What happened in Hawaii, Brig?"
Ellen asked her husband about a caller who made it sound like he knew some kind of a "nasty secret." He responded by downplaying the "crackpot" calls and told her to hang up on any future calls. Shortly later, Anderson received a call himself: "You'll be interested in this. We have the stuff on Hawaii. If you don 't want us to use it, you'll get out of Leffingwell's way. This is no joke, Senator. We'll use it...It's a photograph, senator. And a letter."
| | |
| --- | --- |
| Senator Anderson Asked By His Wife Ellen: "What happened in Hawaii?" | Anderson Receiving Threatening Phone Calls Himself |
the controversial candidate's fate was ultimately in Senator Anderson's hands when he learned of Leffingwell's perjury and demanded that his nomination be withdrawn: ("I'm giving you a chance. Call the press and announce your withdrawal"). However, Leffingwell refused and deferred to the President's opinion, and Anderson was faced with making the truth public.
meanwhile, Anderson's threatening phone calls intensified from an "awful creature" to coerce him to favorably confirm Leffingwell, and his scared wife Ellen demanded to know more: ("They're calling me, Brig. They're trying to force you to do something through me. Now, you've got to tell me what it is"). He admitted he had done something from his long-ago past, but wouldn't provide details: ("If I do what they want, everything that I have tried to be, everything that I have tried to stand for in my life would be just thrown away"). He tried to conceal the fact of his latent homosexuality ever since, and it became an impediment in his attempt to have a normalized marriage.
in the film's most notorious homophobic scene (including the first depiction of a gay bar in a major Hollywood film), Sen. Anderson apparently feared that he was going to be outed and wished to stop being harrassed. He tracked down an overweight gigolo pimp named Manuel (Larry Tucker), who directed him to NYC's Greenwich Village Club 602. As he entered the bar, stereotypically depicted with gay males, Anderson heard Frank Sinatra on the jukebox crooning: "Let me hear a voice, a secret voice, a voice that will say. 'Come to me and be what I need you to be'..." Sickened by the sight, he frantically fled when Raymond Shaff (John Granger) approached to apologize for the phone calls, and outside the bar admitted he had sold his incriminating information (used as blackmail) for money: ("I needed money, Brig. Well, you wouldn't see me. I kept calling. I was drunk"). Ray was Anderson's former Army buddy-lover with whom he had a month-long affair years earlier during R&R in Hawaii. Outside the club, Anderson dashed for a taxi, and pushed Ray into a gutter's mud puddle as he took off.
Anderson was being blackmailed by ambitious, demogogic, pro-peace, pro-Leffingwell freshman Senator Fred Van Ackerman (George Grizzard) from Wyoming, who had dug up the dirt on Senator Anderson's indiscretions from the past. A photograph of the two men (wearing Hawaiian leis), and Brig's handwritten breakup letter sent to Ray in 1952 were delivered to the Anderson home and revealed the past to his wife.
unable to face reality, the self-loathing Anderson returned to Washington DC and tragically committed suicide - "In his office, cut his throat" (slashed his own throat with a razor). After her husband's death, Ellen was overwhelmed with grief: "He was good, and kind and honest. I don't know what they were trying to use against him, but whatever it was, they can't use it anymore. So it doesn't matter, does it?"
during the final confirmation vote-process for Leffingwell, Sen. Munson chided Ackerman Munson for his role in Brigham's death, and threatened censure and expulsion but then declined due to respect for the Andersons' privacy: "We tolerate about anything here. Prejudice, Atticism, demagoguery, anything. That's what the Senate's for, to tolerate freedom. But you've dishonored us ....Fortunately, our country always manages to survive patriots like you. We could introduce a resolution to censure and expel you. But we don't want Brig Anderson's tired old sin made public. Whatever it was."
as it turned out, the climactic vote on Leffingwell's controversial confirmation was contentious and basically deadlocked at 47 votes apiece. And then it was announced that the President died, and the Vice President Harley Hudson (Lew Ayres), the presiding officer in the Senate - and now the new President-elect, announced that he would not confirm the appointment: ("The vice president will not exercise his constitutional privilege to break this tie with an affirmative vote. The motion to advise and consent to the nomination of Robert A. Leffingwell for secretary of state stands defeated"). He preferred to appoint his own Secretary of State.
the last lines of the film occurred as the Senate was adjourned --- Munson: "Senators. A great leader is dead. A bitter loss for our country. A bitter personal loss for all of us here. I move we adjourn out of respect until further notice."
Cooley: "So ordered."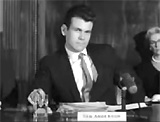 Senator Brigham "Brig" Anderson (Don Murray) - Head of Nominating Subcommittee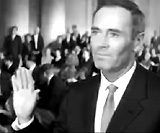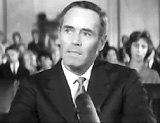 Robert A. Leffingwell (Henry Fonda) Testifying Before Sub-Committee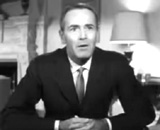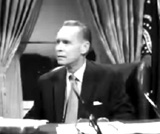 Leffingwell Admitting to the President That He Lied at the Hearing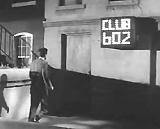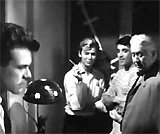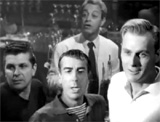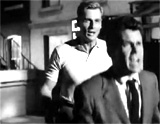 Sen. Anderson's Visit to Club 602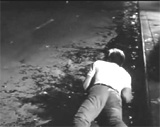 Ray Pushed Into Gutter Outside the Club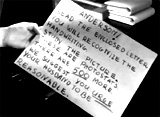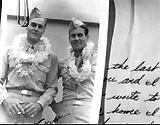 Threatening Blackmailing Photo and Letter About Sen. Anderson's Past Delivered to His Home and Wife Ellen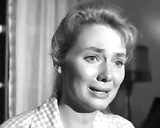 Ellen's Anguished Reaction to the Revelations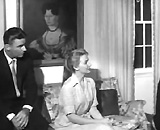 Ellen's Grief Over Her Husband's Death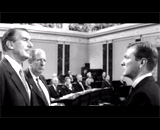 Sen. Munson Chided Ackerman For His Role in Anderson's Death