Alice in Wonderland (1951)
In the animated Disney classic about a madcap world known as Wonderland:
The White Rabbit's (voice of Bill Thompson) "I'm late" song, and his comical quip, "Don't just do something, stand there!"
Alice's many experiences when turning large and small
| | |
| --- | --- |
| | |
| White Rabbit: "I'm Late" | Alice's Transformations |
the Mad Hatter's (voice of Ed Wynn) Tea Party and "The Unbirthday Song"
all the fanciful characters (Tweedledee and Tweedledum, The Walrus and the Carpenter, The Lizard with a Ladder, The Talking Flowers, The Caterpillar, The Cheshire Cat, etc.)
the blustery, domineering Queen of Hearts' (voice of Verna Felton) constant bellowing of "Off with their heads!"

The Mad-Hatter Tea Party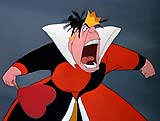 The Queen of Hearts