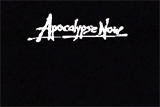 In director Francis Ford Coppola's hallucinatory and apocalyptic Vietnam War epic:
the opening credits sequence with the thumping sound of the choppers - and the billowing napalm flames coinciding with the music of The Doors, while drunken Captain Willard (Martin Sheen) was in his Saigon hotel room with a spinning ceiling fan (and his opening line: "Saigon. Shit. I'm still only in Saigon")
the compelling depiction of the horrors of war in the symbolic and surrealistic Navy patrol boat journey taking Captain Willard on an assassination mission
Lieutenant Colonel Kilgore's (Robert Duvall) choreographed Air Cavalry and its visual/audio swarming and swooping Huey helicopters dawn attack on a coastal Vietnamese village with Wagner's Ride of the Valkyries blaring over loudspeakers, and the napalm bombing of the jungle
Air Cavalry - Dawn Attack

"I love the smell of napalm in the morning..."
surf-loving, flamboyant and gung-ho fearless Lieutenant Kilgore's famous speech amidst blowing yellow smoke while others surfed in celebration: "I love the smell of napalm in the morning...smelled like...victory," (and "Charlie don't surf")
the arrival at an isolated US base supply depot at Hau Phat in a surreal nighttime scene brilliantly lit by floodlights
the Playboy Bunnies USO-style show for sex-starved soldiers
the scene in which the panicky crew senselessly massacred all the innocent Vietnamese peasants in a sampan with machine-gun fire
the bizarre night battle for the besieged, psychedically-lit, temporary Do Lung bridge
their arrival at the mad renegade Colonel Kurtz's (Marlon Brando) compound surrounded by mutilated bodies, dead enemies hanging on trees, and heads on poles
the dark, shadowy confrontation between Willard and an incoherently-mumbling and deranged Kurtz (weighing hundreds of pounds with head shaven) with his words about the 'horrors' he had experienced: "I've seen the horrors, horrors that you've seen. But you have no right to call me a murderer. You have a right to kill me - you have a right to do that - but you have no right to judge me"
the emergence of Willard from the jungle water, and the concluding execution of Kurtz ("the Horror, the Horror!") interspersed with the ritualistic killing of a water buffalo/caribou (outraging animal activists)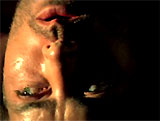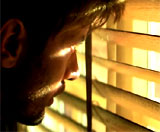 Captain Willard Still in Saigon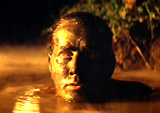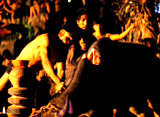 Pre-Execution of Col. Kurtz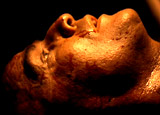 Death of Colonel Kurtz