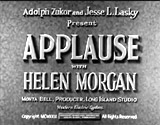 Applause (1929)
In this early landmark musical drama with innovative sound techniques and a constantly-moving camera, from director Rouben Mamoulian (his first sound film):
the realistic and cynical look at seamy backstage life - the chorus line of burlesque dancers in the Zenith Opera House composed of unattractive, pudgy and washed-up chorines rather than conventional cute blondes
the character of fading, "washed-up" burlesque star Kitty Darling (real-life torch singer Helen Morgan) - the ailing, self-sacrificing mother of convent-bred 17 year-old daughter April Darling (Joan Peers)
Kitty's singing of the plaintive What Wouldn't I Do For That Man to a photograph of her unscrupulous, predatory, unfaithful and brutish "Bad Boy" lover and burlesque comic Hitch Nelson (Fuller Mellish, Jr.) - as he kissed another chorine down the hall - in a triangulated split-screen view
the scene of an embarrassed April's sight of her mother onstage during the burlesque show and hearing leering male audience spectators calling her 'washed-up' and April pleading: "Let's go away from here"
the scene of April's all-night date with sailor suitor Tony (Henry Wadsworth) in which they sat on a steel girder - ending with their 'first love' kiss - and then their next date high atop a skyscraper while overlooking the New York buildings and sights below
| | |
| --- | --- |
| | |
| Suicidal Death of Kitty Darling | Daughter April Taking Her Mother's Place |
the disturbing end scene in which April (after saying goodbye to Tony at the subway) told her mother - "Nothing matters now but you, Mommy. We'll always have each other. Nothing is ever going to separate us again"; she forced herself to dance sordid burlesque (and vowed to give the crowd their 'money's worth': "I'll show them") in place of her mother
April's performance in front of leering, middle-aged men as her mother died of suicidal poisoning in the dressing room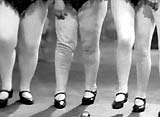 Burlesque Dancers Chorus Line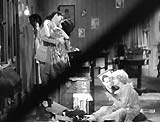 Split Screen: Kitty's Unfaithful Lover "Bad Boy"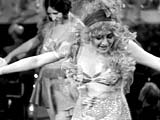 Kitty On-Stage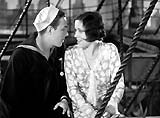 April's All-Night Date With Sailor