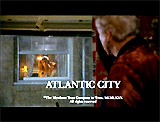 In director Louis Malle's romantic crime-drama:
the voyeuristic scene (to the sound of a cassette tape playing Bellini's operatic Norma) during the film's opening title credits (and one other instance) of seafood counter (oyster bar) casino worker Sally Matthews (Susan Sarandon) (who dreamt of being a croupier in Monte Carlo), after work in a white tank top, rinsing her arms, throat and breasts with lemon juice at her kitchen sink to remove the fishy smell - while being watched in her apartment window from across the way by aging, numbers runner and petty mobster-crook Lou Pascal (Burt Lancaster)
during Sally's training to be a casino croupier/dealer, the instructions given by teacher Joseph (Michel Piccoli) to focus, concentrate, and avoid being tricked: "Everyone, listen to me. The players are coming to the casino in teams. One sits here, one sits there. The cards are good. The player at the first base spills his drink. Your eye moves. The player at the third base triples his bets. They have a million clever ways of trying to cheat you. Focus! Concentrate! Concentrate"
Lou's reminiscences about the old days to Sally's estranged husband Dave Matthews (Robert Joy) during a lengthy boardwalk stroll together: "Yes, it used to be beautiful - what with the rackets, whoring, guns. Sometimes, things would happen. I'd have to kill a few people. I'd feel bad for awhile but I'd jump into the ocean, swim way out. Come back in feelin' nice and clean, start all over again....The Atlantic Ocean was somethin' then. Yes, you should have seen the Atlantic Ocean in those days"
Sally's meal conversation to Lou - requesting that he become her mentor: "Teach me stuff...What you know?" - he asked: "You want information or wisdom?"; she wanted "Both"
later in the film's sexiest sequence, Lou confessed to Sally about spying on her: "I watch you. The place where we live, I watch you..."; he also curiously asked her: "Why do you use lemons?" - she answered: "It's just to get the smell off. It's nothing weird"; he described his voyeurism in more detail: "I look at you. You take off your blouse, then you run the water. Then you take a bottle of gold perfume and you put it on the sink. Then you slice the lemons. You open a box of blue soap. You run your hands under the water to feel the temperature. Then you take the soap in your hands, and... " - she kneeled in front of him bra-less with her blouse unbuttoned, as he gently caressed her hair and face and then opened her blouse to look at and touch her breasts
the motel room scene, outside Atlantic City, after Lou's self-defense killing of two gangland hoods on a sidewalk who theatened them - to protect Sally (after a sour drug deal that had resulted in her husband Dave's death); now energized, he admitted to her that he had even surprised himself at his prowess in saving her: "Hey!...I never killed anybody in my life...But I did tonight. You saw it"
Lou's subsequent proposal to Sally to run off to Florida with him: ("Anyone ever take care of you like I did? You feel safe?...They got nice weather in Florida....I'll buy ya new clothes, I'll show ya off...Just let the boys see how well I turned out"); and then he gleefully responded to more TV news story of the two Atlantic City murders he had just committed: "Hey, that's me!...We'll stop on the way down and buy all the newspapers. This story is going to be big all over the country: 'Gangland Slaying Rips Apart Atlantic City!'"; ultimately, however, he saw her take a wad of the drug money - and allowed her to leave him for good when he handed her the car keys and advised: "Don't forget to ditch the car, soon!"; she turned and thanked him: "You saved my life" before she departed
in the final sequence after parting from Sally (knowing she wouldn't accompany him to Florida, but preferred Monte Carlo and France), Lou took a taxi back to Atlantic City for a final promenade down the Boardwalk with his broken-down, invalid moll boss' widow Grace Pinza (Kate Reid) that he had been taking care of for 40 years - with a panning shot up to a view of a crane and wrecker's ball smashing into an apartment during the closing credits, accompanied by discordant jazz music
Lou's Final Promenade Down the
Atlantic City Boardwalk with Grace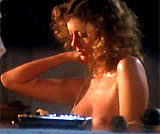 Spied-Upon Sally Bathing with Lemon Juice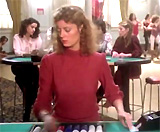 Sally's Training: To Be a Casino Croupier-Dealer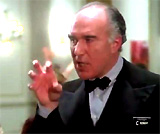 Joseph: "Concentrate! Concentrate!"


Lou's Recollections to Dave of the Old Days in Atlantic City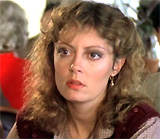 Sally to Lou: "Teach me stuff"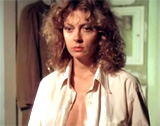 Lou to Sally: "I watch you"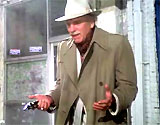 Lou's Killing of Two Gangsters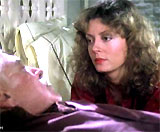 Lou: "I never killed anybody in my life"