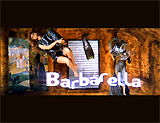 Barbarella (1968, Fr./It.)
In director Roger Vadim's psychedelic cult classic and infamous sexual satire about a female space adventuress in the 41st Century:
the infamous, teasing, slow-motion opening credits sequence that stripped 41st century comic-strip heroine Barbarella (Jane Fonda) of her space-suit outfit, while weightless in space
The Opening Credits Sequence
after Barbarella's crash-landing on the planetary system of Tau Ceti, she was tied up, attacked and bitten by a group of agressive mechanical, razor-toothed robot devil dolls unleashed by a dozen feral children who smiled when blood was drawn; she was rescued when a net was dropped on the children and they were led away
Barbarella Reluctantly Convinced to Have
Old-Fashioned Sex With the Catchman, Mark Hand
the sequence of rescuer Mark Hand (Ugo Tognazzi), the Catchman (the keeper of the feral children with the dolls), asking to make love to the grateful Barbarella in his wind-propelled ice-craft - the old-fashioned way; she responded: "Make love, did you say?...What do you mean? You don't even know my psycho-cardiogram!" - and then explained how in the futuristic society on Earth, human sex was accomplished in non-physical ways; she told him: "Well, on Earth, for centuries, people haven't made love unless their psycho-cardiogram readings were in perfect confluence"; and then she asked: "Do you have any pills?" - but happened to produce her own; she was referring to a second way of having sex, via sex pill ("an exaltation transference pellet"): "Well, on Earth, when our psycho-cardiogram readings are in harmony and we wish to make love as you call it, we take an exaltation transference pellet and remain like this. Here, let me show you (she stretched out her arm and closed her eyes) - for one minute or until full rapport is achieved"; Mark knew nothing about and was disinterested in both of her suggested new sexual techniques, and suggested that they bed down together instead; she exclaimed: "But nobody's done that for centuries! And nobody except the very poor who can't afford the pills or the psycho-cardiogram readings....cause it was proved to be distracting and a danger to maximum efficiency. And, and because it was pointless to continue when other substitutes for ego support and self-esteem were made available" - however, he was able to convince her to have physical sex with him - and she reluctantly laid back, took off her garments, and laid under a fur covering: ("Well, if you simply must insist, I guess so. And I can assure you, there's really no point at all in doing it like this"); after having sex with him, she was apt to agree with his stated question: "Now, Barbarella, don't you agree with me that in some things, the old-fashioned ways are best after all." She concurred: "What? Oh, that. Yes, I must admit it was rather interesting. Still, I see what they mean by saying it's distracting."
after crash-landing, Barbarella's discovery in a rocky labyrinth by a blind, beatific winged angel Pygar (John Phillip Law) ("the last of the ornithanthropes") who had lost the will to fly - and claimed "atrophy of the greater alea muscle," although it was judged that Pygar was "aerodynamically sound" and it was "all a question of morale"; after making love to Barbarella in his nest (she said it was "heavenly") and regaining his will, Pygar flew Barbarella to SoGo, the "city of night ruled by the Great Tyrant" (a derivative of the evil cities of Sodom and Gomorrah) to continue on her mission
Barbarella's encounter at SoGo with the lesbian evil Black Queen, the Great Tyrant (Anita Pallenberg) ruling with Black Guards, who first called her "Pretty-Pretty" and asked: "Do you want to come and play with me? For someone like you, I charge nothing. You're very Pretty-Pretty-Pretty!"
the scene of Barbarella's sighting of Pygar's mock crucifixion - and then freeing him, but she was taken away to be entrapped in a glass cage - threatened with being pecked to death by colorful songbirds-parakeets ("This is really much too poetic a way to die!"); meanwhile, Pygar was seduced by the Black Queen, but he refused her: "An angel doesn't make love - an angel is love" - she called him a "fruitcake"
Barbarella's rescue from the pecking birds by goofy underground revolutionary Dildano (David Hemmings); she thought he was asking to have physical intercourse with her as a reward for saving her life and began to remove her coverings; he objected and said that he preferred hygienic futuristic sex with the pill: ("No! Not like that. Like on earth, the pill. I have the pill...I'm not a savage. The pill!...Five years I've waited for this experience"); they communed together without physical intercourse by reaching out and touching with one hand - eventually causing her hair to curl
Durand's Defeated Pipe Organ (The Excessive Pleasure Machine) By Barbarella's Powerful Orgasmic Heat
superweapon inventor Dr. Durand Durand's (Milo O'Shea) unsuccessful attempt to kill Barbarella with pleasure by orgasmically "playing" her with a euphemistic pipe organ ("Sonata for Execution of Various Young Women"): ("When we reach the crescendo, you will die of pleasure. Your end will be swift, but sweet, very sweet") and his aghast reaction to her defeating the machine by overheating it: ("What is this? I don't believe it. It couldn't be. Wretched girl. What have you done to my excessive machine? You've undone it. You've undone me. Look! Energy cables are shrinking. You've turned them into faggots. You've burned out the excessive machine. You've blown all its fuses....You've exhausted its power. It couldn't keep up with you. Incredible! What kind of girl are you? Have you no shame? Shame! Shame on you! You'll pay for this! I've got something for you. You'll wish you had died of pleasure. Now you shall learn the wisdom of the lash")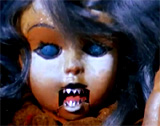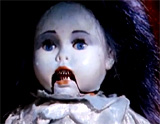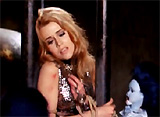 Barbarella Attacked by Evil Razor-Toothed Devil Dolls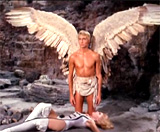 Barbarella With Blind Winged Angel Pygar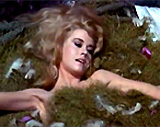 Apres-Sex with Pygar ("It was just heavenly")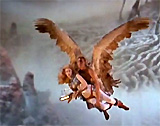 Flying to SoGo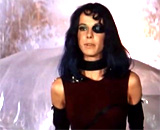 With Lesbian Dominatrix Black Queen (The Great Tyrant) - Barbarella's Name: "Pretty-Pretty"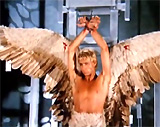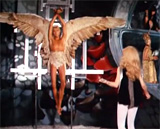 Pygar's Mock Crucifixion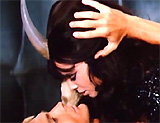 The Black Queen's Attempted Seduction of Pygar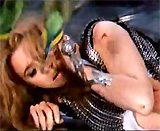 Pecking Parakeets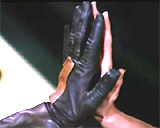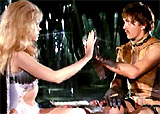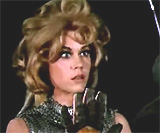 Barbarella Having Hygienic Non-Physical Sex With Underground Leader Dildano - Causing Curling Hair