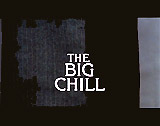 The Big Chill (1983)
In writer/director Lawrence Kasdan's classic nostalgia, generation-defining film:
the reunion of seven aging college friends (ex-baby boomers) from the University of Michigan at Ann Arbor, who pondered the subject of death ("the big chill") and loss of idealism - they were brought together during the long funeral-weekend of suicidal friend Alex (an off-screen Kevin Costner), a brilliant physics student at the University of Michigan who had slit his wrists; Alex was introduced in the film's opening by a phone call to Sarah Cooper (Glenn Close) who silently announced his death to her husband Harold (Kevin Kline) - to the tune of Marvin Gaye's "I Heard It Through the Grapevine."
in the opening credits montage, the news of the death reached all the characters and preparations were made for the funeral (by the guests, the mortician, etc.)
The Death and Funeral of Alex
(Off-Screen Kevin Costner)

Sarah's Silent Announcement to Harold About News of Alex's Death

The Minister's Sermon

The Casket
the Minister's (James Gillis) sermon at the funeral service: ("It makes me angry. And I don't know what to do with my anger. Are not the satisfactions of being a good man among our common men great enough to sustain us anymore? Where did Alex's hope go? Maybe that is the small resolution we can take from here today. To try to regain that hope that must have eluded Alex")
Sarah's tearful and sentimental admission to the reconnecting group that they once had idealized counter-cultural dreams: ("He should be here. I feel like we should've had a chair for Alex. Of course, we don't have enough food. This is all so familiar, and I love you all so much. I know that sounds gross, doesn't it?... I feel I was at my best when I was with you people"); then Harold gave his opposite opinion - admitting that their past idealism was so unreal: ("Not me. Gettin' away from you people was the best thing that ever happened to me. I mean, how much sex, fun, friendship can one man take? Had to get out in the world, get dirty")
the group's boogie-dance to The Temptations' "Ain't Too Proud to Beg" while cleaning up in the kitchen and wrapping up left-over food
the scene of Meg (Mary Kay Place), an ex-idealistic public defender who was now a well-paid corporate attorney in Atlanta, who felt guilty about a past abortion in the 60s, and was now confiding in Sarah that she was fertile and ovulating and wanted to be impregnated: ("I've been taking my temperature and I know I'm ovulating right now. The ground is ready. I just need someone to plant the seed"). Sarah replied: ("Yeah, but who's going to be the lucky farmer?"). Meg eventually bedded down Sarah's husband Harold who told her: ("This bed has always been lucky for Sarah and me") and Meg's evaluation of the coupling: ("I feel like I got a great break on a used car") - to the tunes "You Make Me Feel Like a Natural Woman" and "I'm Gonna Wait Till the Midnight Hour"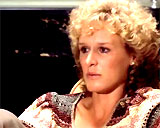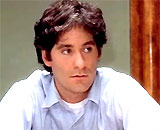 Sarah and Harold's Discussion About Idealism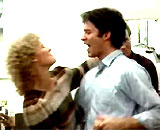 Kitchen Scene: "Ain't Too Proud to Beg"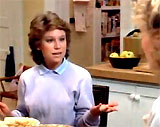 Meg (Mary Kay Place) - Guilt Ridden Confession and Desire to Get Pregnant