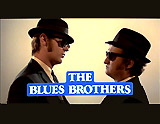 The Blues Brothers (1980)
In director John Landis' rock-filled, anarchic crime-comedy, with many cameo appearances (Twiggy, Carrie Fisher, Ray Charles, John Lee Hooker, James Brown, Pee-Wee Herman, Aretha Franklin, Cab Calloway, Steve Lawrence, Steven Spielberg, and Frank Oz - of the Muppets, and more!):
the character pairing of two "blues brothers" - two white singers with soul, shades, and identical black suits and hats: Jake (John Belushi) and Elwood Blues (Dan Aykroyd)
their meeting with their former teacher, Sister Mary "The Penguin" Stigmata (Kathleen Freeman), who sent them on a "mission from God" to raise $5,000 to save the Catholic orphanage from foreclosure where they were raised, after reprimanding them ("You are such a disappointing pair. I prayed so hard for you. It saddens and hurts me that the two young men whom I raised to believe in the Ten Commandments have returned to me as two thieves"), striking them for having "filthy mouths and bad attitudes" - and warning them not to come back "until you've redeemed yourselves"
Elwood's repeated famous line to Jake: ("We're on a mission from God!") to justify their brotherly activities, in the Triple Rock Baptist church, in the presence of Reverend Cleophus James (James Brown), who was preaching: "Do you see the light?...Have you seen the light?"
the tremendous number of noisy and wasteful multi-car crashes and pile-ups on the way to and in the city of Chicago as they were relentlessly pursued in their Bluesmobile by police, and the incredible amount of carnage, destroyed buildings and shopping malls
the scene of Neo-Nazi leader (Henry Gibson) conducting a rally of "Illinois Nazis" on a stone bridge: ("White men! White women! The swastika is calling you! The sacred and ancient symbol of your race since the beginning of time. The Jew is using the black as muscle against you. And you are left there, helpless...What are you gonna do about it, whitey? Just sit there? Of course not! You are going to join with us, the members of the American Socialist White People's Party - an organization of decent law-abiding white folk just like you"), and the sequence in which the Blues Brothers forced the followers to jump off the bridge when they drove through after Jake's statement: "I hate Illinois Nazis"
The Neo-Nazi Rally
the Blues Brothers' many performances, including their main rendition of "Everybody Needs Somebody to Love" at the Palace Hotel Ballroom north of Chicago, "Shake a Tail Feather" with Ray Charles at Ray's Music Exchange Shop, the theme from "Rawhide" to win over an unruly country bar crowd at Bob's Country Bunker in Kokomo, "Minnie the Moocher" (reprised by Cab Calloway), and "Think" (a show-stopping version performed in a diner by Aretha Franklin)
| | | |
| --- | --- | --- |
| | | |
| "Rawhide" | "Minnie the Moocher" | "Shake a Tail Feather" |
the concluding sequence of the two brothers, pursued by cops, bands, guardsmen, SWAT teams, etc, and ending up paying the orphanage's property taxes inside the Cook County City Hall - where they were promptly arrested with dozens of guns pointed at them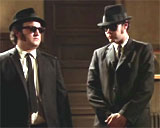 The Blues Bros.


Sister Stigmata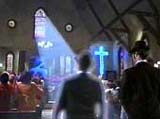 "We're on a mission from God!"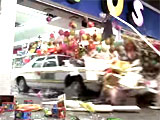 Carnage in Shopping Mall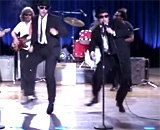 "Everybody Needs Somebody to Love"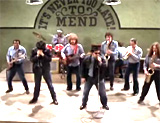 "Jailhouse Rock"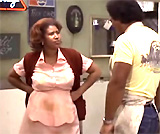 "Think"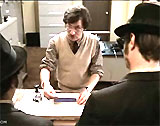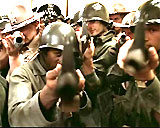 In Cook County City Hall