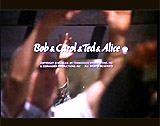 Bob & Carol & Ted & Alice (1969)
In Paul Mazursky's satirical film about changing sexual mores in the late 60s, with the tagline "Consider the Possibilities" - and its story of encounter groups, permissive sex, counter-cultural temptation and emotional openness among affluent adults:
two couples: Bob and Carol Sanders (Robert Culp and Natalie Wood) and their best friends Ted and Alice Henderson (Elliott Gould and Dyan Cannon), who had their marital vows of fidelity challenged during a weekend 'swinging' trip to Las Vegas
the scene of Alice drunkenly urging everyone to do what she (and they) wanted to do, and what they logically had come there for: "Orgy, have an orgy. Orgy, orgy"
Carol's suggestion to Ted to have sex with her - mate-swapping: ("It's physical fun, it's just sex. Oh, come on, it'll be fun"); Ted added as the couples began to help themselves get undressed: "First, we'll have an orgy and then we'll go see Tony Bennett"
the film's publicity - the view of the couples in the bedroom, lined up in bed (and naked under the sheets) and feeling very awkward about proceeding with group sex and/or mate-swapping
the film's sappy ending with the couples leaving the hotel without trading partners after all, following an aborted attempt (with only brief kissing), and the playing of the Burt Bacharach song "What the World Needs Now (Is Love, Sweet Love)"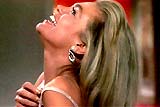 "Orgy, have an orgy. Orgy, orgy"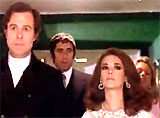 Leaving the Hotel