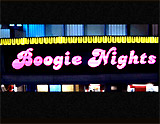 Boogie Nights (1997)
In Paul Thomas Anderson's fact-based period film, with the recreated look of the late-70s LA adult film-porn industry in the San Fernando Valley in the late 70s and early 80s; the ensemble film told about the lives of a number of misfits - mostly damaged and lost individuals:
the virtuoso long, opening tracking shot into and throughout the interior of a Reseda, California Hot Traxx nightclub, in order to introduce all of the film's main characters
the statement of 17 year-old busboy Eddie Adams (Mark Wahlberg) - about his ultimate objective in life, expressed during sex with his impressed girlfriend Sheryl Lynn (Laurel Holloman) when he was complimented for his endowment: "Your cock is so beautiful!" - he responded: "Everyone has one thing, you think? I mean, everyone's given one special thing, right?... Everyone's blessed with one special thing. Hey, I want you to know I plan on being a star. A big, bright shining star. That's what I want. That's what I'm gonna get"
in a late-night diner, LA porn filmmaker Jack Horner (Burt Reynolds) - who was accompanied by Eddie - a potential superstud porn star, high-school dropout and porn starlet Brandy (aka Rollergirl) (Heather Graham), and maternalistic, red-headed, cocaine-abusing porn queen Amber Waves (Julianne Moore), described the costs and benefits of adult film-making: "So what I'm tryin' to tell ya, Eddie, is that it takes a lot of the good old American green stuff to make one of these things, you know what I mean. I mean, you know, you've got your camera, you got your film, you got your lights, you got your sound, you got your lab costs, you got the developing, you got your synching, you got your editing. Before you turn around, you spent maybe $20,000, $25,000, $30,000 on a movie....If you make a good one, there's practically no end to how much money you can make"
the continuing sequence of Horner's promotion of the film industry to Eddie as his future star; he continued to stress how important it was for his male star to be virile: "...if you don't have those juices flowin' down there in the Mr. Torpedo area, in the fun zone. But you got to get the people in the theater. You know, you need the big dicks, the big tits..." - and then in another breath described how he wanted to make a quality porn film: "How do you keep them in the theater after they've come? With beauty and with acting. Now I understand you've got to get 'em in the theater. You know, you gotta keep the seats full, but I don't want to make a film where they show up, they sit down, they jack off and they get up and they get out before the story ends. It is my dream, it is my goal, it is my idea to make a film that the story just sucks 'em in, and when they spurt out that joy juice, they just got to sit in it. They can't move until they find out how the story ends. You know, I wanna make a film like that...it's my dream to make a film that is true and right and dramatic"
later in his home, Horner proposed hiring Eddie: "I'm thinking I want to be in business with you, Eddie"; to sweeten the deal, Horner suggested that Rollergirl have sex on the couch with Eddie (although she had already performed oral sex on Eddie in the nightclub's stock-room): ("I want you to go over there and sit on the couch with Eddie"); she removed everything but her roller skates before jumping on top of Eddie: (Rollergirl: "Are you ready?...Oh yeah...I don't take my skates off - and don't f--king come in me"); from the sidelines, Horner added: "Aim it at her tits, Eddie"
Sex on the Couch with Rollergirl (Heather Graham)
the preface to the filming of newbie porn star Eddie's - renamed Dirk Diggler - first sex scene in his first hard-core film scene, opposite Amber Waves; in the scene of an interview for an acting job, as part of the hiring process, she requested: "Why don't you take your pants off. It's important I get an idea of your size"; afterwards, she immediately hired him ("I think that you have the job"), but then added: "But why don't I make sure of something. (she inspected him) This is a giant cock"
Amber Waves with Dirk Diggler
in the tawdry scene, they hungrily kissed, stripped, and began to couple together on her desk, although they paused when a new film magazine needed to be loaded; she assured him as he was about to come: "Don't worry, I'm fixed" and that he was "a wonderful actor"; when she urged him to climax inside of her ("Come in me... I want you to come in me"), the crew missed the 'money shot'
the pool party scene when Horner's assistant producer "Little" Bill Thompson (William H. Macy) found his unfaithful porn star wife (real adult star Nina Hartley) in the home's driveway, surrounded by a crowd of stunned onlookers, as she was having sex with a muscle-bound stud; when "Little" Bill made a scene, she scolded: 'You're embarrassing me" ; he jealously stomped off and exclaimed in a perturbed manner to fellow technician Kurt Longjohn (Ricky Jay): "My f--king wife has an ass in her cock in the driveway, all right! I'm sorry if my thoughts are not on the photography of the film we're shooting tomorrow, OK?"
the scene at Horner's New Years' Eve Party at the dawn of the year 1980, when "Little" Bill Thompson again discovered his unfaithful wife in a back bedroom having sex, then slowly walked to his parked car to get his gun to commit a double murder and suicide in the company of the other shocked guests
the nerve-wracking cocaine sale/rip-off scene in the house of Dirk and two friends attempting to scam silver bath-robed, raving drug tycoon Rahad Jackson (Alfred Molina) (while his young Asian servant boy Cosmo set off firecrackers in the background) - all accompanied by Night Ranger's "Sister Christian" and Rick Springfield's "Jesse's Girl" on the soundtrack; there was an inevitable violent ending to the scene
in the unexpected, surprise conclusion, drug-addicted Dirk (who had resorted to gay hustling and dangerous drug-dealing that had affected his impotence) was again reconciled with Jack Horner, and going back to work for him after splitting from him following a violent argument over a competitive successor; in the film's final lines, Dirk practiced his lines before a mirror (a scene playing homage to Scorsese's Raging Bull (1980)) - then he stood up, unzipped his pants, and pulled out his endowed, 13 inch-long penis (his "special thing") (a prosthetic), and added: "I am a star. I'm a star, I'm a star, I'm a star. I am a big, bright, shining star. That's right!"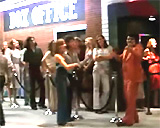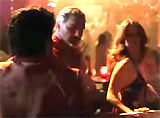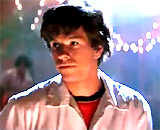 Steadicam Tracking Shot: Entering the Hot Traxx Nightclub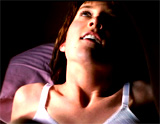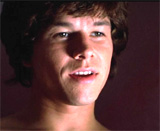 Eddie Bragging to Sheryl Lynn: "One Special Thing"


Porn Producer to Eddie: "It takes a lot of the good old American green stuff to make one of these things"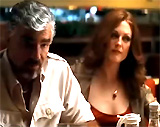 Jack Horner with Porn Star Amber Waves (Julianne Moore)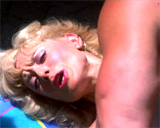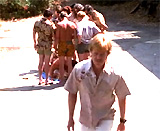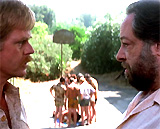 Pool Party Conflict:
Bill's Wife Having Sex in the Driveway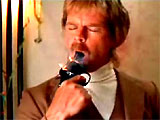 "Little" Bill's Murder-Suicide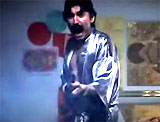 The Violent Cocaine Sale/Rip-Off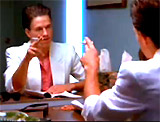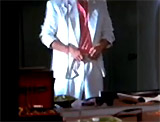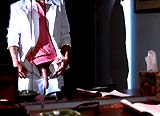 Dirk Diggler's Revelation