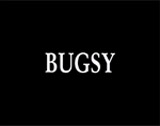 Bugsy (1991)
In Barry Levinson's complex gangster biopic:
the meeting of psychopathic, larger-than-life, East Coast 40s Jewish gangster Benjamin 'Bugsy' Siegel (Oscar-nominated Warren Beatty) and sassy, slinky, and leggy B-movie Hollywood starlet Virginia "Flamingo" Hill (Annette Bening, who engaged in an off-screen romance with Beatty, leading to their real-life marriage in 1992), on the set of a Hollywood film - they were in front of an artificial backdrop when he offered to light her cigarette and they verbally jousted together: (Virginia: "The way you were staring at me, I thought you were gonna ask me for something a little more exciting" Bugsy: "Like what?" Virginia: "Use your imagination" Bugsy: "I'm using it" Virginia: "Let me know when you're finished")
afterwards, she turned and left, but was still in front of the set; Bugsy rushed back to her side and admitted that he was interested in her, even though he was married to Esta (Wendy Phillips), and she was his associate Joey Adonis' girl; she questioned his faithfulness: "I'll bet Esta lives her life faithful to her one and only Ben, who plays around like a jackrabbit on the side and lies about it through his teeth"; she bluntly asked: "Are you ready for a divorce, Mr. Siegel?"; she ended the conversation by calling him a "f--k-happy fellow" and urging: "Why don't you run outside and jerk yourself a soda?"
the scene in which they first kissed - silhouetted in the light behind the screen of his projected screen-acting test when she told him: "Do you always talk this much before you do it?"
the brutal scene during a dinner date with Virginia in which Siegel humiliated cheating crime associate Jack Dragna (Richard Sarafian) for skimming funds: ("Did you think you could steal from ME?"), and sadistically made him crawl on the floor and bark like a dog: ("Now bark like the dog that you wish that you were decent enough to be") and then squeal like a pig: ("Now let me hear you oink like the treacherous, devious pig that you are")
Siegel's gluttonous food binge at the dinner table - and loving attention and passionate kisses all over his face by his sexually-charged moll
the scene of the visionary and grandiose Bugsy having a "religious epiphany" in the desert about building a casino ("the single best idea I ever had")
the memorable scene in which adulterous family man Bugsy (in a ridiculous chef's hat) was in his East Coast home hosting three different groups: (1) his wife Esta and two children celebrating daughter Millicent's (Stefanie Mason) birthday, (2) his trusted foul-mouthed associate Mickey Cohen (Harvey Keitel) on the phone as he jealously sought to know mistress Virginia's whereabouts in California, and (3) his New York gangster associates being convinced to provide $1 million in funding for his flamboyant dream to build a casino in the Nevada desert
the striking scene in a restaurant's women's room of Bugsy avoiding admitting that he wanted a divorce from his stunned wife Esta: ("You want a divorce, don't you?")
the final scene of Bugsy's multiple-gunshot murder by a sniper/hitman outside of his Beverly Hills home while he was in his living room reading an LA Times newspaper and sentimentally watching a projected film reel of his own awful Hollywood screen test
Bugsy's Murder - Multiple Gunshots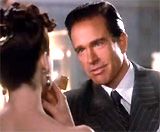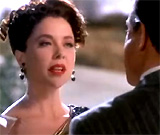 First Meeting with Bugsy's Future Moll Virginia Hill on a Hollywood Set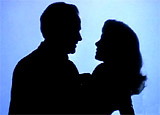 Their First Kiss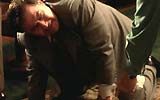 Crawling on Floor Humiliation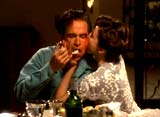 Food and Kissing Binge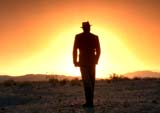 Dream to Build Casino in Nevada Desert


Esta: "You want a divorce, don't you?"