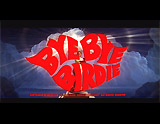 Bye Bye Birdie (1963)
In director George Sidney's adaptation of the Broadway musical hit:
the opening, star-making credits sequence - erotic, nubile, vibrant 16 year-old high-schooler Kim McAfee's (22 year-old Ann-Margret) blue-screen performance when she sang the title song in a wind tunnel
Kim's excitement upon learning, through a long-distance phone call, that Elvis Presley-styled pop star Conrad Birdie (Jesse Pearson) was coming to her hometown, and that she had been selected from all the teenagers in the US in the fan club to be kissed by the singing idol on The Ed Sullivan Show in a few days
the split-screen gossipy musical telephone sequence (with live action and animation) titled "The Telephone Hour" - about the recent "pinning" of Kim and boyfriend Hugo Peabody (singing idol Bobby Rydell)
the appearance of beer-drinking hillbilly Conrad Birdie that caused swooning chaos among teens upon his arrival in the midwestern town of Sweet Apple, Ohio
Conrad Birdie in Town
press agent and songwriter Albert Peterson's (Dick Van Dyke) singing performance to his secretary-fiancee Rosie DeLeon (Janet Leigh) of "Put on a Happy Face" in the McAfee's backyard, and his wooing of Rosie
Kim's father Harry McAfee (Paul Lynde) and his singing of "Kids" in the family kitchen with the familiar lyric: "What's the matter with kids today?"
in the conclusion, Rosie schemed with Albert to slip an amphetamine into the milk glass of a Russian ballet conductor (to speed up his next-to-last performance on The Ed Sullivan TV show), to allow time for their Birdie finale on the show. Kim's jealous boyfriend Hugo wrecked the broadcast scene by punching Birdie in the face, before the singer was able to plant "one last kiss" on Kim and sing Albert's composed song
the denouement tied up all loose ends: Hugo won back Kim's love, and recently-married Mae (to bartender-widower Mr. Maude (Milton Frome)) gave her blessing for Albert and Rosie to finally marry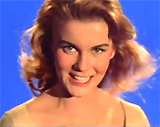 "Bye Bye Birdie"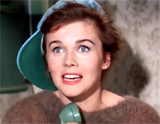 Kim's Excitement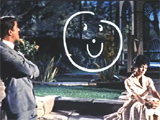 "Put on a Happy Face"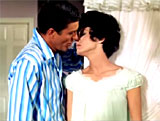 Albert Wooing Rosie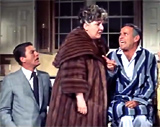 "Kids!"