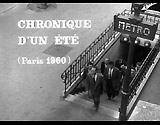 Chronicle of a Summer (1961, Fr.) (aka Chronique d'un été (Paris 1960))
In co-directors Jean Rouch's and sociologist Edgar Morin's ethnographic documentary - an intellectual experiment and a prime example of cinema verite (a term coined by Morin), during the time of France's Algerian War of Independence and at the height of the French New Wave movement:
the opening (possibly staged) sequence of Rouch, Morin and female associate Marceline Loridan (who would be the initial street interviewer) speaking about their project - book-ended by the final sequence between the two directors
the many on-street interviews conducted (by two female associates, including Marceline Loridan) with contemporary Parisians in the summer of 1960, to get an accurate 'snapshot' of life at the time - by asking the simple question: "Are you happy?"
the scene in the apartment of dark-haired, disillusioned Italian immigrant exile Mary Lou Parolini (as Herself), a secretary at Cahiers du Cinéma, speaking about her insecurities of living an isolated and poor existence in the foreign city of Paris
the hand-held tracking sequence of Marceline Loridan's own voice-over monologue (recorded with a concealed microphone) as she walked through a nearly deserted Place de la Concorde and then in Les Halles market (in a stunning backlit image); she first spoke of the on-going Israeli public trial of Nazi war criminal Adolf Eichmann, and then gave her first-person recollection when she was deported as a young girl with her family; they were herded and shipped off to a Nazi death camp - she was the lone survivor when separated or selected to live, with a Nazi number tattoo from Auschwitz on her left forearm (first viewed earlier as she sat in an outdoor cafe) -- she had returned to France after the war
Marceline Loridan's Monologue Sequence
the brief interlude in St. Tropez (the beach, a bullfight, etc.) including an interview by black student Modeste Landry of a sexy blonde starlet who was attracting photographic attention
the screening room deconstructing and self-analytical sequence when some of the film's participants were convened to provide feedback on rough-cut results of filming; there was disagreement among the group - some thought the subjects were natural, sincere and honest, while others criticized how people were unreal, phony and posing or 'acting' - with 'camera-safe' statements and behaviors
the ending sequence of the two directors, while walking through Musee de L'Homme, accessing their own filmic experiment, and whether it was a success or not; they realized how they were not as objectively removed from the film, or in control as they originally thought they would be; when they parted on the sidewalk and shook hands to go in different directions, Morin spoke the film's final ambiguous words: "We're in it now."
Two Directors: Morin and Rouch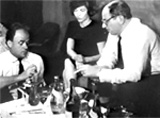 Opening Sequence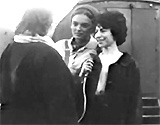 On-Street Interviews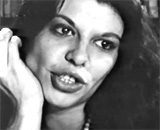 Mary Lou Parolini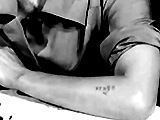 Marceline's Auschwitz Tattoo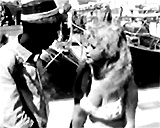 Interview of Blonde Starlet in St. Tropez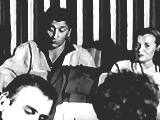 Screening Room Discussion