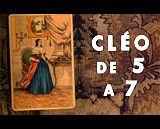 Cleo From 5 to 7 (1962, Fr.) (aka Cléo de 5 à 7)
In writer/director Agnes Varda's dramatic comedy (with some musical elements) - a meandering episodic character study about the impending doom facing a shallow, self-absorbed woman who feared the results of a medical examination:
the opening title sequence ("Cut the deck, please") - (the only sequence in color) - a reading composed solely of close-ups of hands and tarot cards, delivered by fortune teller Madame Irma (Loye Payen) that revealed the Hangman's card of Death ("It means a complete transformation of your whole being")
a film shot in real-time and marked with 13 precise chapter headings (timings from 5 to 7 pm) - supposedly two hours, although the film's actual length was 90 minutes, and should have been titled Cleo From 5 to 6:30
the central heroine: pretty, superficial blonde pop singer Florence 'Cléo' Victoire (Corinne Marchand) - a superstitious, distressed hypochondriac awaiting the results of diagnostic hospital tests regarding terminal stomach cancer in the early evening
the many times in the film that Cleo vainly viewed herself in a mirror, at one time reassuring herself: "Wait, pretty butterfly. Ugliness is a kind of death. As long as I'm beautiful, I'm even more alive than the others" - and another time expressing her frustrations: "My unchanging doll's face, this ridiculous hat. I can't see my own fears. I always think everyone's looking at me, but I only look at myself. It wears me out"
the various individuals that the vain Cleo met with, beginning at 5 pm with the fortune teller (from the title sequence), then a café visit at Bonne Santé (Good Health) with her loyal secretary/housekeeper Angèle (Dominique Davray) when she broke down ("I might as well be dead already"), followed by shopping for a hat, and a short apartment visit from her superficial lover-boyfriend José (José Luis de Villalonga)
the scene of a music rehearsal with Cleo's pianist-composer Bob (Michel Legrand) and lyricist Plumitif (Serge Korber) in her luxurious Paris studio apartment; the two joked around (by pretending to be doctors) and then her emotional singing of the torch song Sans Toi - the song began with her using sheet music while accompanied on the piano by Bob, then shifted her perspective to a full-scale orchestral performance, as she sang with tears and the background turned black behind her; afterwards, she angrily dismissed them, telling them that they weren't taking her seriously as an artist: "What's a song? How long can it last? You make me capricious! Nothing but a china doll! Revolutions with macabre words. You think I'll make a hit with that? You're trying to exploit me! Get out!?"; Cleo ripped off her wig, donned a black dress, and left her apartment
the images of Cleo looking into a store - through a fractured, distorted, and cracked window - a symbol of her own psyche, and as she walked down a sidewalk, her own subjective and anxious POV as everyone appeared to judge and gaze at her
Cleo's Friend Dorothee - Nude Model
further visits with friend Dorothée (Dorothée Blank), a liberated and uninhibited model posing nude at an artist's sculpture studio, and with Dorothee's boyfriend Raoul (Raymond Cauchetier) who projected a short silent comedy ("a film within a film") to cheer her up; as she left the movie house, Cleo dropped her purse on the pavement and broke her small mirror - and believed it was a bad omen
Cleo's Chance Meeting With Soldier on Leave
the ending sequence beginning in the calm setting of the 14th arrondissement's Parc de Montsouris - a chance meeting with Antoine (Antoine Bourseiller), an on-leave soldier from the Algerian War who formed an understanding of trust with Cleo (who revealed her real name, Florence); he comfortingly agreed to accompany her to get her test results if she would later see him off at the train station; test results were that Cleo required two months of chemotherapy; as they parted, the two spoke the final two lines of dialogue: Antoine: "I'm sorry I'm leaving. I'd like to be with you." Cleo: "You are. I think my fear is gone. I think I'm happy"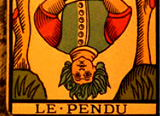 Hangman's Tarot Card of Death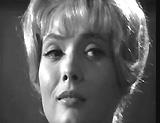 Florence 'Cléo' Victoire (Corinne Marchand)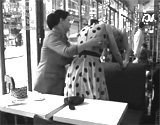 Cleo's Break-down in Cafe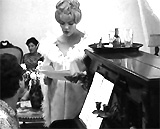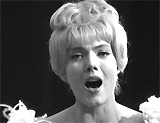 Cleo's Music Rehearsal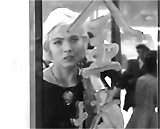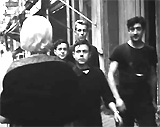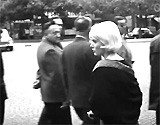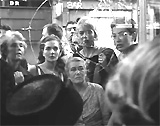 Mirrors, Surrounded by Crowds and Cleo's POV