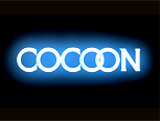 Cocoon (1985)
In director Ron Howard's sci-fi fantasy (his second feature film), the story about the 'fountain of youth' myth told about how a small group of Anterean aliens in human form, led by Walter (Brian Dennehy), chartered a boat from struggling young charter boat captain Jack Bonner (Steve Guttenberg) - their mission in 27 days, off the coast of Florida, was to retrieve 20 enormous, weird, oyster-shelled or rock-like cocoons on the Atlantic ocean floor, to be stored in the luxurious indoor swimming pool of an empty, locally-rented property in St. Petersburg:
the tale was based loosely on writer David Saperstein's novel. Its tagline was fanciful: "It is everything you've dreamed of. It is nothing you expect."
the life-inspiring scene in which three geriatric seniors from a Florida retirement home: Art Selwyn (Oscar-winning Don Ameche), Ben Luckett (Wilford Brimley), and Joe Finley (Hume Cronyn) were rejuvenated to life with a "life force" after swimming in the cocoon-filled indoor swimming pool (of a nearby abandoned home) and exuded new life, vitality and renewed romantic spunk toward their wives and fellow retirement home residents
the scene of Art's amazing solo break-dancing scene at a disco dance club - ending with his salute to the appreciative younger audience
the scene in which charter boat operator Jack Bonner was spying upon retrieval team member, gorgeous Kitty (Tahnee Welch, Raquel Welch's daughter in her first US film), as she undressed in a boat cabin - and he realized that she was an alien life form when she removed her human skin mask; he was aghast: "She's not normal. There's something very abnormal about her!" - Walter then revealed that he was also one of the aliens, and explained that they needed his help
Kitty Removing Human Skin Mask - Revealing Herself as an Alien Antarean Life-Form
shortly later, the old guys at the pool watched from hiding as the group of aliens removed their skin masks, revealing golden glowing bodies underneath, with bodies that could move unhindered through the air; the sight of the golden creatures scared the elderly men who fled in horror
in the life-giving swimming pool, the naked Kitty demonstrated how Antareans expressed their affection by sending their energized orgasmic light to a partner, in this case Jack; when he approached her, she ordered him back: ("Don't touch me...Go to the other side of the pool"); he complained: ("I hope you're not gonna take your skin off, because I really like skin on a woman"); a golden burst of light energy from her zapped around the room until it targeted Jack - collided with him, and caused him to light up, without physical touch. He exclaimed: "If this is foreplay, I'm a dead man" - the scene immediately cut away before answering the question if it was just foreplay
the sorrowful scene of the reckless behavior of retirement home residents who unwittingly drained the life-giving qualities of the nearby magical swimming pool - and caused the death of one of the ancient Antarean aliens (one of the ground crew) in one of the cocoon pods
the sad scene of the death of Bernie Lefkowitz's (Jack Gilford) wife Rosie (Herta Ware) due to dementia and respiratory failure who was discovered dead in her bed; he carried her in his arms over to the non-functioning life-giving pool near the Florida retirement community and tried to revive her, completely stricken with guilt over earlier forbidding his wife to sample the pool's power out of fear and timidness; he asked the Antarean leader Walter: "Can you help me? I have to do something for her. She - she's..." and was coldly told: "The pool doesn't work anymore, it's too late." Bernie vainly offered: "I'll give you everything I've got." Walter: "I'm sorry, Bernie, I wish I could help you, it's just too late." He sobbed over her: "Rosie, oh, Rosie!"
An Attempt to Revive Rosie
the goodbye scene of Ben telling his grandson David (Barret Oliver) goodbye while standing knee-deep in water - and what he would miss on Earth (grandsons, fishing holes, hotdogs, baseball games, etc.) by going away forever to another planet, but also what he would gain: ("When we get where we're going, we'll never be sick, we won't get any older, and we won't ever die")
Descent of Spaceship to Pick Up Seniors - Raising Up The Entire Charter Boat Into an Alien Spacecraft
in the finale, the scene of the boat-load of seniors being transported upward into a departing Antarean spaceship for the unknown planet
in the final image, the spaceship appeared to be approaching its destination, the glowing Antarean planet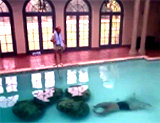 Cocoons Stored in Swimming Pool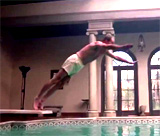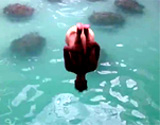 Rejuvenated Swimming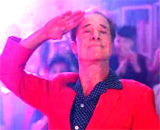 Art's Solo Break-Dancing Sequence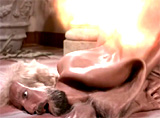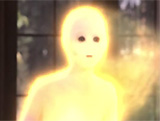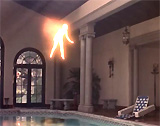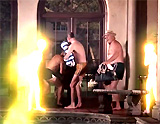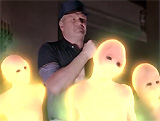 Alien Life Forms Revealed at the Pool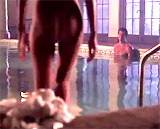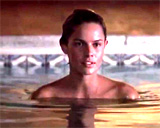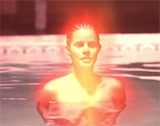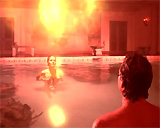 Kitty's Expression of Affection to Jack in Pool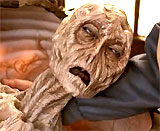 Death of One of the Aliens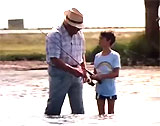 Goodbye Scene: Ben with Grandson David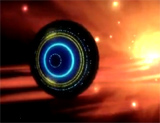 The Alien Spaceship Approaching the Glowing Antarean Planet