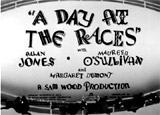 In this Marx Brothers' madcap comedy, in which Groucho (as vet doctor) posed as a sanitarium doctor - to save the financially-failing institution (and its pretty owner Judy Standish (Maureen O'Sullivan)):
the classic "Tootsie-Frootsie" ice cream scene in which vendor Tony (Chico Marx) sold racing tips (breeder's guides) to horse doctor Dr. Hugo Hackenbush (Groucho Marx)
| | |
| --- | --- |
| | |
| "Tootsie-Frootsie" Ice Cream Vendor Scene | Phone-Prank of Whitmore |
the split-screen phone prank scene in which Hackenbush played lots of tricks to infuriate Judy's scheming business manager Whitmore (Leonard Ceeley), including impersonating half-deaf "Colonel Hawkins" of the Florida Medical Board, in order to prevent Whitmore from acquiring Dr. Hackenbush's qualifications for the job at the Standish Sanitarium from the records department
the famous one-liner during Stuffy's (Harpo Marx) exam: "Either he's dead or my watch has stopped!"
the sequence of mute jockey Stuffy repeatedly pickpocketing the Sheriff (Robert Middlemass), each time that Tony bribed the threatening officer with a $5 bill - to keep the scam going
| | |
| --- | --- |
| | |
| "If I hold ya any closer, I'll be in back of ya" | Wallpapering Miss "Flo" to the Wall |
the film's highlight in which blonde floozie Cokey "Flo" (Esther Muir), hired to cause a scandal with Hackenbush, was romancing him in his suite during a late night dinner; she engaged in a close embrace with Hackenbush: Flo: "I want to be near you. I want you to hold me. Hold me closer! Closer! Closer", Hackenbush: "If I hold ya any closer, I'll be in back of ya"; to prevent their romantic affair from going any further, Stuffy and Tony - posing as wall decorators, wall-papered her to the wall and hid her under a pile of sofa cushions
the two absurd medical examination scenes:- first with Stuffy ("Just put the gown on, not the nurse"), and then with Mrs. Emily Upjohn (Margaret Dumont), including the introduction of "Dr. Steinberg" (Sig Rumann) scene who was there to expose Hackenbush as a quack - with lots of bowing in the examination room
during the exam of Mrs. Upjohn, Judy's fiancee Gil Stewart's (Allan Jones) misfit race horse Hi Hat burst into a sprinkler-soaked sanitarium and rescued the "Hackenbush team" of doctors; the trio escaped on Hi-Hat
| | |
| --- | --- |
| "Who Dat Man?" | All God's Chillun Got Rhythm |
the two musical sequences: (1) Pied-Piper-like Stuffy led a cavalcade of children through a barn in Gabriel: ("Who Dat Man?"), and (2) the exuberant song and jitterbug-dance number through Negro shanty towns, All God's Chillun Got Rhythm, with the gravity-defying, jitter-bugging danced by Herbert "Whitey" White's Lindy Hoppers
the steeplechase Big Race slapstick sequence in the conclusion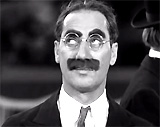 'Groucho's' Frequent Double-Takes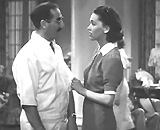 Dr. Hackenbush (Groucho Marx) with Judy (Maureen O'Sullivan)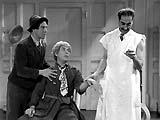 "Either he's dead or my watch has stopped!"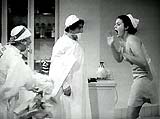 "Just put that gown on, not the Nurse"


Bribing and Pickpocketing the Sheriff


Bowing to Dr. Steinberg (Sig Rumann)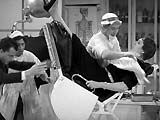 Examining Mrs. Upjohn (Margaret Dumont)