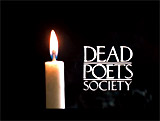 Dead Poets Society (1989)
In Peter Weir's dramatic film about educational inspiration:
eccentric, unorthodox 1959 Vermont prep school English teacher John Keating's (Robin Williams) lesson on the motto: "Carpe Diem" to his staid Welton Academy boarding school students ("Listen, you hear it? - - Carpe - - hear it? - - Carpe, carpe diem, seize the day boys, make your lives extraordinary") as they stood in front of old pictures of the school's athletic teams (and the camera panned across the faces of the now-deceased lads)
the scene in which the dedicated but dismissed teacher was paid tribute by his former pupils (including tongue-tied betrayer Todd Anderson (Ethan Hawke)) as they stood on their desks, defied authority and emotionally chanted: "O Captain! My Captain!" (taken from Walt Whitman's poem about Abraham Lincoln), as Keating thanked the students from the doorway: "Thank you boys, thank you"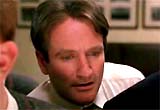 John Keating:
"Carpe Diem"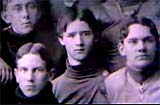 Close-Up of School Athletic Team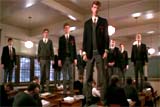 Students on Desks:
"O Captain! My Captain!"