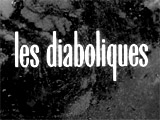 Les Diaboliques (1955, Fr.) (aka Diabolique)
In French director Henri-Georges Clouzot's psychological horror-thriller - one of the earliest films to feature a shocking plot twist in its conclusion; it was adapted for the screen from Pierre Boileau's and Thomas Narceja's 1951 novel Celle Qui N'était Plus (She Who Was No More) [Note: the scary bathtub scene was imitated in The Shining (1980), Fatal Attraction (1987), and What Lies Beneath (2000).]:
the film's main characters: Michel Delassalle (Paul Meurisse), a despicable and abusive schoolmaster, Christina (Véra Clouzot, director Georges Clouzot's real-life wife) - Michel's mistreated, downtrodden, humiliated, frail and ailing wife/headmistress and the owner of the school, and Nicole Horner (Simone Signoret), a brassy schoolteacher, Michel's mistress
the deadly love triangle in the curving plotline and the famous shocking twist ending - the two females plotted to drug the miserly Michel and drown him in a bathtub in Nicole's country house (closeby to the school, in an isolated village), and then dump his body in the school's swimming pool; but then Michel's body went missing from the pool, and there were several possible sightings; however, Michel was never killed by them - he had faked his own death - with collaborative help by Nicole - so Christina could be murdered
in the sequence, when Christina unexpectedly saw Michel's corpse in the bathtub, it caused her (and the audience) to have a fright-induced heart attack, when he rose zombie-like out of a bathtub with half-opened, all-white eyes; she clutched her chest in the vicinity of her heart, fell back against the wall and slid to the floor where she collapsed and slumped over dead
afterwards, he popped the fake eye lenses from his eyes, exited the tub, and checked Christina's arm for a pulse; after unlocking the apartment door, Nicole rushed into his arms for embraces and kisses; their plan was to become rich by selling the "fire-trap" school that he would inherit from his deceased wife
in the denouement, the two conspirators were immediately arrested by retired private detective Alfred Fichet (Charles Vanel), who predicted that they would be imprisoned for 15-20 years
in the film's resolution the next day as the school was closing, there was another possible twist regarding the fate of Christina; confused, truth-telling or lying (?) schoolboy Moinet (Yves-Marie Maurin) declared that Christina had just given him back his confiscated slingshot (which he used to break a window) that morning - the film's last line as he walked away: "I did see her. I know I saw her." (translated)
the film's unique, one of the first of its kind, end-credits 'anti-spoilers' director's statement that advised viewers to keep the film's ending a secret: "Don't be devils. Don't ruin the interest your friends could take in this film. Don't tell them what you saw. Thank you for them." (another translation): "Don't be diabolical yourself. Don't spoil the ending for your friends by telling them what you have just seen. On their behalf - Thank you!"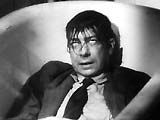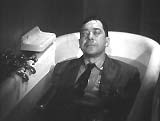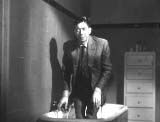 Michel's Zombie-Like Emergence From Bathtub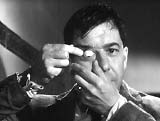 Removing Fake Eye Lenses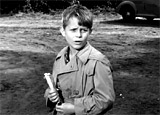 Schoolboy Moinet Claiming to Have Seen Christina After the Bathtub Incident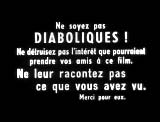 Director's Anti-Spoiler Statement