In MGM's and George Cukor's sophisticated comedy/drama with many great stars, the first all-star comedy:
failing shipping line magnate Oliver Jordan's (Lionel Barrymore) nostalgic memories of his love for aging grand dame actress Carlotta Vance (Marie Dressler)
platinum blonde trophy wife Kitty Packard (Jean Harlow), in her white-hot extravagant bedroom, taking bites out of chocolates and putting the pieces back in the box
Kitty's memorable argument scenes with tycoonish husband Dan (Wallace Beery)
Mrs. Oliver Jordan's (Billie Burke) hyper-ventilating hysteria over her ruined dinner plans for Friday's "dinner at eight" for a group of elite socialites
the image of failed, ex-silent era star Larry Renault's (John Barrymore) profile in a vivid but pathetic suicide scene by turning on the gas in his sealed Versailles Hotel suite
the well-known show-stopping closing with priceless dialogue when Kitty made conversation with Carlotta on their way into dinner ---
Carlotta's Comment to Kitty
Kitty: "I was reading a book the other day."
Carlotta (staggering at the thought): "Reading a book!"
Kitty: "Yes. It's all about civilization or something, a nutty kind of a book. Do you know that the guy said that machinery is going to take the place of every profession?"
Carlotta (eyeing Kitty's costume and shapely physical charms): "Oh, my dear, that's something you need never worry about."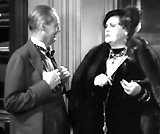 Oliver Jordan (Lionel Barrymore) with Carlotta Vance (Marie Dressler)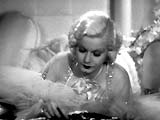 Kitty Packard (Jean Harlow) in Bed Eating Chocolates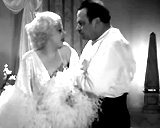 Kitty Arguing With Husband Dan Packard (Wallace Beery)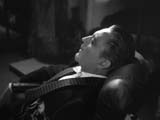 Larry Renault (John Barrymore - "The Profile") Succumbing to Suicide by Gas