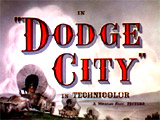 Dodge City (1939)
In director Michael Curtiz' energetic landmark western from Warner Bros., about an Irish cowboy/Texas cattle agent (an ex-Confederate) who decided to become the sheriff in the lawless and anarchic cattle town of Dodge City, Kansas:
the unbelievable scene of the spectacular free-for-all brawl in the Gay Lady saloon (one of the best in cinematic history), during the customers' sing-along with dancers on stage, including lead singer Ruby Gilman (Ann Sheridan); the chaos of the fight spread outside and also interrupted and broke through the wall into the next door's temperance meeting, in the lawless "Babylon of the West" town of Dodge City
the nefarious character of outlaw gang leader and cattle rustler Jeff Surrett (Bruce Cabot), who managed the saloon, and ruled over the terrorized town
the sequence of a major cattle stampede caused by the accidental pistol firing of young cowpoke Lee Irving (William Lundigan), the brother of Abbie Irving (Olivia de Havilland), a frontier settler
Three Major Stars




Wade Hatton
(Errol Flynn)

Abbie Irving
(Olivia de Havilland)

Ruby Gilman
(Ann Sheridan)
after the tragic killing of young Harry (Bobs Watson) riding toward a Sunday School picnic who was caught in a shoot-out and dragged to his death, followed by the decision of Texas cattleman Wade Hatton (Errol Flynn in his first western) to accept an appointment as Sheriff, to clean up the town; a close-up on Harry's paper SHERIFF badge dissolved into the tin star worn on the belt of Hatton
the relationship that developed between the newly-appointed Sheriff and Abbie, although Hatton often flirted with dance hall girl Ruby who sang a number of songs on stage
the climactic, exciting burning hijacked runaway train sequence, carrying both Abbie, Hatton and one of Surrett's gunmen named Yancey (Victor Jory), who had killed the town's brave newspaperman Joe Clemens (Frank McHugh) for publishing evidence that could convict Surrett of crooked cattle dealing; Surrett and his gang of outlaws attempted to release Yancey and were gunned down by Hatton and others as they made their getaway on horseback
in the film's conclusion, it appeared that Dodge City had been completely pacified: "Now, listen to that. Singing hymns and it ain't even Sunday. No one in sight even friendly drunk. Doggone, if this place ain't getting so pure and noble it ain't fit to live in"; Wade was informed by railroad builder Colonel Dodge (Henry O'Neill) that there was another "bad town...a wild murderous town" - Virginia City - "Worse than Dodge City ever was"; other arguments were put forward to recruit and convince the reluctant Wade, who was about to get married to Abbie in the following week: "We've got 4,000 people out there. Decent men and women with families who are living in terror....We need you, son. The city is teeming with crime and corruption. What law we've tried has failed, failed because the men behind it hadn't the brains and courage to back it up"; after delivering lemonade to the men, Abbie (who had overheard their previous conversation) asked Colonel Dodge: "When do we start for Virginia City?"
to clean up its lawlessness, Wade agreed to tame the new location in Nevada, and with his fiancee Abbie, the two were seated on a wagon train traveling to Virginia City in the film's final fade-out into a sunset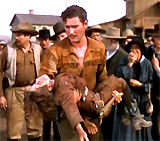 Tragic Death of Young Harry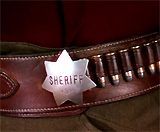 Hatton's Sheriff's Badge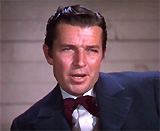 Jeff Surrett
(Bruce Cabot)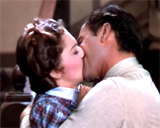 Romance Between Wade and Abbie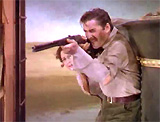 Runaway Burning Train Sequence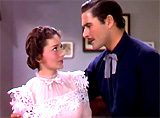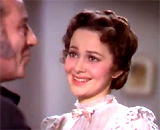 "When do we start for Virginia City?"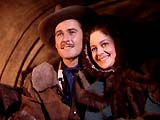 End Scene: Riding Off to Virginia City