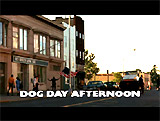 Dog Day Afternoon (1975)
In Sidney Lumet's crime drama, based on a real-life situation in August of 1972:
hyperactive, anti-social Sonny Wortzik's (Al Pacino) armed robbery of the First Brooklyn Savings Bank (FBSB) during a heat wave, when innocent hostages were taken; Sonny was accompanied by his friend Salvatore "Sal" Naturale (John Cazale), but the third person in the trio chickened out and nervously fled - Stevie (Gary Springer)
the scenes of Sonny's continued dialogue and negotiations with Police Detective Sergeant Eugene Moretti (Charles Durning) handling the case from the bank's exterior, surrounded by massive numbers of police officers
Sonny's chanted shouts of "Attica! Attica! Remember Attica!" (a reference to the recent Attica prison riot in New York in 1971) to encourage a mob of curious onlookers outside the bank to cheer for him
after paying for a pizza delivery, Sonny tossed wads of bank cash into the air outside the bank, causing the crowds to become more crazed
the revelation of the alleged motive for the robbery - to pay for the sex re-assignment surgery for Sonny's wife, a pre-operative transgender woman named Leon Shermer (Chris Sarandon) ("I was a woman trapped in a man's body"); this was revealed by Sonny's impassioned police telephone call conversation to his transvestite lover Leon outside the bank, in which Leon claimed that Sonny had promised to purchase a sex-change operation for $2,500 dollars; during the later phone conversation, Leon admitted that Sonny had been abusive and caused him to check into the psychiatric ward of Bellevue Hospital with suicidal tendencies; the phone call ended with Leon's simple farewell: "Goodbye, huh?"
About Leon Shermer

Leon's Wedding Photo

Leon (Chris Sarandon) on Phone With Sonny
the concluding scene of the two robbers (with the remaining hostages) driven to JFK Airport in a limousine to escape on a plane, when driver Agent Murphy (Lance Henriksen) at the wheel took an opportune moment, reached for a hidden weapon, and shot Sal in the forehead - and Sonny was arrested (with a gun held to his head
the epilogue in the ending subtitles: Sonny was sentenced to 20 years in prison, Angie (Sonny's first wife) and her children were living on welfare, and Leon had her sex reassignment surgery and was living as a woman in New York City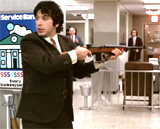 Armed Bank Robbery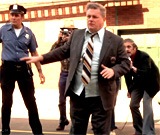 Police Detective Sergeant Eugene Moretti (Charles Durning)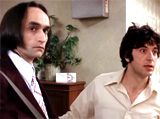 Sonny with Sal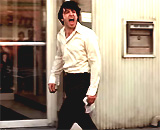 "Attica! Attica!"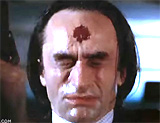 Killing of Sal in Airport Limousine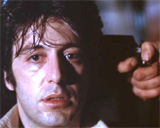 Sonny Arrested