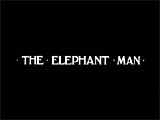 The Elephant Man (1980)
In David Lynch's dark and affecting biopic about a sensitive and cultivated, but hideously-deformed, child-like John (Joseph) Merrick (John Hurt) in 19th century London:
the amazing scene in which London surgeon - Dr. Frederick Treves (Anthony Hopkins) listened to Merrick movingly recite the entire 23rd Psalm (from the Bible); Dr. Treves was astonished and asked: "How did you know the rest of it? I didn't teach you the rest of it. It's very strange. Tell me, how did you know the rest of it? The 23rd Psalm?"; Merrick responded: "I used to read the Bible every day. I know it very well and the Book of Common Prayer. The 23rd Psalm is very beautiful. It's my favorite"; Merrick then apologized to Dr. Treves for not revealing that he knew how to read: "I was frightened...I was afraid to talk. Please forgive me"
the tea cup scene of Merrick showing Dr. Treves and his emotionally-affected wife Ann Treves (Hannah Gordon) a picture of his pretty mother ("She had the face of an angel") - and Merrick's next poignant comment: "I must've been a great disappointment to her...If only I could find her so she could see me with such lovely friends here now. Perhaps she could love me as I am. I've tried so hard to be good"
the scene in which famous stage actress Madge Kendal (Anne Bancroft) visited the disfigured Merrick and they performed a Shakespearean scene together from Romeo and Juliet, followed by her loving, brief kiss; she exclaimed: "Oh, Mr. Merrick. You're not an elephant man at all. You're Romeo"
the Liverpool (London) Street train station scene in which Merrick (with a burlap bag over his head) was chased, harrassed, and surrounded by a mob (after he knocked over a young girl) - and his stirring cry to the crowd once he was corned in a men's room toilet: "I AM NOT AN ANIMAL! I...AM... A HUMAN BEING! I AM A MAN"
"I AM NOT AN ANIMAL!"

Unmasked and Crying Out at Train Station
Merrick's last night of his life when he was taken to one of Madge Kendal's magical Christmas pantomime performances, "Puss in Boots" at the Theatre Royal on Drury Lane; he received a standing ovation (instigated by Ms. Kendal) in his box after the show; from the stage, she dedicated the performance to him: "A man who knows the theater and who loves the theater, and yet this is the very first time he's ever been here. I wish to dedicate - The whole company wishes to dedicate with all their hearts, tonight's performance to Mr. John Merrick, my very dear friend"
| | | |
| --- | --- | --- |
| | | |
| Completing Church Model | Last Glance at Mother's Picture | Lying Back |
| | | |
| Suicidal Death | Entering into Eternity | Vision of Smiling Mother |
Merrick's demise; after completing his church model, he laid back on a bed while gazing at his mother's picture on his bedside table as a slight breeze softly billowed the lacy window curtains - he stretched out for peaceful, suicidal death in sleep (his normal position for sleeping was sitting up - lying down would suffocate him and prove fatal); there was a montage of his spirit passing out the window into eternity as she quoted to him from Alfred Lord Tennyson's 1893 poem "Nothing Will Die" to console him, accompanied by Samuel Barber's haunting Adagio for Strings: "Never, oh, never. Nothing will die. The stream flows, the wind blows, the cloud fleets, the heart beats. Nothing will die"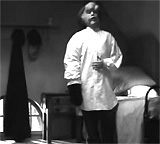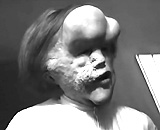 23rd Psalm Recitation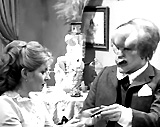 Tea-Cup Scene: Mother's Picture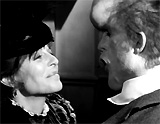 Reciting Shakespeare with Madge Kendal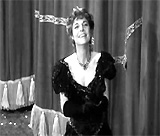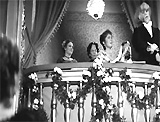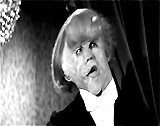 Standing Ovation For Elephant Man