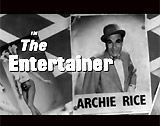 The Entertainer (1960, UK)
In Tony Richardson's bittersweet family drama, adapted from John Osborne's play, set in the year 1956:
the film's tagline: "As the applause grew fainter... As the spotlight grew dimmer... His women were younger!"
the stunning performance of Oscar-nominated Laurence Olivier as Archie Rice, an old-fashioned, pathetically self-deluded, third-rate music-hall 'entertainer' at a run-down, seaside resort town, with smaller and diminishing audiences, and facing bankruptcy and problems with alcoholism
the sequence of the charming Archie emceeing a Miss Great Britain beauty contest (with a first prize of 1,000 pounds) and afterwards, he had adulterous sex with the second place finisher, Tina Lapford (Shirley Ann Field); after sex he asked her: "Not used to the oId crocks, then?"; she responded: "Don't be so daft. I mean, I've never made Iove, not Iike this afternoon..." and admitted she must be in love with him; he had conned her into thinking that she would be starring in his new show - financed by her wealthy parents
the portrayal of cheating philanderer Archie's strained relationship with his alcoholic wife Phoebe (Brenda De Banzie)
Billy Rice
(Roger Livesey)

Archie's Daughter Jean
(Joan Plowright)

Commemoration Service For Death of "Mick"
the devastating revelation that Archie's son Sgt. Michael "Mick" Rice (Albert Finney) was not captured and released in Suez Egypt, but killed
the lengthy scene of Archie's reflections about himself when engaged in a serious discussion (on an empty stage) with his loving, sympathetic daughter Jean Rice (Joan Plowright) - he confessed his realization of his shortcomings to her: "You think I'm just a tatty old music-hall actor. But you know, when you're up here, when you're up here, you think you love all those people around you out there. But you don't. You don't love them like - oh, if you learn it properly, you get yourself a technique. And smile, darn you, smile and look the friendliest, jollyest thing in the world. But you'll be just as dead and used up, just like everybody else. Do you see this face? This face can spIit open with warmth and humanity. It can sing. TeII the worst, unfunniest stories in the worId to a great mob of dead, drab erks. And it doesn't matter. It doesn't matter, it doesn't matter because Iook. Look at my eyes. I'm dead behind these eyes. I'm dead. Just Iike the whoIe damn shoddy Iot out there"
Dramatic Scene Between Archie and His Daughter

"Dead and Used Up"

"I'm Dead Behind These Eyes"

"I wish to God I was that oId bag"
the continuation of the scene - he described how one night in Canada when he slipped over the border, he heard an 'old fat Negress' singing her heart out in a bar, and he thought: "If ever I saw any hope or strength in the human race, it was in the face of that oId fat Negress getting up to sing about Jesus, or something Iike that. I never even Iiked that kind of music, but to see that oId bag singing her heart out to the whoIe worId. And you knew somehow in your heart that it didn't matter how much you kicked peopIe, how much you despised them. If they can get up and make a pure, just naturaI noise Iike that, there's nothing wrong with them. If I'd done one thing as good as that in my whoIe Iife, I'd have been aII right. I wish to God I was that oId bag. I'd stand up and shake my great bosom up and down and Iift up my head and make the most beautifuI fuss in the worId. Dear God, I wouId. But I'II never do it"
the heart-attack and deadly collapse of Archie's elderly, legendary, retired show-biz dance-hall entertainer-father Billy Rice (Roger Livesey) before his first appearance on opening night in a revived show
the scene of Archie's final musical performance before an uncaring audience at the Alhambra Theatre (singing his signature song: "Why shouId I care? Why shouId I Iet it touch me? Why shouIdn't I, sit down and try, to Iet it pass over me? Why... Why shouId I Iet it get me? What's the use of despair? If they see that you're bIue, they'II Iook down on you. So why, oh why shouId I?") as his many creditors and the tax man were waiting in the wings - to close down the show and take him away for income tax evasion; he abruptly stopped singing and addressed the audience for the last time with a bittersweet goodbye: "Oh, well. I have a go. Don't I, ladies? I do. I have a go. You've been a good audience. Very good. A very good audience. Let me know where you're working tomorrow night. I'll come and see you" - and the curtain descended in front of him; the last words were from a stage-crew member: "Ghost lights up. Take the front curtains up"; Jean joined her father on stage as they looked out at the emptied auditorium before they slowly walked off; as the film concluded, a tinkly-piano played the tune: "Why Should I Care?"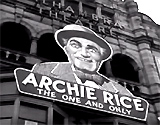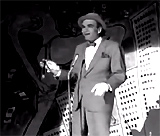 Archie Rice
(Laurence Olivier)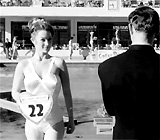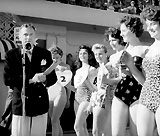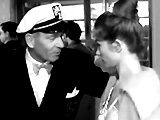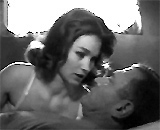 Archie as Master of Ceremonies For a Beauty Contest and Afterwards Having Sex With Contestant Tina Lapford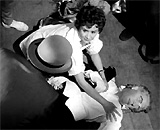 Backstage Heart-Attack Death of Billy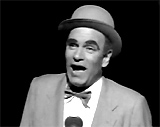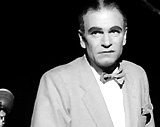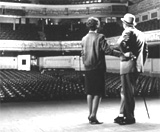 Archie's Final Musical Performance at Alhambra Theatre