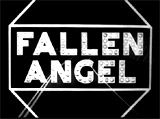 Fallen Angel (1945)
Director Otto Preminger's follow-up film noir to Laura (1944) was this taut, noirish crime drama and murder-mystery. It shared many plot similarities with the noir classic The Postman Always Rings Twice (1946). 20th Century Fox was trying to find a more diverse role for its bright musical star Alice Faye, who played a contrasting goody-two-shoes role within a love triangle, was the opposite to the film's dark femme fatale role portrayed by Linda Darnell. Told with impressive black/white cinematography, it was a tale of deceit, obsession, twisted passion, greed, lust, concealment and fake trickery, with almost all of the main characters both despicable and unappealing.
In the film's opening, handsome, smooth-talking, down-and-out, cynical and amoral drifter and con man Eric Stanton (Dana Andrews), the film's anti-hero, had attempted to pretend he was asleep to fool the bus driver. He was ejected from his cross-country Greyhound Bus bound for San Francisco (150 miles to the north) for not having funds to pay the additional fare of $2.25 to get to the destination. He was dropped off in the small California sea-side town of Walton.
Three Major Male Characters Were Introduced
All Were Victims of Stella's Charm

Eric Stanton
(Dana Andrews)

Mark Judd
(Charles Bickford)

Pop
(Percy Kilbride)
At the local beachside, greasy-spoon Pop's diner run by elderly Pop (Percy Kilbride), Stanton walked in after 10 pm and overheard the very anxious owner reporting to ex-NYC police detective Mark Judd (Charles Bickford), the local cop, that his favorite waitress Stella (21 year-old Linda Darnell) had been missing for three days. Suddenly and unexpectedly, the sexy, dark-haired, long-legged, tough-minded, brassy waitress Stella walked in the door.
The destitute but opportunistic Stanton walked over to the Hotel Walton to rent a room where he noticed an advertising poster for a fellow con-artist named Professor Madley (John Carradine), a "Psychic Extraordinary" - a charlatan clairvoyant who was scheduled to appear at the hotel at 8pm on the next night, Saturday. The flyer promoted the grifter's ability to conduct seances and connect loved ones with their "dearly deceased" relatives. After speaking to the front desk clerk (Jimmy Conlin), Stanton conned his way into a free stay by sleeping in the room of Joe Ellis (Olin Howland), Madley's fraudster assistant.
And then, due to his experience as an ex-NY press agent and familiarity with snake-oil pitches, Stanton maneuvered his way into acquiring a job as the promoter of the mentalist's show-performance. He proved his mettle by encouraging the town's rich, shy, blonde church organist June Mills (Alice Faye), the town's trusting, smart, pure-hearted, plain-Jane spinster, and her embittered, protective and wary older sister Clara (Anne Revere), the daughter of the former town mayor, to attend the evening's communion with the dead. (During the show, Professor Madley spoke about Clara's beau John Martin, who had swindled her out of her father Abraham Mills' inheritance, by encouraging her to sell all her bonds and orange groves.)
| | |
| --- | --- |
| | |
| June Mills (Alice Faye) | Two Sisters: June and Clara Mills (Anne Revere) |
Stanton also became instantly entranced with earthy, bad-girl sexpot Stella, and realized they both shared like-minded roots from the wrong side of the tracks. He saw the manipulative, adept and slutty sexpot stealing money from the diner's till (by falsifying written receipts and stuffing money down her bra). After Professor Madley's show, Stella joined Stanton for dancing and drinks at a tavern, where she told him: "I like the way you talk." She verified for him that her mother ran a boarding house in San Diego, and her father was a drunk. During a second dance, they kissed..
On a nearby sandy beach, they kissed again in the moonlight. While bragging about his past exploits in a NYC publicity mill: ("I know all people and all places, like 21, The Stork Club. That's where you belong, smothered in mink. I can see you there"), he flattered her and encouraged her to run off to San Francisco with him the next day, but the disdainful and sulty conniver rebuffed him: ("You got the wrong girl...You got into town with one dollar in your pocket. You're a fake!"). In a show of her selfishness and uncompromising nature, she delivered an ultimatum to the unstable drifter - she would reciprocate his love with marriage ("a ring on my finger") and a home only if he showed evidence of financial stability and a steady income.
Although he was planning to leave for SF, he decided to stay in town and convince Stella to marry him ("I can't get away without you, Stella, and I'm not going anywhere without you"), by promising the ambitious female that he would provide her with a $12,500 house - without telling her exactly how. He provided her with the deal: "You just sit tight and wait for me. That's the deal. You'll keep it." She answered: "Maybe I will." They shook hands - and kissed.
Stanton Persistently Pressuring and Sweet-Talking Stella
To curry seductress Stella's favor, the black-hearted and dishonest Stanton decided to date rich heiress June in order to eventually acquire her inheritance money, and then return to Stella. He asked June for a dinner-movie-and dancing date (during which he jealously saw Stella dancing with her old boyfriend Dave Atkins (Bruce Cabot) - a traveling juke-box repairman). After the date with June, Stanton waited around for Stella at her place until after 3 am, but she didn't show up. The next morning, he confronted Stella at the diner and noticed a brand-new expensive watch on her wrist that she had received from a secret admirer - presumably Atkins. Stanton pressured her to go out with no-one else for a couple of days.
Stanton had a second beach cook-out date with June, and filled her head with seductive dreams of life in New York and San Francisco, to further her career as a musician. June decided to go with him by train to SF (with Clara accompanying them) to a mid-afternoon orchestral concert. After a visit to the sisters' SF bank deposit box, June secretly accompanied Stanton to acquire a Marriage Health Certificate in two hours, although June's very dubious sister Clara objected to the news: ("I'll have the whole thing annulled").
After the sham SF marriage to June (following only a few short dates), and on his wedding night back in Walton, Stanton left to be with Stella for a sexual rendezvous-liaison before running off with her. Stella was about to be driven away for a date with Dave Atkins, and rejected Stanton's offer to join her in SF during his honeymoon, to get the money: ("You're going to San Francisco tomorrow.... Tomorrow I'll have that money, all of it...It was the only way...I did it for you, to get you what you wanted"). After a loud argument, she stormed off and entered Atkins' awaiting car. (Potential sister-in-law Clara followed Stanton as he left the house and had watched their liaison from the shadows). Stanton had no choice but to return to a loyal and supportive June, who was told that he had gone to the diner but accepted him back anyway.
The next morning, news came from hard-bitten cop Judd - who had been assigned to the case - that Stella had been mysteriously murdered earlier that morning in her 2nd floor apartment between 3 and 4 am by a blow to the head by a lead pipe. According to Judd, the downstairs tenant had found Stella's watch under the stairs - presumably dropped by the fleeing killer who she couldn't identify.
There seemed to be many suspects each with their own motives. Judd briefly interrogated Stanton and revealed he knew of his unusual whereabouts: ("It's strange....that a man doesn't spend his wedding night at home"). He also brutally questioned and unnecessarily beat up Dave Atkins to force a confession, although the man's alibi checked out and he was innocent.
June was determined to remain with Stanton: ("I can't let it end now. I must give us every chance. I hardly know him yet. We've said so little to each other, we're practically strangers. Together, maybe he'll change...at least I'll have tried, done everything I could"), even though Clara vehemently disagreed with her. June insisted on joining Stanton as he fled to SF: "You'll need me to get the money in San Francisco...You'll need it... I'm not giving it to you. It belongs to both of us."
The newly-married Stanton couple left town for San Francisco (hitchhiking without luggage) and then resided in a cheap and seedy hotel. Although Stanton was restless and short with June, and ready to leave her for a life of continual drifting, her quiet demeanor and her true love for him persuaded him to redeem himself and establish an honest and open marital relationship with her. He admitted his life was basically a failure and "a complete washout at 30....Up in smoke, like everything in my life. My school, the publicity game. Easy come, easy go. I got everything by talking fast in a world that goes for talk, and end up with exactly nothing." She recited a poem to him to encourage them to stick together - with a reference to a "fallen angel":
We were born to tread the earth as angels, to seek out heaven this side of the sky. But they who race alone shall stumble in the dark, and fall from grace. Then love alone can make the fallen angel rise. For only two together can enter Paradise.
The next morning, June was apprehended by SFPD officers outside the bank. Back in Walton, June was charged by Judd with being an accessory to Stella's murder thought to be committed by Stanton: ("Getting mixed up in this murder as an accessory after the fact"). Judd also suspected that Stanton's intent was to steal the Mills' sisters money from their safe deposit box, and then run off with Stella. However, the plan went awry according to Judd's theory - although he had no proof: "He made the mistake of coming back a married man and she didn't want to have anything to do with married men. They had an argument and he killed her." June counter-argued and defended Stanton's innocence:
"You only think the worst of him, trying to make him guilty of murder when he didn't do it! I tell you he didn't do it! He didn't do it!"
Rather than continue running, Stanton was forced to return to Walton where June was being detained. He suspected that Judd's tactics were unethical, and uncharacteristically fervent since he supposedly had claimed ill health when he left the NY police force: ("You know, you weren't strong enough to keep on working on the New York force. Why are you working so hard on this case? Maybe you'd better slow down"). Stanton had investigated Judd's questionable work background for himself with the local DA, and found evidence that he had a pattern of brutality and unjust treatment of innocent suspects:
"You were in perfect health when you left there. They only retired you from the force because you ruined another man's health, almost killed him in a routine investigation. They would have sent you up, if you hadn't had such a good record..."
Stanton also had traced Stella's watch found at the crime scene. Knowing he was caught, Judd drew his gun on Stanton, and admitted his guilt. He had angrily grabbed the watch from Stella's wrist - a gift from Atkins - and then fled, but dropped it on the stairs: "Perhaps this might have been the perfect crime, if I hadn't dropped the watch, though I doubt it." He had become obsessed for Stella over two years time: "You know what she was like. You couldn't get away from her either. Two years, I came in here and drank coffee, just to get a look at her. Day after day, for two years." He had stalked on numerous nights when she was with other male dates, and when she rejected him and instead chose to marry Atkins, he sought revenge against Stella by striking her - and murdering her
"When she told me she wouldn't wait any longer for my wife to give me a divorce, that she was going to marry that slot-machine operator the next morning, I hit her."
Incensed by the confession, Pop grabbed Judd's gun to fire at him, but was blocked. Judd was arrested, and Stanton joined June outside who drove the two of them home.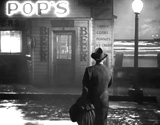 Pop's Diner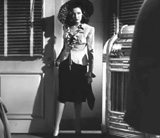 Stella's Sudden Entrance Into Diner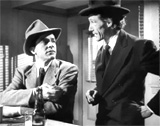 Stanton's Promotion of Professor Madley (John Carradine)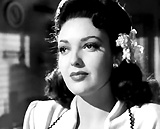 Stella - The Object of Attention for Three Males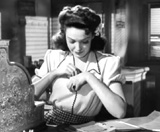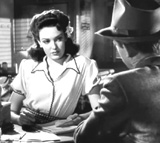 Stella Cheating the Diner - Putting Money Down Her Bra (Witnessed by Stanton)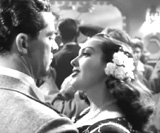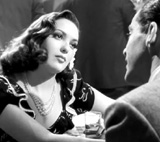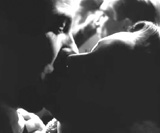 A Dance Date with Stella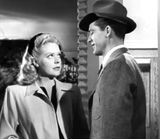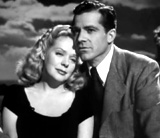 Dates with June Mills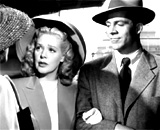 June and Stanton with a Marriage Certificate in San Francisco



Stella's Rejection of Stanton - She Was Going On a Date With Dave Atkins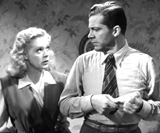 The Morning of Stella's Murder - Stanton Was With June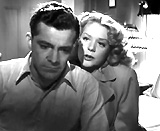 Married - and in SF with June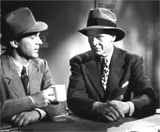 Stanton Questioning Judd's NYC Police Work Background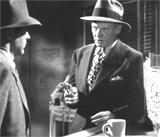 Judd - Found Guilty of Stella's Murder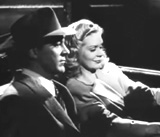 June and Stanton Cleared of the Crime - And Together