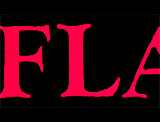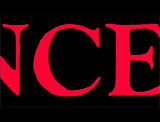 Flashdance (1983)
In Adrian Lyne's R-rated sleeper hit - a musical romantic drama with energetic, glossy music-video style dance sequences - a major box-office success and cultural touchstone, and generally regarded as a formulaic, implausible Cinderella story:
the early iconic scene of Pittsburgh steel-mill welder/ exotic bar dancer Alexandra "Alex" Owens (Jennifer Beals), at Mawbry's Bar - supine on a chair as water splashed down on her (mostly in dark silhouette); she was accompanied by the song "He's a Dream" sung by Shandi Sinnamon (as Shandi); then, "Alex" rose from the chair and danced in her wet red leotard
| | |
| --- | --- |
| | |
the sweaty scene of Alex's equipment and weights workout (with two others who were providing dating advice) - in a gym to the tune of "I Love Rock 'N Roll", sung by Joan Jett & The Blackhearts
the 90-second, influential street scene of Alex (in a long-shot) coming upon a group of B-boys (Wayne "Frosty Freeze" Frost, Richard "Crazy Legs" Colon, and the Rock Steady Crew), who showed off their break-dancing moves to the tune of Jimmy Castor's "It's Just Begun"
the iconic image of Alex's torn/cut-off-the-shoulder gray sweatshirt (and the scene of the removal of her black bra under the sweatshirt)
the sequence of Alex's intense foot-pounding, stretching, hair-spinning, practice exercise routine in a black leotard, to the tune of Michael Sembello's hit song "(She's A) Maniac" ("And she's dancing like she's never danced before"); it began with black leotarded Alex taping up her feet in preparation for an intense workout of running in place, twirling, and stretching (usually performed by body double Marine Jahan); there were lots of closeups, fast cuts and blurred action typical of the MTV style
"(She's A) Maniac" Dance Sequence
the seductive scene of Alex tantalizing older boyfriend (and steel mill boss) Nick Hurley (Michael Nouri) during a lobster dinner - while she was dressed in a black tux; she slowly nibbled and sucked soft pieces of seafood, and suggestively asked: "What turns you on? (during the conversation, she moved her leg up under the table to tantalizingly touch his crotch with her stockinged toes) You like phone booths?"; when Nick's ex-wife Kate (Belinda Bauer) showed up to introduce herself, and made insinuating comments about Alex's work as a welder and stripper, Alex removed her tuxedo coat jacket (leaving the front piece of only a white shirt and cuffs without sleeves), and candidly described her provocative first date with Nick: "I f--ked his brains out"
Sexy Lobster Dinner with Nick
the climactic scene of Alex' audition (with a black leotard and ankle warmers) before the Pittsburgh Conservatory of Dance and Repertory to the tune of the Oscar-winning Best Song "Oh, What a Feeling!" (sung by Irene Cara); at first she stumbled and faltered, and asked to start over ("Can I start again?") - the film's final line of dialogue, and was allowed to continue - with a combination of moves (including break-dancing at the end), she was able to gain entrance to the Conservatory
the loving and cliched, upbeat romantic clinch - after her important dance audition, Alex met Nick; she received a handful of long-stemmed red roses, a twirl and a loving kiss in the freeze-framed, dialogue-less conclusion - to the tune of "Flashdance - What a Feeling!"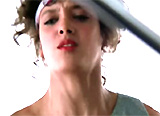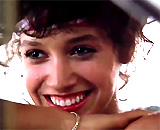 Sweaty Gym Workout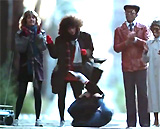 Break-Dancing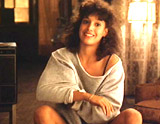 Cut-Off Sweatshirt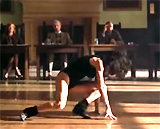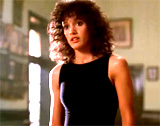 "Can I start again?"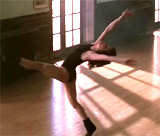 Winning Audition at Pittsburgh Conservatory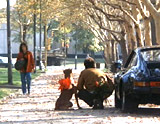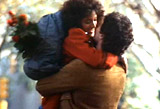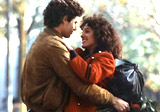 Congratulatory Kiss and Clinch