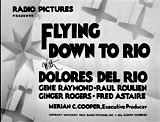 Flying Down to Rio (1933)
In director Thornton Freeland's extravagant, pre-Code RKO musical romance - known for the first teaming (of nine pairings) of Fred Astaire and Ginger Rogers in secondary roles, and also known for saving RKO from bankruptcy (along with King Kong (1933)):
the plot: complications of a romantic love triangle between blonde, buffed American aviator and Yankee Clippers band-leader Roger Bond (Gene Raymond), upper-class fiery Brazilian heiress Belinha (Dolores Del Rio) and her wealthy fiancee Julio Rubeiro (Raul Roulien)
the opening sequence of the effeminate Hammerstein (Franklin Pangborn), the Swiss manager of Hotel Hibiscus in Miami, inspecting staff outfits - and discovering that one of the voluptuous, flirtatious waitresses had an indecent neckline
one of the earlier numbers: band singer Honey Hale (Ginger Rogers) wore a low-cut, fairly-transparent skirt while singing "Music Makes Me" - with lyrics: "My self control was something to brag about / Now it's a gag about town / The things I do are never forgiven and just when I'm livin' 'em down / I hear music / Then I'm through 'cause music makes me do the things I never should do"
the statement made by an American blonde woman about Belinha's appeal, after she was able to entice band-leader Roger to leave his conducting post and invite her to dance with him: "What do these South Americans got below the Equator that we haven't?"
the interlude on a tropical island after a plane crash, when Roger and Belinha had out-of-body 'double-exposures' of their subconscious, alter-ego selves contemplating sex; Roger's alter-ego said: "When was there ever a better opportunity for dirty-work at the crossroads?"; during their short overnight on the island, after Belinha informed Roger that she was engaged to Julio and couldn't continue their affair, he put her over his knee and spanked her!
the pre-Code undressing scene of a naked Roger (seen only from the waist up, but with implied nudity) tossing aside his Rio hotel room towel and being checked out (below-the-waist) by Julio - whose eyes dipped downward
| | |
| --- | --- |
| | |
the star-making dance "The Carioca" by band accordion player Fred Ayres (Fred Astaire) and Honey Hale (Ginger Rogers), including their touching of foreheads
"The Carioca"
the memorable scene of an aerial ballet, as part of the opening of the Hotel Atlantico owned by Belinha's father Senor De Rezende (Walter Walker) -- sexy, high-kicking, high-heeled, scantily-clad chorus girls who danced to the title song, while on airborne airplane wings
The Spectacular Aerial Show

Soaring High on the Wing

Scantily-Clad Aerial Maneuvers

On Airborne Wings

See-Through Tops

Parachutes Failed - Loss of Underwear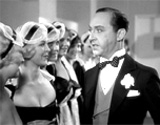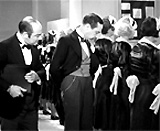 Hotel Staff Inspection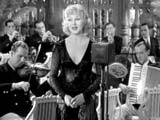 Honey Hale (Ginger Rogers): "Music Makes Me"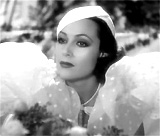 Belinha (Dolores Del Rio) - With Puff Sleeves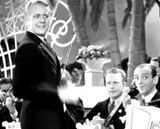 Band Leader Roger
(Gene Raymond)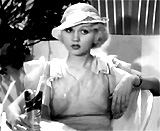 "What do these South Americans got below the Equator that we haven't?"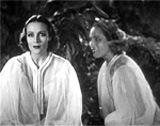 Belinha's Subconscious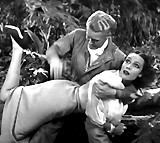 On the Island, Belinha's Spanking by Roger