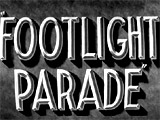 In director Lloyd Bacon's and Warner Bros' musical - the third backstage musical from Warner Bros in 1933 (after 42nd Street and Gold Diggers of 1933):
the famous number "Sittin' on a Backyard Fence" featuring chorines dressed in cat-suits
the many pre-Code jokes and risque situations, such as Nan Prescott's (Joan Blondell) quip at three o'clock in the morning to her opportunistic, gold-digging roommate Vivian Rich (Claire Dodd), who was attempting to steal her drunken beau, theatrical producer Chester Kent (James Cagney) away from her - she kicked Vivian out the door: "Now you scram, before I wrap a chair around your neck!...Outside, countess. As long as they have sidewalks, you've got a job!"
the three fantastic and extravagant finales (meticulously choreographed by Busby Berkeley) performed back-to-back at the conclusion (created as musical numbers or "prologues" for movie theatre owners to provide for their patrons before film shows): "Honeymoon Hotel," "By a Waterfall," and "Shanghai Lil"
the film's 9-minute bawdy "Honeymoon Hotel" sequence that featured married (?) couples (all anonymously named Smith) preparing for the evening, along with hapless newly-wed honeymooners Bea Thorn (Ruby Keeler) and young crooner Scotty Blair (Dick Powell); many other lingerie-wearing female brides who had been shacked up for a week (with their grooms) offered advice to nervous newlywed Bea - they knocked on her door and supported her in song: "I've been notified there's a little bride All alone in number two I think we ought to see her through, I will, Me, too. We've been here a week When you're here a week then you're qualified to speak. Let's tell her what it's all about, My dear, will you come out?...Wait a while, you'll want to stay forever At the Honeymoon Hotel"; unfortunately, the newlyweds had to put up with her lecherous brother 'Little Boy' (midget Billy Barty) who almost shared their wedding night
the 10-minute racy pre-Code "By a Waterfall" number featuring an elaborate aquacade of 100 bathing-suited girls/chorines (clothed to appear naked) performing amazingly intricate dances and artistic patterns in the water while shot kaleidoscopically from overhead - and including one segment in which dozens of legs of floating swimmers were unzipped and zipped - and then in the climactic finale, the swimmers formed a revolving 70 foot high human wedding cake/fountain formation
the exotic "Shanghai Lil" number (providing commentary on Paramount's Shanghai Lily character (Marlene Dietrich in Shanghai Express (1932) from the year before) with Ruby Keeler in stereotypical Chinese makeup and a jet-black wig, portraying a prostitute in a backstreet opium den and brothel on the waterfront of Shanghai, sought by a tap-dancing sailor (James Cagney) looking for his long-lost love Lil in the vice-ridden bar - featuring a fantastic tap-dance duet between the two across a bar counter and on a bar table
the closing shots of an imperialistic US Navy drill and marching team, the Stars and Stripes flag, President Franklin D. Roosevelt, and the NRA's Blue Eagle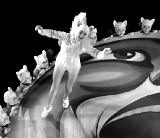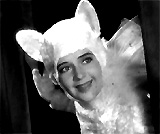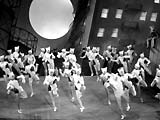 "Sittin' on a Backyard Fence"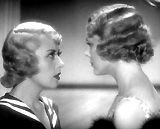 "Now you scram..."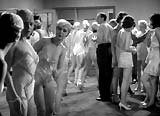 Backstage