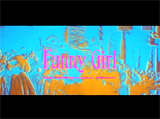 Funny Girl (1968)
In William Wyler's musical biography of the famed Ziegfeld performer:
the film's opening including film star/comedian Fanny Brice's (Barbra Streisand in her debut screen performance) entrance as a figure in a leopard-skin-patterned outfit, who walked up to the street-side marquee of the New Amsterdam Theatre, where the "Ziegfeld Follies" show starring Fanny Brice was being featured; after a moment of reflection upon herself, she proceeded to the backstage entrance and delivered her famous line as she turned and looked into a mirror: "Hello, gorgeous"
Fanny Brice: "Hello Gorgeous"
the scene of aspiring, gifted rags-to-riches performer Fanny Brice seen in flashback and singing "I'm the Greatest Star" during an audition - to convince others that she was going to be the next big star even though she wasn't one of the "beautiful girls" - she was a Jewish girl from the Lower East Side of NY - she delivered the performance as she was shown the door: ("Well, I'm miffed. 'Cause I'm - the greatest star. I am by far, but no one knows it. Wait - they're gonna hear a voice, a silver flute. They'll cheer each toot, hey, she's terrific!, when I expose it...When you're gifted, then you're gifted. These are facts, I've got no axe to grind! Ay! What are ya, blind? In all of the world so far, I'm the greatest star! No autographs, please. Huh? What? What did she say? You think beautiful girls are gonna stay in style forever? I should say not! Any minute now, they're gonna be out! Finished! Then it'll be my turn!")
Fanny's humorous and clumsy participation (and sabotage) of a roller-skating stage number ("Roller Skate Rag") with other skating chorus girls in her debut performance at Keeney's Music Hall, after which she solo-performed and took center-stage for the song: "I'd Rather Be Blue Over You"
Fanny's opening night performance in Florenz Ziegfeld's Follies at the New Amsterdam Theatre, when she appeared - in the lavish wedding finale "Beautiful Bride", in an unplanned act as a bride pretending to be pregnant ("in the family way") with a pillow stuffed under her wedding gown
Three of the Greatest Hits

"People"

"Funny Girl"

"My Man"
Fanny's performance of the chart-topping, mega-smash hit song "People," Streisand's signature song, a song of emotional longing performed after speaking backstage with seductive suitor Nick Arnstein (Omar Sharif), an entrepreneurish gambler, who told her about his lack of commitment and his many conquests: ("Oh, thousands...all gorgeous...That way, I don't get too involved. I like to feel free"); after her song, he walked her to her car and kissed her, after telling her: "I never have definite plans. They make me feel too tied down. But I'll call you. Goodbye"
the remarkable staging of the singing of "Don't Rain on My Parade" - ending with Fanny standing on the bow of a tugboat in New York City's harbor near the Statue of Liberty
the compelling, on-stage singing of Brice's signature song, "My Man" before a black backdrop in the film's finale: ("Oh my man, I love him so, he'll never know. All my life is just despair but I don't care. When he takes me in his arms, the world is bright, alright. What's the difference if I say I'll go away when I know I'll come back on my knees someday? For whatever my man is, I am his forever more!")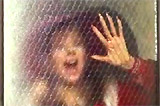 Fanny's "I'm the Greatest Star" Audition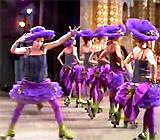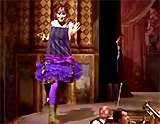 Roller-Skating Sequence and "I'd Rather Be Blue Over You"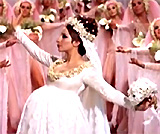 Fanny in Ziegfeld's Follies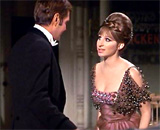 Fanny Brice with Nick Arnstein (Omar Sharif)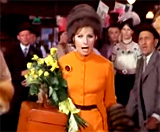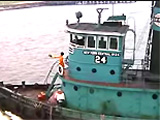 "Don't Rain on My Parade"