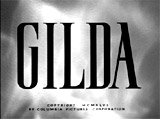 In Charles Vidor's noirish romantic drama-mystery, suggestive with themes that included implied impotence, misogyny and homosexuality, although camouflaged by euphemisms and innuendo to bypass the Production Code - also with a strange, tawdry, aberrant romantic triangle (menage a trois) between the three main characters:
the opening homoerotic sequence beginning with a voice-over by down-on-his-luck, oily-haired gambling drifter Johnny Farrell (Glenn Ford), who was engaged in a crooked game of craps (with loaded dice) with American sailors in a waterfront dive: "To me a dollar was a dollar in any language. It was my first night in the Argentine and I didn't know much about the local citizens. But I knew about American sailors, and I knew I'd better get out of there"
the disagreeable, crippled South American casino-owning Ballin Mundson (George Macready) saved Farrell from retailation by the angry, swindled sailors; Mundson wielded his ebony cane and its protruding stiletto dagger (a perverse, compensating Freudian phallic substitute): "It is a most faithful, obedient friend. It is silent when I wish to be silent. It talks when I wish to talk" - and shortly later, Farrell convinced Mundson that his cheating and gambling skills would be perfect for being hired as a croupier-manager to run the illegal casino of the tungsten baron-billionaire: "I'll be better if you had me on your side..."
one of filmdom's best-known film entrances, when the gorgeous Gilda (Rita Hayworth as the era's movie-star 'love goddess'), an exuberantly healthy American in her inner bedroom suite - was singing along to a phonograph recording of "Put the Blame on Mame"; she was introduced by her mobster-husband Ballin Mundson: (Mundson: "Gilda, are you decent?" Gilda: "Me?" - she gave a long, sensual look at Johnny, Mundson's recently-hired casino manager, and pulled up one side of her strapless dress as she added: "Sure, I'm decent"); she threw back her head and tossed her thick mane of hair in a blatantly sexual response; she was also the ex-wife of Johnny - who was entrusted as a bodyguard to watch over her trampy behavior in the casino
Johnny's Introduction to Gilda (Rita Hayworth) by Her Husband Ballin Mundson
"Gilda, are you decent?" "Me? Sure, I'm decent"
to torture and inflame Johnny's jealous passions, two-timing Gilda danced and flirted with good-looking Latin male escort Gabe Evans (Robert Scott) - and when dragged from the casino dance floor by Johnny (who had warned her earlier: "Pardon me, but your husband is showing"), Gilda delivered her most famous one-liner: "Didn't you hear about me, Gabe? If I'd been a ranch, they would've named me the Bar Nothing"
her two renditions of "Put the Blame on Mame" - the lyrics of the song, filled with double entendres, described a dangerous, threatening kind of woman who was often blamed - unfairly and illegitimately - by men
(1) at five o'clock one morning, Johnny was awakened in the upper casino office by the wafting sounds of white-dressed Gilda below seated on a card table, strumming and singing a sad version of Put The Blame on Mame, while accompanying herself with a guitar
(2) a memorable, bawdy glove-striptease dance before a large live casino audience (backed by an orchestra), as she was swathed in a slinky black satin dress displaying bare upper arms and shoulders; she beckoned with extended arms toward the lusting men in the audience and peeled off one of her long, elbow-length black satin gloves as she sang the torchy defiant number - keeping the casino audience (and viewers) in suspense - wondering whether the strapless gown would remain suspended on her frame; to proceed further with undressing after receiving accolades and encore-applause, Gilda flung her second glove toward the hungering audience; as she started to shed her strapless dress, she entreated two gentlemen volunteers for assistance ("I'm not very good at zippers, but maybe if I had some help") before she was dragged off the stage and Johnny struck Gilda across the face
the scene in which Gilda asked expectantly of Johnny: "Got a light?" - he turned and stood there with the lighter flame burning for her
Gilda's passionate confession of love for Johnny: "Hate is a very exciting emotion. Haven't you noticed? Very exciting. I hate you too, Johnny. I hate you so much, I think I'm gonna die from it. Darling. (She fell into his arms and they kissed) I think I'm gonna die from it"
the film's twisting conclusion, when Mundson disappeared and was presumed dead (in a suicidal airplane crash, possibly faked), and Gilda and Farrell resumed their dangerous affair while Farrell ran the casino; Johnny replaced Mundson as Gilda's emotionally-abusive husband in a continuing love-hate relationship - - but then Mundson vengefully returned after three months, and when he was just about to gun down both Farrell and Gilda, he was stabbed in the back (with his own cane) by Uncle Pio (Steven Geray), the aging, white-coated washroom attendant of the casino's nightclub - murder charges were dropped when the death was judged to be "justifiable homicide"
the film's final line of dialogue was spoken by Gilda to Johnny: "Johnny, let's go home. Let's go home"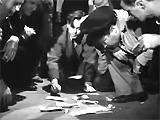 Introduction of Gambler Johnny Farrell (Glenn Ford)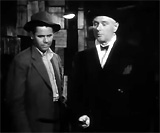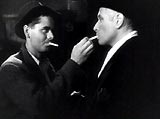 Saved by Casino Owner Ballin Mundson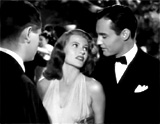 Gilda: "If I'd been a ranch, they would've named me the Bar Nothing"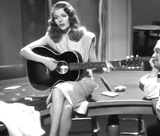 Strumming "Put the Blame on Mame"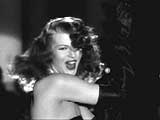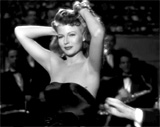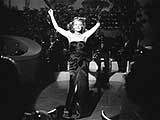 Gilda's Famous Strip-Tease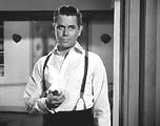 Gilda to Johnny: "Got a light?"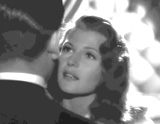 "I hate you too, Johnny"


"Johnny, let's go home"