The Glenn Miller Story (1954)
In Anthony Mann's mostly fictional, heart-warming Technicolored musical biopic (a rags-to-riches story) of the famous 'big band' bandleader, featuring many memorable tunes including "Pennsylvania 6-5000", "Moonlight Serenade", "Chattanooga Choo Choo", "In the Mood", and others:
James Stewart's characterization of a little-known trombone player who married his Univ. of Colorado coed sweetheart Helen Burger (June Allyson)
the memorable cameo appearances by some of Miller's real-life jazz legend colleagues, including trumpeter Louis Armstrong (performing in a Harlem nightclub with a spinning color gel wheel providing a kaleidoscope of color - on the Miller's wedding night), singer Frances Langford, and drummer Gene Krupa
the scene in which Miller was practicing with his Orchestra and was forced to improvise the music when his trumpet player split his lip, forcing a clarinetist to play lead on "Moonlight Serenade" - the song was turned into a more lively, up-front and upbeat number and produced his signature sound - a new and popular 'swing' sound
the outdoor air raid scene when Miller and his band continued to play "In the Mood" during their BBC radio program for injured US soldiers in Britain - in the midst of a German V-2 rocket bombing, while everyone was ducking for cover in the audience and the band played on
the tearjerking ending scene: the news of the fate of Glenn Miller from General Henry "Hap" Arnold (Barton MacLane) to Glenn's supportive wife Helen - lost during Christmas of 1944 while on a doomed military plane flight from London to Paris, traveling to broadcast a tour concert with his Army Air Force Band to entertain troops; she was told that the performance from Paris would still be broadcast; in the poignant, tearful and moving conclusion, a very vulnerable Helen listened as a range of emotions crossed her face - she was pleasantly surprised to hear a long-awaited, swing arrangement-rendition of the folk tune "Little Brown Jug" as a Christmas present to her from Glenn -- (radio announcer) "As some of you might know, Major Glenn Miller is not with us today. But in his absence we shall do this program exactly as he had planned it. Our first number therefore will be a new arrangement which Major Miller himself made especially for this performance. This tune should be a familiar one, especially to the members of Major Miller's family across the ocean who are listening"
Glenn Miller's Death On Way to Concert Tour in Paris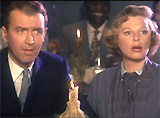 Glenn Miller (James Stewart) with Helen Burger-Miller (June Allyson)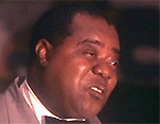 Trumpeter Louis Armstrong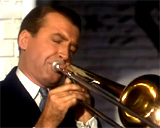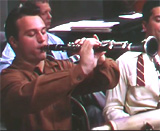 Improvising on "Moonlight Serenade"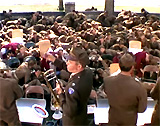 Miller's Band Playing During Air Raid