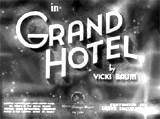 In Edmund Goulding's Best Picture-winning melodramatic ensemble film (also an example of a portmanteau picture), featuring all of MGM's stars of Hollywood's Golden Age, in the setting of a ritzy, art-deco Berlin hotel between the wars - and detailing the intertwined lives of five guests over a two-day period, including two females:
after the film's opening sequence of five simultaneous telephone conversations by guests at the Grand Hotel (to introduce the film's major characters), the delivery of the film's opening line in the lobby by world-weary house physician Dr. Otternschlag (Lewis Stone): "Grand Hotel. People coming, going. Nothing ever happens"
one of the main characters: a young, ambitious, struggling and on-the-make beautiful stenographer Flaemmchen (Joan Crawford) - who aspired to be a movie star and live the good life; she was one of two women being seduced by Baron Felix von Gaigern (John Barrymore), a suave, noble, elegant and dashing gentleman hotel jewel thief; in one daring line, he propositioned her in the hotel's 6th floor circular corridor with a very forward, playful Pre-Code inquiry after learning her occupation: "I don't suppose you'd, uh, take some dictation from me sometime, would you?"
a second character: fragile, isolated, aging, suicidal, forlorn, lonely-for-love Russian ballerina Grusinskaya (Greta Garbo) also briefly fell in love with the financially-ruined Baron Felix von Gaigern with whom she shared sensuous kisses in her room, and spent an overnight together
some of Garbo's immortal lines - she actually asked to be "alone" three different times: "I want to be alone" (spoken to her manager), a second insistent: "I just want to be alone," and then a third statement: "But I want to be alone" to the Baron (who asked her: "Please let me stay")
later in the film, the financially-struggling Flaemmchen was hired by tyrannical, unethical General Preysing (Wallace Beery), an industrial magnate, to be his personal typewriting stenographer; he tried to be intimate with her by paying for her adjoining hotel room; in her room next to his, he attempted to proposition her - after complimenting her slender figure, he asked with a leering hint: "Are you going to be nice to me?... Very nice?...Miss Flaemm. You like me just a little bit, don't you?"
the film's final line, a mirror of the earlier line voiced in the lobby by disfigured war veteran/physician Dr. Otternschlag, who never received messages at the desk nor noticed the multi-charactered dramas in the hotel and how lives were changed: ("The Grand Hotel. Always the same. People come. People go. Nothing ever happens"); outside, the driver of an arriving bus announced: "Grand Hotel!"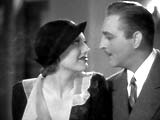 Asking for Dictation: Flaemmchen Seduced by the Baron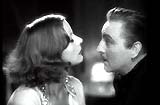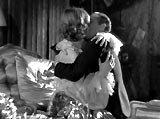 Grusinskaya Also Seduced by the Baron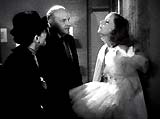 "I want to be alone"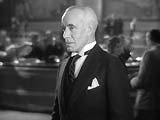 Final Line: "People come. People go. Nothing ever happens"