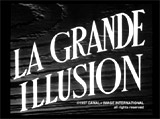 Grand Illusion (1937, Fr.) (aka La Grande Illusion)
In Jean Renoir's Nazi-banned, anti-war masterpiece about a prisoner of war camp during WWI in 1916, and the 'grand illusion' and hypocrisy of men at war - the first foreign film to be nominated for an Academy Award for Best Picture:
the scene of aristocratic, stern but gracious host Prussian officer Capt. von Rauffenstein (Erich von Stroheim) inviting two French officers after shooting them down and capturing them as POWs to an elegant lunch before they were taken to the Hallback prison camp: aviator-pilot, working-class plebian mechanic and French officer/hero Lieut. Marechal (Jean Gabin) and aristocratic nobleman Capt. de Boeldieu (Pierre Fresnay) - the Prussian officer promised them preferential treatment ("If they're officers, invite them for lunch...I am honored to have French guests");
the camaraderie between two opposing enemy officers with common aristocratic roots; at one point, Rauffenstein confided in Boeldieu: "I don't know who will win this war, but whatever the outcome, it will mean the end of the Rauffensteins and the Boeldieus"
the famous musical variety-revue show sequence in the prison: one of the men donned a women's costume as everyone raptly watched - and a tuxedoed singer Cartier (Julien Carette) sang a nonsense-song during the vaudeville show: ("Have you met Marguerite? She is neither tall nor petite. With eyes that glow, Skin like snow, and Lips in a Cupid's Bow, Well when this divine creation...") and led a group of prisoners dressed as female-impersonating showgirls in a stage dance
Musical Variety-Revue Show in Prison

Cartier's Nonsense-Song

Female Impersonators

Marechal "Stop the show, fellas!"

Singing the Marseilles Anthem
the interruption of the stage show by news from the front - read backstage in a newspaper by French prisoners Marechal and wealthy French Jew Lieut. Rosenthal (Marcel Dalio); Marechal took the stage and shouted out the recent news that the French had retaken Fort Douaumont in the epic Battle of Verdun: "Stop the show, fellas! We've captured Douaumont! It's in the German papers" -- the group of French POWs (on stage and in the audience) defiantly and proudly began to sing their national anthem - the Marseilles - in front of their German guards-jailers in a one-minute moving frame shot amongst the men
the sequences of the POWs digging an escape tunnel, but all for naught when the prisoners were transferred to a different prison camp
the scene of Russian prisoners opening up a wooden crate sent from the Empress, who insensitively sent them textbooks and cookbooks instead of food
the iconic image of von Rauffenstein as a stiff, uniformed Prussian aristocrat with a steel back and neck brace, white gloves (to cover battle burns) and wearing a monocle - now promoted (after war injuries) to be commandant of Wintersborn, a converted, medieval 13th century castle - the German's maximum-security camp
and the later scene of Boeldieu's fatal self-sacrificing diversion (an incident that allowed Marechal and Lieutenant Rosenthal to escape), when he was shot in the stomach by reluctant Capt. von Rauffenstein
the touching deathbed farewell to Boeldieu by the consoling and mourning German von Rauffenstein - as a poignant gesture after Boeldieu's death, Rauffenstein clipped a flower from his geranium plant to honor his friend and to punish himself
the fugitive escapees (injured Rosenthal and Marechal) taking refuge in the remote farmhouse of widowed German farm woman Elsa (Dita Parlo) and ultimately finding safety across an invisible border as they traversed through a snowy valley - when German troops came upon them and began shooting, the patrol leader shouted out: "Don't shoot! They are in Switzerland," to which another responded: "All the better for them"; the final view was of the two trudging through deep snow to freedom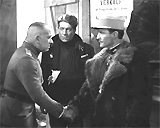 Capt. von Rauffenstein with Two French POWs: Marechal and de Boeldieu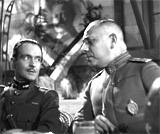 Camaraderie Between the Enemy Officers: de Boeldieu and von Rauffenstein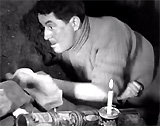 Prisoners Digging an Escape Tunnel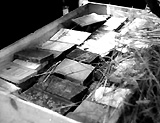 Wooden Crate with Textbooks and Cookbooks, Not Food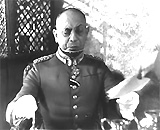 Stiff Prussian Aristocrat: von Rauffenstein - Prison Camp Commandant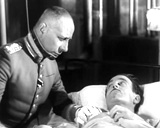 Boeldieu's Deathbed Scene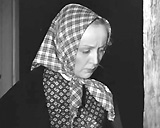 Widowed German Farm Woman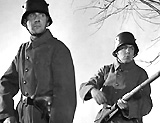 Ending Scene: "Don't shoot! They are in Switzerland"