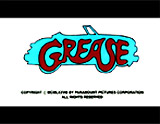 Grease (1978)
In Randal Kleiser's quintessential pop musical with a 50s score, and the romantic comedy's setting of a high school in Southern California, with the portrayal of the various cliques at Rydell High School in the late 1950s: the leather-jacketed greasers known as T-Birds, and the rebellious Pink Ladies:
the late 50s characters: swaggering but limber American greaser Danny Zuko (John Travolta) - leader of the leather-jacketed T-Birds, sweet and virginal Australian Sandy Olsson (Olivia Newton-John) (until the finale) - on vacation and Danny's summer lover in 1958, and ultra-cool bad-girl Rizzo (Stockard Channing) - leader of the Pink Ladies and Danny's ex-girlfriend
the cross-cutting, paralleled duet of "Summer Nights" - an infectious sing-along paralleled duet; both Sandy and Danny presented their own versions of their summer romance to friends: ("Summer lovin' had me a blast - summer lovin', happened so fast, I met a girl crazy for me - I met a boy, cute as can be, Summer days driftin' away, to uh-oh those summer nights, Tell me more, tell me more, did you get very far? Tell me more, tell me more, like, does he have a car?")
Paralleled Duet: "Summer Nights"
the sequence of Sandy's surprise reappearance at school for the fall, due to a change of plans rather than going back to Australia, and her enrollment as a transfer-exchange student, but Danny (although overjoyed to see her) had to maintain a false and cool facade with his T-Birds and not show so much interest in her; she was upset by his phoniness and told him off: "What happened to the Danny Zuko I met at the beach?...You're a fake and a phony and I wish I'd never laid eyes on you!"
the ups and downs of the romantic relationship (with break-ups and reunions) between rebellious bad boy Danny and good-girl Sandy
the various stereotypical scenes of life as a teenager - at a football pep rally, a local malt shop The Frosty Palace, at a school dance, a drive-in movie theatre, and a graduation school carnival
the many production and dance numbers, such as the title song: "Grease", and other hits in the likeable, top-selling soundtrack, including a lamenting and wistful Sandy's singing of the poignant: "Hopelessly Devoted to You" - sung one night when she sat on her outdoor porch in her white nightgown; and the wild, profanity-laced ode to the sexy muscle car of Danny's dreams, titled "Greased Lightnin'", sung in an auto-shop ("Well this car is systematic, hydromatic, ultramatic - Why, it could be Greased Lightnin'!")
| | |
| --- | --- |
| | |
| "Hopelessly Devoted to You" | "Greased Lightnin'" |
the drive-in movie theatre scene of a heartbroken Danny's singing of "Sandy"; after he had presented her with his ring ("Sandy, would you wear my ring?"); she responded positively ("Oh Danny, this means so much to me. "Cause I know now that you respect me"), but then tried to have sex with her - causing her to run off; he sang as he wandered through the parking area and playground of the outdoor drive-in in front of the giant screen
the exciting 'Thunder Road' drag-race (for "pink slips, ownership papers" of the loser's car) in a dry riverbed (filmed in Los Angeles) between substitute driver Danny and Leo ("The rules are, there ain't no rules. To the second bridge and back. First one back wins....You ain't gonna see me for dust, Zuko"); with bladed tires, Leo's hot-rod sliced into the side of Danny's car (homage to Ben-Hur), but Danny won nonetheless
the climactic, show-stopping finale of "You're the One That I Want" at the school carnival between Sandy (in a skin-tight black outfit, transformed into a greaser) and Danny in a black T-shirt, followed by "We Go Together" sung by the ensemble cast, and ending with the two driving - and flying away (!) into the clouds in a red hot-rod, to the tune of "Greased Lightnin'"
"You're the One That I Want"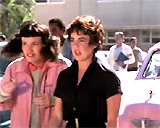 Pink Ladies: Rizzo (Stockard Channing)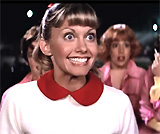 Sandy: (Olivia Newton-John)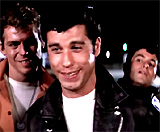 T-Birds: Danny
(John Travolta)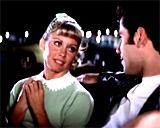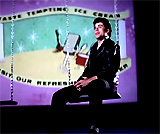 "Sandy" - Sung at Drive-In Movie Theatre After Failed Attempt at Making Out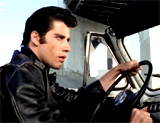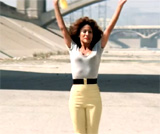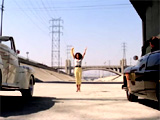 The Start of the 'Thunder Road' Drag Race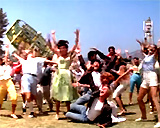 "We Go Together"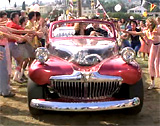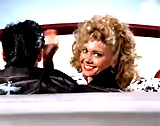 Driving (Flying) Away with Sandy in Danny's Red Hot-Rod