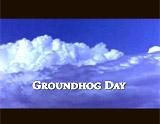 Groundhog Day (1993)
In writer Danny Rubin and director Harold Ramis' science fiction/romantic comedy, set in the town of Punxsutawney, Pennsylvania during the annual Groundhog Day festivities:
the fascinating, existentialist premise of the film: "What would you do if you were stuck in one place, and every day was exactly the same and nothing you did mattered?"
the character of grumpy, obnoxious Pittsburgh weather forecaster Phil Connors (Bill Murray), who despised reporting on Groundhog Day, and told his co-workers Rita Hanson (Andie MacDowell) and cameraman Larry (Chris Elliot) while on-camera: "This is pitiful. A thousand peopIe freezin' their butts off, waiting to worship a rat. What a hype! Groundhog Day used to mean something in this town. They used to pull the hog out, and they used to eat it. You're hypocrites! All of ya!"
the innumerable times that forecaster Phil awakened on the morning of February 2nd at 6 am in Punxsutawney, Pennsylvania (for the annual Groundhog Day festival) to the tune of his clock radio playing Sonny and Cher's I Got You, Babe, and realized that he was in an inescapable time loop ("What the hell?"); he confronted another hotel guest: ("Didn't we do this yesterday?...Don't mess with me, porkchop! What day is this?")
the scenes of his annoyance, boredom, exhilaration, and self-destructive despair over the repetitive day, and his repetitive reaction: "Aw nuts!"
his continual awakenings when Connors again and again met up with Ned Ryerson - known as "Needlenose Ned" or "Ned the Head" (Stephen Tobolowsky) on the street - and eventually punched him to the ground
his conversation in a local restaurant with attractive customer Nancy Taylor (Marita Geraghty), when he gathered biographical information from her (her name, her high-school, her 12th grade English teacher), and then the next day used the info to get her attention and charm her: "Nancy... Lincoln... Walsh"; he claimed that he was a classmate who asked her to the prom; he was able to make out with her, but kept mistakenly calling her "Rita"
the sequence of Phil's many repetitive daily chores (catching a boy falling out of a tree, saving the mayor from choking during dinner, and rescuing a homeless bum during a cold night)
Unsuccessful Suicide Attempts

Driving into a Deep Rock Quarry in a Stolen, Red Pickup Truck

Attempted Electrocution Suicide With 4-Slice Toaster

Stepping into the Street in Front of a Large Moving Truck

A Swan-Dive Jump from a Building
his unsuccessful suicides and self-destructive behaviors (driving off a cliff into a deep rock quarry in a stolen pickup truck (while holding absconded Phil the groundhog behind the wheel ("Don't drive angry") and spouting the line as they crashed: "It's showtime, Phil!"), electrocution with a toaster in a bathtub, stepping in front of a moving truck, swan-diving off a building, stuffing his face with food, robbing a bank's cash delivery, etc.) -- and his reawakening at 6:00 AM after each of them
his lunch date with his lovely film producer Rita, when he stuffed his mouth with a sandwich, and told her: "I don't even have to floss" - his wooing-seduction of Rita after learning her likes (19th century French poetry and a sweet vermouth on the rocks with a twist) and dislikes, to become her ideal man after repeated dates; "I know all about you. You like producing, but you hope for more than Channel 9 in Pittsburgh....You like boats but not the ocean. You go to a lake in the summer with your family up in the mountains. There's a long wooden dock and a boathouse with boards missing from the roof, and a place you used to crawI underneath to be alone. You're a sucker for French poetry and rhinestones. You're very generous. You're kind to strangers and children. And when you stand in the snow you look like an angel" -- she emphatically rejected him when she realized he had rehearsed every part of the date
Phil's line: "I'm a God. I'm not the God, I don't think..."; he explained further that he had survived numerous threats to his life: "I didn't just survive a wreck. I wasn't just blown up yesterday. I have been stabbed, shot, poisoned, frozen, hung, electrocuted, and burned." Waitress Doris (Robin Duke), who was waiting on their table showed extreme consternation. And then he added: "And every morning, I wake up without a scratch on me, without a dent in the fender. I am an immortal.... I want you to beIieve in me." Doris interrupted for their order: "The special today is blueberry waffles....I could come back if you're not ready"; when Rita was unconvinced, he revealed his all-knowing, omniscient ability about all the restaurant's customers and employees (their names, desires, quirks, etc.), and later, he confessed to Rita: "I've killed myself so many times, I don't even exist anymore"
after making a beautiful ice sculpture of Rita's face, Phil's reformation and acceptance of his situation and ultimate happiness at the moment, telling her: "I know your face so weII, I couId've done it with my eyes cIosed...No matter what happens tomorrow, or for the rest of my life, I'm happy NOW, because I love you" - they kissed
time-stuck weather forecaster Phil's heartfelt, romantic speech to sleeping romantic interest Rita after reading James Joyce's poem "Trees" to her: ("What I wanted to say was, I think you're the kindest, sweetest, prettiest person I've ever met in my life. I've never seen anyone that's nicer to people than you are. The first time I saw you, something happened to me. I never told you, but I knew that I wanted to hold you as hard as I could. I don't deserve someone like you. But if I ever could, I swear I would love you for the rest of my life"); when Rita woke up briefly to ask: "Did you say something?", Phil modestly whispered a response: "Good night, Rita"
the moment when Phil lept back into bed with Rita the next morning - after awakening and verifying that it really was a new day - February 3rd - he cried out about his release from his temporal stasis: (he sobbed happily: "Do you know what today is?...Today is tomorrow! It happened!"); she responded to his kisses: "Oh, Phil, why weren't you like this last night? You just fell asleep" - he replied - "It was the end of a very long day! Is there anything I can do for you today?"
his final words to Rita in front of the outdoor steps: "It's so beautiful! Let's live here. (They kissed) We'll rent to start"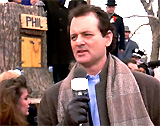 Phil Connors
(Bill Murray)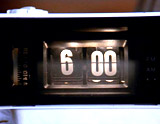 The Repetitive Scene of 6:00 am Alarm Clock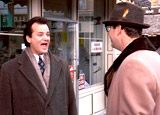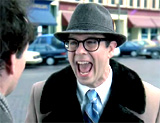 Greeting "Needlenose Ned"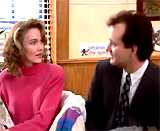 In Restaurant with Nancy Taylor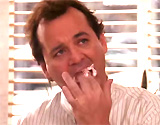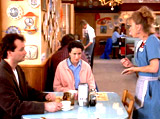 Dating Rita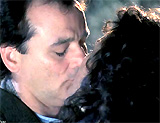 Phil: "I'm happy now, because I love you"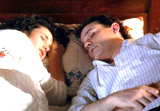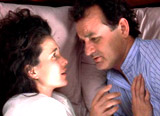 February 3rd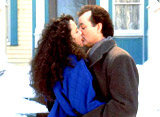 "It's so beautiful! Let's live here. (They kissed) We'll rent to start"