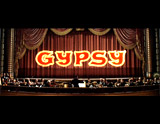 Gypsy (1962)
In director Mervyn LeRoy's and Warners' musical biographical drama set in the 1920s - a screen version of the 1959 Broadway musical play (starring Ethel Merman), with a Jule Styne-Stephen Sondheim score, and based upon Gypsy Rose Lee's memoirs:
the depiction of the bullying and domineering stage mother 'Mama Rose' Hovick (Rosalind Russell, singing voice of Lisa Kirk), to have her children become stars: young 'Baby' June Hovick (Suzanne Cupito/Morgan Brittany), her older sister - ecdysiast-actress Louise Hovick (Natalie Wood), and 'Dainty' June (Ann Jillian)
the most memorable number: belted out by the Mama Rose character to Louise at a train station -- "Everything's Coming Up Roses" - "You'll be swell, you'll be great, Gonna have the whole world on a plate"
the funny "You Gotta Have A Gimmick" song by Minsky's burlesque house strippers (Roxanne Arlen, Betty Bruce and Faith Dane) to fresh-faced, naive Louise on how to be a successful stripper and get applause: ("...If you wanna make it Twinkle while you shake it If you wanna grind it Wait till you refined it If you wanna bump it Bump it with a trumpet So get yourself a gimmick And you too can be a star!")
the scene on stage before an all-male audience in a burlesque house in Wichita, KS, where Louise was introduced as "Gypsy Rose Lee." She stepped into the spotlight from behind the stage curtain, and center-stage, she nervously gave her debut performance while wearing a fur wrap, long white gloves and an elegant blue evening gown - standing stiffly and tentatively singing Let Me Entertain You with a deeply sensual subtext, as Mama stood and coached off-stage and yelled tips, such as "Sing out!" and "Just dip!" Finally, Gypsy removed her fur wrap while singing a final refrain of: "Let me entertain you, We'll have a real good time, yes sir, We'll - have - a real good time." She removed one long white glove, before teasingly dropping one strap on her evening gown - and then quickly exiting the stage
this was followed by a montage of future performances, exhibiting Gypsy's significantly improved stage show with more sensual moves, more stylish peekaboo stripping and costuming, and her trademark line asked to the audience: ("Hello everybody, my name is Gypsy! What's YOURS?"). The montage ended with Gypsy's introduction at Minsky's at a New Year's show - headlined by "The Queen of Striptease" who again performed: "Let Me Entertain You" - "We'll have a real good time!" - with a semi strip-tease behind a curtain

In Detroit


Philadelphia


At Minsky's

Montage of Gypsy's Improved Performances
the confrontational scene in a dressing room of Louise - who told off her brutal, tormenting and enslaving mother Rose, who had called her less talented - and named her "a circus freak, this year's novelty act"; Louise asserted herself and demanded to be left alone: ("I said, turn it off! Nobody laughs at me! Because I laugh first. At me! Me, from Seattle! Me, with no education. Me, with no talent, as you kept reminding me my whole life! Well, Mama, look at me now! I'm a STAR! Look! Look how I live! Look at my friends! Look where I'm going! I'm not staying in burlesque! I'm moving! Maybe up, maybe down! But wherever it is, I'm enjoying it! I'm having the time of my life, because for the first time, it IS my life! And I LOVE it! I love every second of it, and I'll be DAMNED if you're gonna take it away from me! I am GYPSY ROSE LEE! And I love her. And if you don't you can just clear out now!")
the concluding scene after the violent quarrel backstage, occurring on the stage of the deserted theater, when Mama Rose delivered a bitter cursing soliloquy - expressing all her own heartbreak and defiance; she described how she should take the credit for making the no-talent Louise into a star:
(repeating Louise's words) 'I thought you did it for me, Mama. I thought you did it for me, Mama'. I thought you made a no-talent ox into a star because you like doin' things the hard way, Mama.'
(Mama Rose) "And you have no talents - not what I call talent, Miss Gypsy Rose Lee. I made you, I made you and you want to know why? You want to know what I did it for? Because I was born too soon and started too late, that's why! What I got in me, I could have been better than any of ya. What I got in me, what I've been holdin' down inside of me - if I ever let it go, there wouldn't have been signs big enough! There wouldn't been lights bright enough! Here she is, boys. Here she is, world. Here's Rose! 'Curtain Up', 'Light the Lights', 'Play it, boys.' You either got it, or you ain't, and boys, I got it. You like it? Well, I got it"
she broke into a reprised chorus of "Everything's Coming Up Roses" about how she had lived out her own dreams of stardom by promoting her daughters: ("This time, boys, I'm taking the bows. And everything's coming up Rose. Everything's coming up Roses, Everything's coming up Roses, this time for me...")
Mama Rose on a Deserted Stage: "Everything's Coming Up Roses"

Louise's Reconciliation With Her Mother
on stage, after her song, Mama Rose was interrupted by Louise applauding from the side, who complimented her: ("You'd really have been something, Mother...If you had had someone to push you like I did"; Mama replied: "If I could've been, I would've been. That's show business."); both admitted that their lives were motivated by being "noticed" - Louise held out her arms to hug her mother, to be reconciled: ("OK, Mama, OK Rose"); Louise offered her mink so that her mother could accompany her to a party, and Mama quipped: ("Say, this looks better on me than it does on you. Funny how we can wear the same size." Louise: "Especially in mink")
the film's ending, with Mama describing a dream - as the two cheerily walking off together arm in arm: ("I had a dream last night. It was a big poster of a mother and daughter. You know, like the cover of that ladies' magazine... only it was you and me, wearing exactly the same gown. It was an ad for Minsky, and the headline said: 'Madame Rose - and Her Daughter Gypsy!'")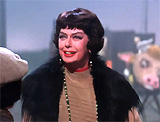 'Mama Rose' - at Train Station ("Everything's Coming Up Roses")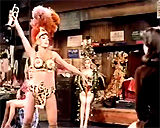 "You Gotta Have A Gimmick"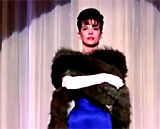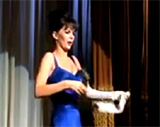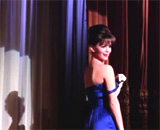 Louise Hovick's Nervous Debut Stage Performance as "Gypsy Rose Lee": Let Me Entertain You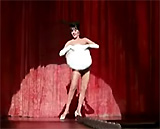 End of Montage of Gypsy's Stage Performances - at Minsky's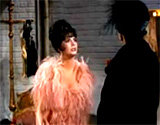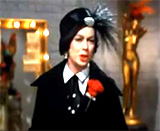 Backstage Confrontation Between Louise and Mama Rose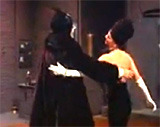 Ending: Walking Off Arm in Arm