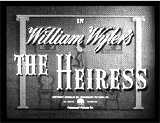 In director William Wyler's great romantic drama based on Henry James' 1880 novella Washington Square, set in mid-19th century New York City:
the main title character -- mid-20s, plain, repressed, shy, virginal and gawky 'heiress' daughter Catherine Sloper (Olivia de Havilland), who lived with her wealthy, arrogant, imperiously abusive, and domineering, widowed, patriarchal physician Dr. Sloper (Ralph Richardson)
the scene in which Catherine was awakened to love at an engagement party and later in her house (with his piano-playing) by the seductive charm of young scheming fortune hunter Morris Townsend (Montgomery Clift), a handsome, but penniless, mysterious suitor and mercenary
Catherine Desperately in Love with Morris Townsend (Montgomery Clift)
the agonizing scene on the night of their elopement as she waited hour after hour in the front drawing room at the window - and finally realized that she was jilted; Townsend had vanished after learning from her that her father threatened disinheritance with an amended will
the scene of Catherine's ultimate revenge in the devastating conclusion after she came into her inheritance; her anger had been suppressed and simmered, but then surfaced when insincere scoundrel Townsend returned and again asked for her hand in marriage; she accepted Morris' proposal, but then told her widowed Aunt Lavinia Penniman (Miriam Hopkins) her real intentions: ("He came back with the same lies, the same silly phrases...He has grown greedier with the years. The first time, he only wanted my money. Now he wants my love, too. Well, he came to the wrong house, and he came twice. I shall see that he never comes a third time....Yes, I can be very cruel. I have been taught by masters")
on the night of a second promised elopement in a stunning climactic scene of ultimate revenge, she closed all the curtains and sat calmly in her parlor finishing her embroidery while he futilely banged on the locked, bolted front door while calling out her name; taking a lighted gas lamp in her hand, the steely-eyed, revenge-purged Catherine coldly walked up the long, extremely steep flight of stairs in the front hallway, as she listened to returning suitor Morris frantically banging on the outside of the bolted door and calling her name: "Catherine, Catherine, Catherine!"; she turned a curve at the top of the stairs, gaining both perverse and proud satisfaction from jilting him, and triumphantly fulfilling a promise to herself; the film's 'The End' appeared on the screen, before the film faded to the Paramount Pictures logo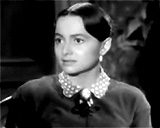 Shy "Heiress" Catherine Sloper (Olivia de Havilland)


Abusively Domineering Father Dr. Sloper
(Ralph Richardson)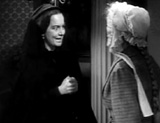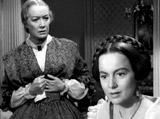 Catherine with Aunt Lavinia (Miriam Hopkins)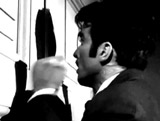 Conclusion: Morris Townsend Banging on the Bolted Door: "Catherine, Catherine, Catherine!"