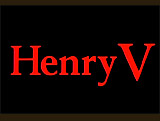 Henry V (1989, UK)
In writer/director/producer/actor Branagh's superb film version of Shakespeare's play - his feature-film directorial debut:
the Chorus' (Derek Jacobi) prologue (see quote above) to introduce the play
King Henry V's (Kenneth Branagh) dramatic, silhouetted entrance through a towering portal
the scene of Henry's morale-boosting speech (astride his horse with his sword held high) to his troops before an attack on the walled city of Harfleur ("Once more unto the breach, dear friends! Once more, or close the wall up with our English dead! [Explosion] In peace there's nothing so becomes a man as modest stillness and humility. But when the blast of war blows in our ears, then imitate the action of the tiger! Stiffen the sinews, summon up the blood, disguise fair nature with hard-favored rage. Then lend the eye a terrible aspect. Let it pry through the portage of the head like the brass cannon. Let the brow o'erwhelm it as fearfully as doth a galled rock, o'erhang and jetty his confounded base, swilled with the wild and wasteful ocean. Now set the teeth and stretch the nostril wide, hold hard the breath and bend up every spirit to his full height! On, on, you noblest England! Now attest that those whom you called fathers did beget you. And you, good yeoman, whose limbs were made in England, show us here the mettle of your pasture. Let us swear that you are worth your breeding, which I doubt not! For there is none of you so mean and base that hath not noble luster in your eyes! I see you stand like greyhounds in the slips, straining upon the start. The game's afoot! Follow your spirit, and upon this charge, cry, 'God for Harry, England and Saint George!'")
the King's inspired pre-battle address to his weary troops on St. Crispin's Day before the Battle of Agincourt against the French: ("...We few, we happy few, we band of brothers. For he today that sheds his blood with me shall be my brother, be he ne'er so vile, this day shall gentle his condition. And gentlemen in England now a-bed shall think themselves accursed they were not here, and hold their manhoods cheap whiles any speaks that fought with us upon St. Crispin's Day")
King Henry V's Pre-Battle Address on St. Crispin's Day
the French realization during the Battle that they had lost, and their unchivalrous murder of young and defenseless English pages; Henry's officer Fluellen (Ian Holm) was appalled by the carnage, and expressed his raging disgust: "Kill the boys and the luggage. 'Tis expressly against the law of arms. 'Tis as errant a piece of knavery, mark you now, as can be offered. In your conscience, now, is it not?"
after the Battle of Agincourt, the extended tracking shot as King Henry carried the body of Falstaff's Boy (Christian Bale), slung over his shoulder, across the bloody and muddy field of Agincourt, to the somber singing of the Agincourt Hymn: 'Non nobis, Domine'
Aftermath of The Battle of Agincourt
the long sequence of his begging for the love and hand in marriage of French Princess Katherine (Emma Thompson), first in broken French and then in English: "But tell me, Kate, Canst thou understand thus much English? Canst thou love me? (I cannot tell.) Well, can any of your neighbors tell, Kate? I'll ask them. By mine honor, in true English, I swear I love thee, by which honor I dare not swear thou lovest me...And, therefore, tell me, most fair Katherine, Will you have me? Come, your answer in broken music, for thy voice is music, and thy English, broken. Therefore, queen of all, Katherine, wilt thou have me?"; when she assented, he responded: "Upon that, I kiss your hand, and I call you my queen"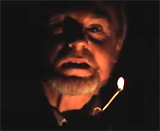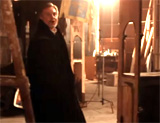 The Prologue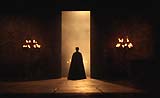 King Henry V's Entrance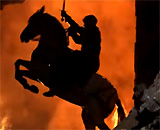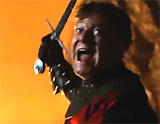 Henry's Rousing Speech Before the Attack on Harfleur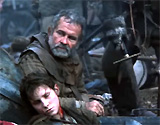 Fluellen Dismayed by the Carnage of Young Boys After the Battle of Agincourt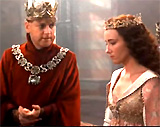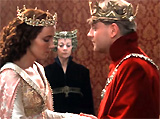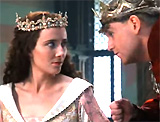 Marriage Proposal to Princess Katherine (Emma Thompson)