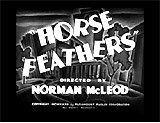 In director Norman Z. McLeod's satirical academic/sports comedy from the Marx Brothers, their fourth comic masterpiece:
the opening scene of Professor Quincy Adams Wagstaff (Groucho Marx), President of Huxley College, addressing the faculty members and students during his inauguration: ("... As I look over your eager faces, I can readily understand why this college is flat on its back. The last college I presided over, things were slightly different. I was flat on my back. Things kept going from bad to worse but we all put our shoulders to the wheel and it wasn't long before I was flat on my back again"); he also began to sing in the musical number: "(Whatever It Is), I'm Against It" - describing how he would nihilistically respond to trustee suggestions, ridiculing them: "I don't know what they have to say. It makes no difference anyway. Whatever it is, I'm against it"; the second verse was for a different song: "I Always Get My Man"; the bearded faculty professors joined the contemptable Wagstaff, slavishly bowing and pointing to him, and circling around him in a soft-shoe routine. When the dance was finished, he told them: "All right scram, boys. I'll meet you in the barber shop"
| | | |
| --- | --- | --- |
| | | |
| Pinky (Harpo Marx) | "Cut the Cards" - Literally With a Hatchet | Wagstaff's Attempt to Recruit Two Football Players in Speakeasy, with Baravelli |
the sequence at a speakeasy where doorman Baravelli (Chico Marx) demanded to know the secret password ("swordfish") - Pinky (Harpo Marx) provided a clue by pulling a sword fish from his coat and sticking a small sword down its throat
Wagstaff's misguided attempt to buy (recruit) two football players, Mullen and McHardie (Jim Pierce and Nat Pendleton) at the speakeasy, and ending up with Pinky and Baravelli, to play the big game between Huxley and Darwin
Pinky (Harpo Marx) providing a hot cup of coffee from the inside of his coat for a bum on the street
Pinky's scene with his horse blocking traffic and a cop who wrote him a ticket
the classic Biology classroom scene with Wagstaff instructing students by improvising profusely and confusingly on the topics of blood, the heart, and the circulatory system - and the Alps! ("As you know, there is constant warfare between the red and white corpuscles. Now then, baboons, what is a corpuscle?...We now find ourselves among the Alps. The Alps are a very simple people living on a diet of rice and old shoes. Beyond the Alps lies more Alps and the Lord Alps those that Alps themselves. We then come to the bloodstream. The blood rushes from the head down to the feet, gets a look at those feet, and rushes back to the head again..."); the sequence ended with a peashooter fight between him and two unruly students
the non-sensical, frenetic, madcap sequence of Baravelli, Prof. Wagstaff, gambler Jennings (David Landau), and Pinky all showing up at flirtatious 'college widow' Connie's (Thelma Todd) apartment at the same time
Wagstaff's romancing and serenading of the "college widow" during a canoe ride on a duck pond when he strummed on a guitar - and his response to her baby talk: "If icky girl keep on talking that way, big stwong man's gonna kick all her teef wight down her thwoat"
Wagstaff's Romancing of the "College Widow"
the sequence of the attempted kidnap of the two star Darwin College athletes
the climactic zany Huxley-Darwin football game (partly inspired by the silent Harold Lloyd classic The Freshman (1925)) involving audible football signals, banana peels, an elastic band, and a chariot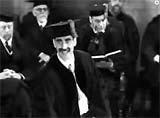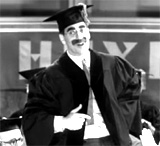 Professor Wagstaff's Inaugural Address and Musical Number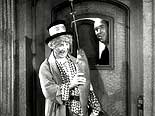 Speakeasy Password "Swordfish"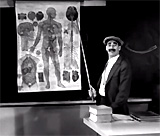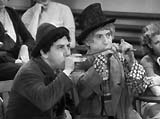 Peashooter Fight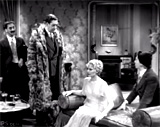 In Connie's Apartment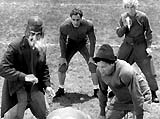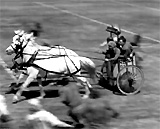 Concluding Football Game