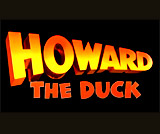 Howard the Duck (1986)
In the George Lucas-produced sci-fi comedy about a humanoid duck (based upon the Marvel Comics' character):
the clever opening credits sequence set in Howard T. Duck's Marshington DC apartment (3636 Lakeside Dr.) located on a "duck" version of Earth (Duckworld), with duck-versions of everything ("Rolling Egg" Magazine, a film poster for "Breeders of the Lost Stork" with Indiana Drake, Mae Nest and W.C. Fowls in a My Little Chickadee film poster, a centerfold in Playduck Magazine, etc.)
the sudden expulsion of Howard from his armchair through the length of his building (through the hallway and other people's residences, including through a bathroom with a topless duck in a bathtub) into outer space - and eventually landing in Cleveland
the scene of the interstellar duck Howard saving the life of Beverly Switzler (Lea Thompson), a musician in a struggling punk rock band known as Cherry Bomb, by declaring: ("That's it, no more Mr. Nice Duck"), and fighting off mean street thugs with strange martial arts: ("Let the female creature go! Every duck's got his limit, and you scum have pushed me over the line...No one laughs at a master of quack-fu")
the sequence of Howard the Duck having a "brewski" at Beverly's apartment, and admitting that he was having an identity crisis: ("What I don't know is what the hell I'm doing here! It's like a bad trip. I mean, talk about an identity crisis"), and then when he fell asleep, Beverly's peek into his wallet, where she found his ID, photos, credit cards (MallardCard and Bloomingducks), cash bills with a duck President, and a condom!
the hilarious scene in the Ohio Bureau of Employment Services where Howard was advised about finding a job by a large and outspoken counselor named Cora Mae (Virginia Capers) - warning that she didn't like dealing with a "slacker" or "misfit" like him: ("They think that by trapsing in here and looking outlandish, they are not gonna be able to find work....Do you think that by looking controversial, you is never gonna find a job and just go on coIlecting unemployment and living happy on the public dole. Well, dude, you've got another thing coming! Because Cora Mae always places her interviewee. I'm gonna find your ass a job that'll wipe that snarl right off your face, little - whatever you is. In fact, I think I got just the position for you! I got a feeling you're gonna take to this job like a duck to water")
Howard the Duck in Bed with Beverly
the strange seduction scene in Beverly's apartment when Howard complimented her figure: ("I have developed a greater appreciation for the female version of the human anatomy"); he joined her in bed to watch David Letterman on television, as he suggestively remarked: ("Maybe it's not a man you should be looking for"); she wondered: ("Do you think I might find happiness in the animal kingdom, duckie?") and he proposed: ("Like they say, doll, love's strange. We could always give it a try. Hmm?"); she called his bluff and began unbuttoning the front of Howard's shirt - as the feathers in the middle of his head flared up: ("OK, let's go for it, Mr. Macho...It's just that you're so incredibly soft and cuddly...I just can't resist your intense animal magnetism"); he expressed his worry: ("Anyway, where will it all lead? Marriage? Kids? A house in the suburbs?"), and as she began to remove her blouse: ("Let's just face it, it's fate"), he shied away from intimacy although she proposed to the nervous duckie: "Just one goodnight kiss, sweet duckie"; - they shared a few short kisses (on his extended duck bill), seen in silhouette after she turned out the light; however, three intruders interrupted them; when Carter (Miles Chapin) witnessed what was going on, he stated: "My God, this relationship defies all the laws of nature."
the long extended scenes (about getting Howard back home with a reversed cosmic ray) involving multiple chase scenes and lots of explosions, including Howard and scientist/janitor Phil's (Tim Robbins) ride in an ultralight aircraft
the character of researcher Dr. Jenning (Jeffrey Jones) becoming possessed while driving: ("Listen, an evil has landed. The world is in great danger...It feels like something inside me gnawing at my guts! What's wrong with me?..The pain. It's like I'm transforming inside. I'm afraid I'm about to become something else...Something's growing inside me...It's replicating and superceding all my internal organs!...That monster's shape I saw...It's inside my body...The end of the world is coming, and I will be the cause of it...I'm not Jenning any more. The transformation is complete. I am now someone else")
the scene in Joe Roma's Cajun Sushi restaurant, when the waitress asked the possessed Dr. Jenning about his food order: ("What do you think he'd like to eat?"), with his reply: ("I no longer need human food...You are about to witness the end of the old world and the birth of the new"); then he explained his transformation into the Dark Overlord: ("I told you, bird brain, I am not Jenning any more! I am now one of the Dark Overlords of the universe... Tonight the laser beam hit the Nexus of Sominus...It lies beyond the planets. It is a region of demons to which we Dark Overlords were exiled eons ago...Just as you were brought down here accidentally. Tonight, the laser beam released me from that region of demons and pulled me down into that lab...During the explosion, I entered Jenning's body. So, I have disguised my true form which would be considered hideous and revoIting here...This will mean the extinction of all existing life forms...My powers are growing"); he then showed them the code-key - that he would soon use that night to activate the laser spectra scope to bring down the other Dark Overlords; he ended with the threat: ("Soon the Dark Overlords will engulf the Earth - Nothing human will remain here") - and he soon destroyed much of the diner: ("If you can't stand the heat, get out of the kitchen")
and the scene of the possessed Dr. Jenning driving a truck with Beverly as his hostage - and at one point - using his extended tongue to extract power from the vehicle's dashboard cigarette lighter; he then entered an Exhaust Emissions Testing area, where he used a laser-beam blast from his eyes to obliterate other cars - and then joked: "Smog inspection!"
the sequence of the Dark Overlord of the Universe (created by George Lucas' special effects division) transforming into a monstrous scorpion-like creature
Howard's coming to the saving rescue and defeating the monstrous creature by blowing it to smithereens with an experimental "neutron disintegrator" laser
the film's conclusion with Howard (strumming a red electric guitar) and Beverly on-stage and singing together: "Howard the Duck"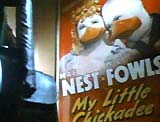 Opening Credits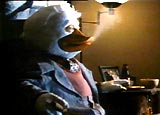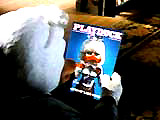 Howard in Arm-chair with Playduck Magazine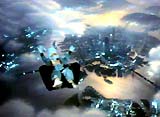 Landing in Cleveland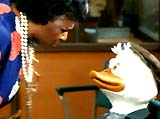 Job-Hunting Howard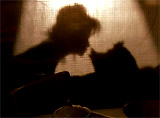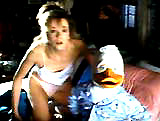 Kisses - Interrupted


Chase Sequence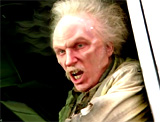 Possessed Dr. Jenning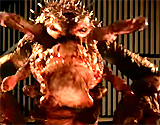 Scorpion-Like Monster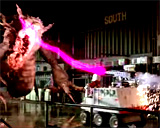 Destruction of Creature with Laser