1935
The winner is listed first, in CAPITAL letters.
Best Picture


MUTINY ON THE BOUNTY (1935)


Alice Adams (1935)


Broadway Melody of 1936 (1935)


Captain Blood (1935)


David Copperfield (1935, UK)

The Informer (1935)


The Lives of a Bengal Lancer (1935)


A Midsummer Night's Dream (1935)


Les Misérables (1935)


Naughty Marietta (1935)


Ruggles of Red Gap (1935)


Top Hat (1935)
Actor:
VICTOR MCLAGLEN in "The Informer", Clark Gable in "Mutiny on the Bounty", Charles Laughton in "Mutiny on the Bounty", Franchot Tone in "Mutiny on the Bounty"
Actress:
BETTE DAVIS in "Dangerous", Elisabeth Bergner in "Escape Me Never", Claudette Colbert in "Private Worlds", Katharine Hepburn in "Alice Adams", Miriam Hopkins in "Becky Sharp", Merle Oberon in "The Dark Angel"
Director:
JOHN FORD for "The Informer", Michael Curtiz for "Captain Blood", Henry Hathaway for "The Lives of a Bengal Lancer", Frank Lloyd for "Mutiny on the Bounty"
---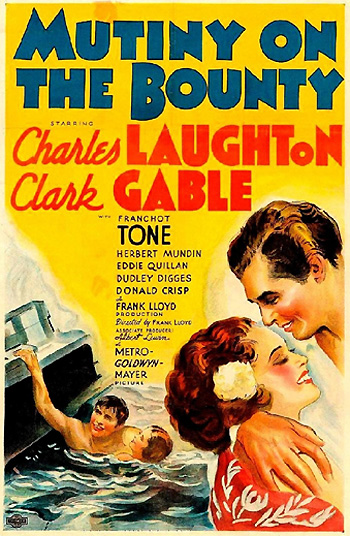 1935 was the first year that the gold statuettes were officially dubbed "Oscars." (Bette Davis insisted that she was the first to give the award its name in honor of her first husband Harmon Oscar Nelson.) This was the last year that write-ins were allowed by the Academy. (Cinematographer Hal Mohr became the first (and only) write-in nominee to win an Oscar.) And Price Waterhouse was hired to tabulate ballots for the first time this year.
This year was also marked by MGM's studio campaign in press ads - the first of its kind - for one of its films, director Clarence Brown's coming-of-age comedy Ah, Wilderness! that was adapted from Eugene O'Neill's sole comedy - the effort proved unsuccessful since the film had zero nominations.
And this was the first year for a new awards category, Best Dance Direction (Dave Gould won for "I've Got a Feeling You're Fooling" in Broadway Melody of 1936 and "Straw Hat" in Folies Bergere). This category would last for only three years, through 1937. Members of the Directors Guild successfully lobbied the Academy for elimination of the category, arguing that the term "direction" should only apply to the director of a film, not the dance director.
Some of the greatest classic films of all time were among the twelve Oscar nominees for Best Picture. The Best Picture winner was the expensive (the film was the costliest film of the year - budgeted at about $2 million) and unequaled earliest version of Mutiny on the Bounty - a film with eight nominations and only one win. [It was the last of the Best Picture winners that didn't receive any other Oscars. The other two were The Broadway Melody (1928/29) and Grand Hotel (1931/32).]
The adventure classic from director Frank Lloyd was based on Charles Nordoff's and James Hall's trilogy, and the actual historical case of the Tahiti-bound British naval vessel HMS Bounty, that suffered a famous mutiny in 1787 against its iron-fisted, sadistic commander Captain Bligh (Charles Laughton). It was an MGM showcase (the second Irving Thalberg production to win Best Picture), featuring an immortal on-screen villain, on-location shooting, and acting nominations for all its star players. And it featured the Best Actor Oscar winner from a year earlier - Clark Gable as the Bounty's mate Fletcher Christian and leader of the mutiny.
The other Best Picture nominees included two adventure films - classic 30s swashbucklers, three musicals, and four adaptations of classics:
director Michael Curtiz' Captain Blood (with two nominations and no wins) starring 26 year-old newcomer Errol Flynn as the colorful pirate Peter Blood
director Henry Hathaway's and Paramount's The Lives of a Bengal Lancer (with seven nominations and one win, for its Assistant Directors Paul Wing and Clem Beauchamp) about three British Empire Lancers stationed in NW India who encounter a revolution against colonial rule - the category of Assistant Director was discontinued after 1937!
director Mark Sandrich's Top Hat (with four nominations and no wins), one of the best Astaire/Rogers musicals ever made
director W. S. Van Dyke's Naughty Marietta (with two nominations and one win - Sound Recording), the first film matching up Jeanette MacDonald and Nelson Eddy
MGM's musical comedy Broadway Melody of 1936 (with three nominations and one win - Best Dance Direction for David Gould), the second film in the series (after the original 1928/29 film), and one of the few sequels to be nominated for Best Picture; with leads Robert Taylor and Eleanor Powell, and supporting characters Jack Benny and June Knight
director George Cukor's (and MGM's) superior adaptation of the Charles Dickens classic David Copperfield (with three nominations and no wins) with W.C. Fields as Mr. Micawber
director Max Reinhardt's version of the Shakespeare classic A Midsummer Night's Dream (with three nominations and two wins - Best Cinematography for Hal Mohr as a write-in candidate, and Best Film Editing ) with scores of Warner Bros' stars and Olivia de Havilland in her first film role
the best of all versions of Victor Hugo's novel Les Miserables (with four nominations and no wins), about a petty thief named Jean Valjean in 18th century France, with Gregg Toland's cinematography
Leo McCarey's Ruggles of Red Gap (with one nomination and no wins), a Preston Sturges political comedy starring Charles Laughton as a British manservant on an American Wild West ranch
John Ford's political melodrama The Informer (with six nominations and four wins - Best Actor (Victor McLaglen), Best Director (Ford's first of four Best Director Oscars), Best Screenplay (Dudley Nichols), Best Score (Max Steiner's first of three Best Score Oscars) - based on Liam O'Flaherty's novel about the 1922 Irish Sinn Fein Rebellion and a hard-drinking Dublin informer pursued after betraying his leader
director George Stevens' Alice Adams (with two nominations and no wins), based on the classic Booth Tarkington novel about a poor Midwestern girl who falls in love with a socially-prominent, upper-class man
Director Henry Hathaway received his only Best Director nomination in his career for The Lives of a Bengal Lancer. The Best Picture's director, Frank Lloyd, lost in the Best Director category. John Ford's win as Best Director for The Informer was the first of his record four Oscars for directing - but amazingly, he never received a Best Director Oscar for a western, his most characteristic genre. [His other Best Director awards were for: The Grapes of Wrath (1940), How Green Was My Valley (1941), and The Quiet Man (1952).]
Three of the four nominees for Best Actor appeared in MGM's Best Picture film Mutiny on the Bounty: [Mutiny on the Bounty was the first film to have three acting nominations, and the first film to have three co-performers competing against each other in the same category - as Best Actor]:
Clark Gable (with his second nomination) as Fletcher Christian, the courageous, dashing and rebellious First Mate
Charles Laughton (with his second nomination) as the hateful, ruthless and tyrannical Captain William Bligh
Franchot Tone (with his sole career nomination) as the idealistic, decent loyal midshipman Roger Byam who returned to England and was court-martialed
All three Best Actor nominations lost to Victor McLaglen's greatest performance (with his first nomination and only Oscar) as Gypo Nolan in The Informer, a boasting, brawling, drunken Irish braggart known as "The Beloved Brute" who betrays his Irish Republican Army pal to the British police for a 20-pound reward. He became the second English actor to win an Oscar, following after Charles Laughton's win for The Private Life of Henry VIII (1933). [Note: McLaglen's role set the standard for many future alcoholic character honorees in the acting category. The award boosted the film's financial failings - and made it the first film to substantially benefit from an Oscar.] Dudley Nichols, the film's screenwriter, became the first winner to refuse his Oscar award on political grounds, during a union boycott that was being held during the awards ceremony.
[Charles Laughton was the second performer to appear in three Best Picture-nominated films in the same year - he also starred in Mutiny on the Bounty, Les Miserables and Ruggles of Red Gap. This feat was first accomplished by Claudette Colbert in 1934, and would be repeated by Thomas Mitchell in 1939 and John C. Reilly in 2002.]
Because of a tie, there were six best actress nominees for the only time in Oscar history. To many critics, Bette Davis (with her first nomination) was compensated for her loss the previous year (as an unofficial write-in candidate) with her first Best Actress award in director Alfred E. Green's Dangerous (the film's sole nomination). Her winning role was as Joyce Heath - a self-centered, willful, alcoholic, neurotic, self-destructive ex-Broadway actress who is kept off the bottle during her comeback by an admiring young architect (Franchot Tone).
The other Best Actress nominees were:
Miriam Hopkins (with her sole unsuccessful career nomination) for her role as the title character in an adaptation of Thackeray's novel Vanity Fair by director Rouben Mamoulian, Becky Sharp (the film's sole nomination) - the first 3-color Technicolor film
Merle Oberon (with her sole unsuccessful career nomination) as young heroine Kitty Vane in director Sidney Franklin's The Dark Angel (with three nominations and one win - Best Interior Decoration)
Elisabeth Bergner (with her sole nomination) as unwed mother Gemma Jones in the melodramatic Escape Me Never (the film's sole nomination - it was directed by Bergner's husband Paul Czinner)
the previous award winner Claudette Colbert (with her second consecutive nomination) as psychiatrist Dr. Jane Everest in Private Worlds (the film's sole nomination)
the previous year's award winner Katharine Hepburn with her great performance (and her second nomination) in the title role as the social-climbing Alice Adams
[Both Colbert and Hepburn had won awards for acting in the past, and since no one to this point had won two acting awards, it was not unusual that Davis won. None of the other first-time nominees were of her acting caliber.]
Walt Disney again received a Short Subject: Cartoon award, his fourth consecutive honor in this category, for Three Orphan Kittens, and a Special Award was given to silent film director D.W. Griffith for his pioneering efforts in pre-Academy Award films (The Birth Of A Nation (1915), Intolerance (1916), Broken Blossoms (1919), Way Down East (1920), and Orphans of the Storm (1921/22). And film legend D.W. Griffith was honored with a Special Award "for his distinguished creative achievements as director and producer and his invaluable initiative and lasting contributions to the progress of the motion-picture arts."
Dudley Nichols was the first Oscar winner to refuse an Academy Award - for his screenplay credit on The Informer (1935). He was boycotting the awards as a member of the Screen Writers Guild. (Two years later, after the Academy accepted the guilds and ended its support for union-busting activities, Nichols accepted his award.)
Oscar Snubs and Omissions:
There were major snubs and missed nominations for these films in 1935:
Either Hermes Pan or original choreographer-director Busby Berkeley (who never won an Academy Award) should have won the Best Dance Director Award for, respectively, "Top Hat" from Top Hat, or for two nominated numbers (the show-stopping finale of "Lullaby of Broadway" - one of the greatest dance numbers in Hollywood film history - and "The Words Are in My Heart" - with fifty-six grand pianos coming to life in an art-deco kaleidoscope) in Gold Diggers of 1935. This was Berkeley's debut film as a solo director.