1934
The winner is listed first, in CAPITAL letters.
Best Picture


IT HAPPENED ONE NIGHT (1934)


The Barretts of Wimpole Street (1934)


Cleopatra (1934)


Flirtation Walk (1934)


The Gay Divorcee (1934)


Here Comes the Navy (1934)


The House of Rothschild (1934)


Imitation of Life (1934)


One Night of Love (1934)


The Thin Man (1934)


Viva Villa! (1934)

The White Parade (1934) (rare film)
Actor:
CLARK GABLE in "It Happened One Night", Frank Morgan in "Affairs of Cellini", William Powell in "The Thin Man"
Actress:
CLAUDETTE COLBERT in "It Happened One Night", Grace Moore in "One Night of Love", Norma Shearer in "The Barretts of Wimpole Street"
Director:
FRANK CAPRA for "It Happened One Night", Victor Schertzinger for "One Night of Love", W. S. Van Dyke for "The Thin Man"
---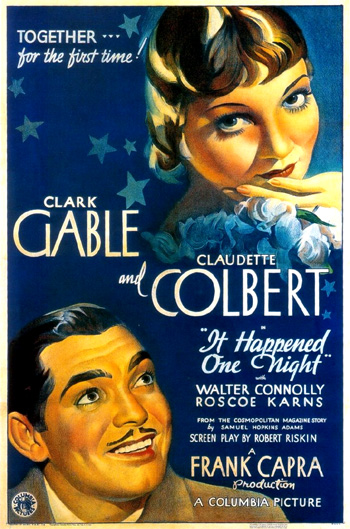 This was the first year that the Academy decided to match the eligibility period to the calendar year. From now on, the nominating selections and the award ceremony would cover the same calendar year. Three new categories were added: for Film Editing, Song, and Scoring. The Academy allowed write-in candidates in all categories after members denounced the omission of Bette Davis (Of Human Bondage) from the Best Actress nominees. Write-in candidates were disallowed after 1935, a year later.
The Best Picture category had a record twelve nominated films. (This total would remain for one more year, and then decrease to ten, and finally to five.)
The film that dominated and swept all major categories of the awards was Columbia's come-from-behind It Happened One Night, Frank Capra's exceptional screwball romantic comedy that gave birth to the genre. The sparkling, 'Capra-corn' film was about an antagonistic couple - a spoiled runaway heiress (Colbert) and a recently-fired newspaper reporter (Gable in his first comedic role) - an affectionate feuding, battle of the sexes during their bus and hitch-hiking trip on the road. Instead of turning her in for the reward, he falls in love with her. The film illustrated that even a wealthy heiress could find happiness and adventure on the road among the common folk. Numerous scenes in the film have become classics: the hitchhiking scene with Claudette Colbert lifting her skirt for a ride, Gable's bared chest (causing undershirt sales to drop dramatically), and the motel room divided by the "walls of Jericho."
It was Columbia's first Best Picture winner and the first major Academy Awards sweep of the "Top Five" awards categories (with five nominations and five wins - Best Picture, Best Actor, Best Actress, Best Director, and Best Adaptation by screenwriter Robert Riskin), un-equaled and un-duplicated until One Flew Over The Cuckoo's Nest (1975) and The Silence of the Lambs (1991). [In each case, these films won no other Oscars than the top awards.] It was the first time in Academy history that both male and female leads (Gable and Colbert) from the same film, a Best Picture nominee (and winner), won the top or lead award for acting (Best Actor and Best Actress).
There were eleven other films nominated for Best Picture in 1934:
the second film of dancing duo Astaire and Rogers - director Mark Sandrich's The Gay Divorcee (with five nominations and one award - Best Song "The Continental")
director W. S. Van Dyke's comedy/mystery The Thin Man (with four nominations and no wins) based on Dashiell Hammett's novel with William Powell and Myrna Loy as married sleuths in the first installment of their six-film popular series
director Victor Schertzinger's operatta about a "Pygmalion-like" American diva who rebels against her Italian singing teacher in One Night of Love (with six nominations and two wins - Best Sound Recording and Best Score)
director Sidney Franklin's account of the romancing of poetess Elizabeth Barrett by Victorian poet Robert Browning in The Barretts of Wimpole Street (with two nominations and no wins)
Wallace Beery in the title role of Mexican revolutionary Pancho Villa in director Jack Conway's (and an un-credited Howard Hawks') Viva Villa
director John Stahl's Imitation of Life (with three nominations and no wins) - the first version of the classic melodrama on race relations based on Fanny Hurst's novel (this film was remade by Douglas Sirk as Imitation of Life (1959) with Lana Turner and Juanita Moore)
Claudette Colbert as the Egyptian temptress in master showman Cecil B. DeMille's classic Cleopatra (with four nominations and one win - Best Cinematography)
director Frank Borzage's musical film starring Ruby Keeler and Dick Powell as the general's daughter and a West Point cadet who are in love in Flirtation Walk (with two nominations and no wins)
director Lloyd Bacon's Here Comes the Navy (with one nomination and no wins) - Warner Bros.' sole nominee with James Cagney as a naval hero
director Alfred R. Werker's Napoleonic costume drama, The House of Rothschild (with one nomination and no wins)
and Irving Cummings' dramatic film about hospital student nurses in The White Parade (with two nominations and no wins)
The winner of the Best Actor award was the "King" - Clark Gable (with the first of three career nominations and his sole win) for his role as down-on-his-luck reporter Peter Warne in It Happened One Night.
The two Best Actor competitors were:
Frank Morgan (with his first nomination) as Alessandro, a 16th century Duke of Florence in director Gregory La Cava's Affairs of Cellini (with four nominations and no wins)
William Powell (with his first of three unsuccessful career nominations) as urbane, tippling, witty detective Nick Charles in The Thin Man
Gable's French-born co-star, Claudette Colbert (with the first of three career nominations and her sole win) won the Best Actress award for her performance as runaway heiress Ellie Andrews in It Happened One Night. [Colbert was the first performer to appear in three Best Picture-nominated films in the same year - she also starred in Cleopatra and Imitation of Life. This feat would be repeated by Charles Laughton in 1935, Thomas Mitchell in 1939 and John C. Reilly in 2002]. The hitchhiking scene contained Gable's immortal line to Colbert when she lifted her skirt slightly to expose a bit of her leg, and promptly stopped a passing car: "Why didn't you take off all your clothes? You could have stopped 40 cars."
The other two Best Actress nominees were:
Metropolitan Opera soprano star Grace Moore (with her sole career nomination) as American opera singer Mary Barrett in One Night of Love
Norma Shearer (with her fourth nomination) for her performance as invalid Elizabeth Barrett in The Barretts of Wimpole Street
Five year old, popular Fox Studios money-maker Shirley Temple (born on April 23, 1928, she was almost six years old at the time of the Academy banquet held on March 16, 1934) was presented with a miniature statuette - a Special Award - for her "outstanding contribution to screen entertainment during the year 1934". By some accounts, she remains the youngest Oscar recipient in history.
And Walt Disney picked up another (his third consecutive) Short Subject: Cartoon Award for The Tortoise and the Hare.
Oscar Snubs and Omissions:
Although a comedy was the recipient of numerous awards, two other great comedies were neglected:
W.C. Fields' It's A Gift
Howard Hawks' Twentieth Century with John Barrymore (with a tour-de-force performance) and Carole Lombard
The Academy also ignored another Josef von Sternberg (and Marlene Dietrich) film, The Scarlet Empress.
Horror films rarely received nominations, such as director Edgar Ulmer's The Black Cat with the leads (Karloff, Lugosi) and its brilliant Expressionist cinematography (John Mescall) and art direction/set design (Charles D. Hall).
One of the most controversial oversights of the Academy was denying Warner Bros' actress Bette Davis an official Best Actress nomination for her performance as the slutty, bleach-blonde, Cockney waitress Mildred, who took advantage of sensitive, crippled (club-footed) doctor Philip Carey (Leslie Howard), in RKO's Of Human Bondage - she was a write-in candidate only (who lost), but was compensated the next year with a Best Actress Oscar win for Dangerous (1935).
Myrna Loy was un-nominated for her performance as co-star Nora Charles (the second half of a detective duo) in The Thin Man.