1941
The winner is listed first, in CAPITAL letters.
Actor:
GARY COOPER in "Sergeant York", Cary Grant in "Penny Serenade", Walter Huston in "All That Money Can Buy", Robert Montgomery in "Here Comes Mr. Jordan", Orson Welles in "Citizen Kane"
Actress:
JOAN FONTAINE in "Suspicion", Bette Davis in "The Little Foxes", Olivia de Havilland in "Hold Back the Dawn", Greer Garson in "Blossoms in the Dust", Barbara Stanwyck in "Ball of Fire"
Supporting Actor:
DONALD CRISP in "How Green Was My Valley", Walter Brennan in "Sergeant York", Charles Coburn in "The Devil and Miss Jones", James Gleason in "Here Comes Mr. Jordan", Sydney Greenstreet in "The Maltese Falcon"
Supporting Actress:
MARY ASTOR in "The Great Lie", Sara Allgood in "How Green Was My Valley", Patricia Collinge in "The Little Foxes", Teresa Wright in "The Little Foxes", Margaret Wycherly in "Sergeant York"
Director:
JOHN FORD for "How Green Was My Valley", Alexander Hall for "Here Comes Mr. Jordan", Howard Hawks for "Sergeant York", Orson Welles for "Citizen Kane", William Wyler for "The Little Foxes"
---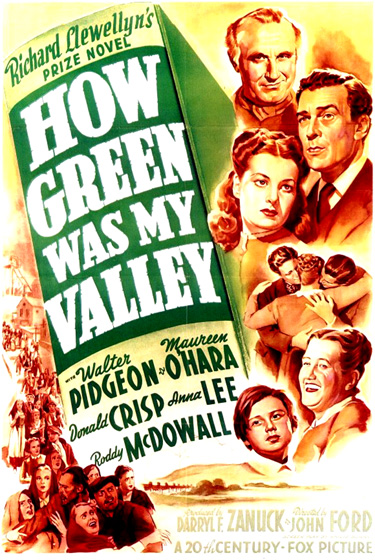 Documentaries were a new category that was added in 1941 (with the Oscar given to Churchill's Island from the Canadian Film Board (and UA), the first of several consecutive WWII documentaries to win in the same category). The Academy Awards ceremony for 1941 was held only a few months after the bombing of Pearl Harbor, on February 26, 1942. Soon, the Hollywood community would rally to boost morale and provide entertainment for the troops. Carole Lombard died in a tragic plane crash about a month before the Oscar ceremony, on January 16, 1942, after a War Bond rally tour appearance.
The Best Picture winner was John Ford's populist, sentimental tale spanning fifty years of an impoverished and disintegrating Welsh mining town and family that was based on Richard Llewellyn's best-selling novel, How Green Was My Valley (with ten nominations and five wins - Best Picture, Best Supporting Actor (Crisp), Best Director, Best B/W Cinematography by Arthur Miller, and Best Art Direction). Through the eyes of young son Huw (Roddy McDowall), the episodic life (including crises such as strikes and mine disasters, and joys) of the close-knit Morgan family and Welsh coal-mining community were remembered in the narrative. [In the previous year, Ford had directed another Oscar-nominated family saga, The Grapes of Wrath (1940).]
The other nominees for Best Picture included two debut films for its directors, two films with nine nominations each, and one film with eleven nominations:
director/writer John Huston's debut film - a fast-paced film noir/mystery based upon Dashiell Hammett's tale The Maltese Falcon (with three nominations for Best Picture, Best Supporting Actor, and Best Screenplay, and no wins), about a search for an elusive Black Bird. This masterpiece is considered one of the greatest detective/film-noir classics ever made, but it did not win a single award in any of its three nominated categories
director/actor/producer/writer Orson Welles' first feature film - Citizen Kane (with nine nominations and only one win - the only award that the film won was Best Original Screenplay (by Henry J. Mankiewicz and Orson Welles) - it should have won the Best Picture award); it is generally acknowledged to be the greatest film ever made by critics and film-fans - an intriguing tale about a newspaper publisher/tycoon from his early childhood to his lonely death, told in a series of flashbacks

[Twenty five year-old "boy genius" Welles was the first to ever receive simultaneous nominations in four categories: as producer, actor, director, and writer. The previous year, Charlie Chaplin was the first to ever receive three simultaneous nominations, as producer, actor, and screenwriter for The Great Dictator (1940).]


director William Wyler's filming of Lillian Hellman's own play script, The Little Foxes (with nine nominations and no wins!) about a vicious and destructive Southern matriarch
director Hitchcock's thrilling tale Suspicion (with three nominations and one win - Best Actress) about a newlywed bride fearful of her wealthy new husband
director Howard Hawks' true story of a country boy who becomes a great WWI hero in Sergeant York (with eleven nominations and two wins - Best Actor and Best Film Editing)
director Mervyn LeRoy's filming of Anita Loos' screenplay about an orphanage founder, Blossoms in the Dust (with four nominations and one win - Best Color Interior Decoration)
director Alexander Hall's romantic fantasy Here Comes Mr. Jordan (with seven nominations and two wins - Best Original Story and Best Screenplay) about a heavenly mixup and a prizefighter's body-switch [This film served as the inspiration for director/actor Warren Beatty's Best Picture-nominated Heaven Can Wait (1978), originally filmed by director Ernst Lubitsch as the Best Picture-nominated Heaven Can Wait (1943)]
director Mitchell Leisen's romance Hold Back the Dawn (with six nominations and no wins) from a screenplay by Billy Wilder and Charles Brackett
director Irving Rapper's tale of a turn-of-the-century minister in One Foot in Heaven (with one nomination and no wins)
Even more surprising was that Ford (celebrating his twenty-fifth anniversary in the film industry) also won for Best Director - it was his third Best Director Award and his second Oscar in a row. (He won previous awards for The Informer (1935) and The Grapes of Wrath (1940).) [Ford would win one more time eleven years later for The Quiet Man (1952).] John Huston wasn't nominated for Best Director, but he was nominated for his Screenplay for The Maltese Falcon. Competing Best Director nominee William Wyler's film The Little Foxes was his sixth film in a row to receive a Best Picture nomination without winning. The previous five films were Dodsworth (1936), Dead End (1937), Jezebel (1938), Wuthering Heights (1939), and The Letter (1940). It was also Wyler's fourth Best Director nomination in six years without winning - he was nominated in 1936, 1939, 1940, and 1941. [Wyler's first of three Best Director career wins came in 1942, for Mrs. Miniver.]
In keeping with the times, Gary Cooper (with his second nomination) won his first Best Actor award for his performance as deeply religious backwoods Tennessee Cumberland Mountains farmer and World War I hero Sergeant Alvin C. York in Howard Hawks' morale booster Sergeant York. Cooper's whimsical performance defeated greater epic performances by the following actors:
Orson Welles (with his sole acting nomination in his career!) as the Hearst-like Charles Foster Kane in Citizen Kane
Cary Grant (with his first of two unsuccessful career nominations) as newspaperman and adoptive father Roger Adams in director George Stevens' tragic tear-jerker Penny Serenade (the film's sole nomination) - [Grant's only two nominations were for serious dramatic roles (the other was for None But The Lonely Heart (1944)), instead of for his wildly-popular comedies, including The Awful Truth (1937), Bringing Up Baby (1938), Holiday (1938), and His Girl Friday (1940).]
Robert Montgomery (with his second and final unsuccessful nomination) as prizefighter Joe Pendleton who is mistakenly sent to heaven and then returns to earth in the body of a soon-to-be murdered millionaire in Here Comes Mr. Jordan
and Walter Huston (with his third nomination) as the Devil (Mr. Scratch) who bargains with a farmer's soul and orator Daniel Webster in director William Dieterle's All That Money Can Buy (with two nominations and one win - Best Dramatic Picture Score)
In the Best Actress category, two sisters were rivals for awards:
Joan Fontaine (with her second nomination in the second consecutive year for another Rebecca (1940) -like role) as a shy, spinsterish British girl named Lina McLaidlaw (suspicious of and plagued by her new husband, Cary Grant, and a glass of milk) in Hitchcock's mystery Suspicion
and her older sister Olivia de Havilland (with her second nomination) as schoolteacher Emmy Brown (involved in an immigration-marriage scam and in love with Charles Boyer) in the soap Hold Back the Dawn
Fontaine won her first Oscar, probably as consolation for the previous year's loss. Both roles were as a victimized young bride. [Her win was the only Best Actress award ever for a Hitchcock film. De Havilland would win twice in the 1940s for: To Each His Own (1946) and The Heiress (1949).]
Other Best Actress nominees included Barbara Stanwyck (with her second of four unsuccessful career nominations from 1937-1948 - she never won!) as burlesque nightclub dancer and gangster moll Sugarpuss O'Shea in director Howard Hawks' Ball of Fire (with four nominations and no wins), Greer Garson (with her second nomination - and the first of five consecutive nominations) as Texas orphanage founder Edna Gladney in Blossoms in the Dust, and Bette Davis (with her fifth nomination - and the fourth of five consecutive nominations) as Southern schemer Regina Giddens in The Little Foxes.
Donald Crisp (with his sole career nomination) won the Best Supporting Actor award (it was the only Oscar of his long, fifty-five year career) for his role as the stern father of the closely-knit Morgan family of Welsh miners, who is killed in the mine in the film's conclusion in How Green Was My Valley. Another nominee - Sydney Greenstreet (with his sole career nomination in his 'talking' film debut at age 61), nominated for his performance as obsessed, statuette searcher "Fat Man" Casper Gutman in The Maltese Falcon, was equally deserving. The other nominees were Walter Brennan (with his fourth and last nomination - the only nomination in his career which wasn't a winner) as village Pastor Rosier Pile in Sergeant York, Charles Coburn (with his first nomination) as the world's richest man/department store owner John P. Merrick (who masquerades as a salesclerk) in director Sam Wood's romantic comedy The Devil and Miss Jones (with two nominations and no wins), and James Gleason (with his sole career nomination) as co-star Robert Montgomery's boxer/manager Max Corkle in Here Comes Mr. Jordan.
Mary Astor (with her sole career nomination) won the Best Supporting Actress award and her first and only Oscar for her performance as Sandra Kovak - a sharp-tongued, selfish and ambitious concert pianist who gives away her baby (when befriended by Bette Davis, wife of her former lover George Brent) in The Great Lie (the film's sole nomination). The defeated nominees included two co-stars from The Little Foxes: Teresa Wright (with her first nomination in her debut performance) as Alexandra Giddens (daughter of co-stars Bette Davis and Herbert Marshall), and Patricia Collinge (with her sole nomination) as Aunt Birdie Hubbard. The remaining nominees were Sara Allgood (with her sole career nomination) as the loving, supportive, and gentle mother figure Mrs. Morgan in How Green Was My Valley, and Margaret Wycherley (with her sole career nomination) as devoted Mother York in Sergeant York.
Disney won another Short Subject: Cartoon Oscar for Lend a Paw - his ninth win in the category. Leopold Stokowski received a Special Award for "unique achievement in the creation of a new form of visualized music" in Walt Disney's technologically-innovative production of Fantasia - a big commercial flop at the time. The film's innovators (Walt Disney, William Garity, John N.A. Hawkins, and the RCA Manufacturing Company) also won a second Special Award for "their outstanding contribution to the advancement of the use of sound in motion pictures."
Oscar Snubs and Omissions:
Barbara Stanwyck's and Henry Fonda's performances in Sturges' The Lady Eve went unrecognized.
Peter Lorre and Humphrey Bogart (as cool, yet tough-talking anti-hero detective Sam Spade) weren't nominated for their work in John Huston's film-noirish mystery The Maltese Falcon. [In fact, Peter Lorre was never nominated for an Oscar.] Bogart had another amazing non-nominated performance also this year, as Roy "Mad Dog" Earle in Raoul Walsh's classic gangster film High Sierra (with no nominations). And Mary Astor, who won for The Great Lie, is better remembered (and would have preferred to have been nominated and victorious) for the murderous femme fatale Brigid O'Shaughnessy in The Maltese Falcon.
Although there was no Oscar awards category for Best Makeup until 1981, Citizen Kane was remarkable in the way that its characters aged from start to finish. And although the film had nine nominations, only one was in an acting category (Best Actor for Orson Welles). Others who had notable performances included: Joseph Cotten as Jedediah Leland, Dorothy Comingore as Susan Alexander, Everett Sloane as Mr. Bernstein, and George Coulouris as Walter Parks Thatcher. Another unforgivable omission was denying the award of Best B/W Cinematography to nominee Gregg Toland for the film's marvelous photography.
Howard Hawks' Ball of Fire and Alexander Korda's That Hamilton Woman were not included in the group of Best Picture nominees. Vivien Leigh's performance in That Hamilton Woman was also unnominated. Although Gary Cooper won Best Actor for Sergeant York, he had two other equally important hits in 1941 without nominations: Ball of Fire, and Meet John Doe.
Bernard Herrmann who wrote some of the most dramatic film scores in the history of cinema (Welles' Citizen Kane, The Magnificent Ambersons (1942), Hitchcock's Rear Window (1954), Vertigo (1958), North By Northwest (1959) and Psycho (1960), and Scorsese's Taxi Driver (1976)) won his only Oscar in 1941 for Best Scoring of a Dramatic Picture - All That Money Can Buy.