Background
---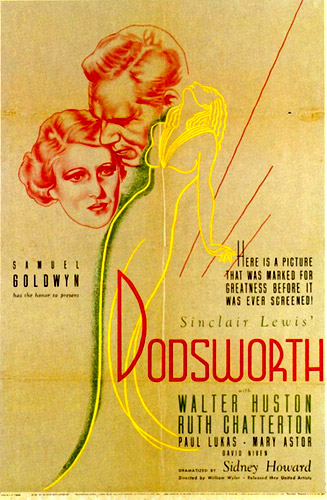 Dodsworth (1936) is famed German-born director William Wyler's classic romantic drama from Samuel Goldwyn Productions, and distributed by United Artists. Scriptwriter Sidney Howard wrote the screenplay based upon his 1934 stage adaptation of Sinclair Lewis' 1929 novel of the same name. Luckily, Howard was able to use his stage adaptation, with 14 different scenes, as the basis for the film's screenplay.
This great, sensitively-directed, sophisticated film with exceptional acting, and faithful to the source material, has often been overlooked as one of the best films of the 1930s, and one of filmdom's greatest love stories. The film's tagline stated: "Here is a Picture That Was Marked For Greatness Before It Was Ever Screened!" Wyler had directed another play (also produced by Goldwyn) that was adapted for the big screen in the same year, These Three (1936) - a heavily-bowdlerized adaptation of Lillian Hellman's "The Children's Hour."
Director William Wyler and producer Samuel Goldwyn collaborated on a total of nine films together, beginning with Barbary Coast (1935) (uncredited), followed by Come and Get It (1936), These Three (1936), Dodsworth (1936), Dead End (1937), Wuthering Heights (1939), The Westerner (1940), The Little Foxes (1941), and ending with the Best Picture-winning The Best Years of Our Lives (1946). The cinematography of Rudolph Mate made masterful use of intricately-composed or framed scenes, many with deep-focus, recalling the works of Gregg Toland.
The undated story was a bittersweet, maturely-intelligent drama about the disintegration and dissolution of an older couple's troubled marriage during an extended grand tour of Europe. The shallow, unsatisfied, age-fearing and restless wife (43 year-old Ruth Chatterton, replacing Fay Bainter from the stage production, and in one of her last US feature films before appearing in TV roles) was married to a homespun, prosperous, self-made millionaire (Oscar-nominated Walter Huston). She was unwilling to confront her middle-age while finding new values and relationships in Europe (as an ugly American) and regarding her older husband as boring and uncreative. She was seduced by the aristocratic, charming and glamorous lifestyle she found on the Continent. She flirted with and entered into various sexual affairs, causing her marriage to ultimately fail.
With a realistic and complex depiction of the crumbling relationship, the drama pushed the limits of the restrictive Production Code at the time with a frank depiction of marital infidelities (off-screen mostly), the couple's inevitable breakup, and his association with another woman named Edith. Uncharacteristically, he was not 'punished' for walking out on his marriage.
Before Mary Astor was chosen for the role of "other woman" Edith, other actresses had been considered, including Walter Huston's real-life wife Nan "Ninetta" Sunderland, unknown actress Rosalind Russell, and silent-era beauty Dolores Costello (who had recently divorced John Barrymore).
The film was shot entirely within LA sound studios, although supplemented with background-projection shots of a number of authentic locales, such as London, Paris, and Naples. Although not a major box-office success at the time (due to the fact that it had lesser-known, older performers), the subtle, sophisticated and serious film was critically-acclaimed. It garnered seven Academy Award nominations, including Best Picture, Best Director, Best Actor (Walter Huston, recreating his earlier stage role, who should have won the Oscar with his sensitive portrayal against winner Paul Muni for The Story of Louis Pasteur (1936)), Best Screenplay, Best Supporting Actress (Maria Ouspenskaya, reprising her role from the earlier stage production, and in her film debut), and Best Sound Recording, and won only one Oscar for Best Art Direction-Interior Decoration. It lost the Best Picture race to The Great Ziegfeld (1936), a lengthy, less-impressive "musical" biography.
A British-television adaptation was aired in 1950 in an episode of The Prudential Family Playhouse, with Ruth Chatterton recreating her role of wife Fran, Walter Abel as husband Sam, and a young Eva Marie Saint as Edith. Various remakes have also been considered and announced, but never filmed:
a 1950s MGM remake with Gregory Peck, Elizabeth Taylor, and Grace Kelly
a 1962 remake starring James Stewart, Lana Turner and Ingrid Bergman, under the direction of George Roy Hill, and executive produced by Gregory Peck
a 1977 version starring Rock Hudson and Elizabeth Taylor
another 1970s version starring Henry Fonda
a 1982 TV movie starring producer/actor Gregory Peck
another remake in 1991 planned with Harrison Ford, and produced by Peck
Plot Synopsis
---
The film opens, to the tune of "Auld Lang Syne," within the executive office of the Dodsworth Motor Company. The wealthy, self-made, hard-working, successful auto tycoon and manufacturer Samuel Dodsworth (Oscar-nominated Walter Huston) has his back to the camera, as he looks out over his sold factory. The day's headline in the city's Zenith Times-Advocate states that his company was sold to Union Motors: "Dodsworth Motors Sold to U.M.C. - Samuel Dodsworth Closes Deal With Detroit Combine." An off-screen office secretary asks: "Mr. Dodsworth?" After the president and founder of the company responds: "Yes," she adds: "The men are ready." The camera tracks behind the beloved Dodsworth as he walks among the workers, assembled to bid him goodbye ("I hate to see you go, Sam").
He is driven to his stately home, where his 40-ish wife of 20 years Fran (Ruth Chatterton) is giving instructions to their maid Mary (Beatrice Maude). When Fran asks how he feels about the sale of his interest in the company (something she had convinced him to do), the good-natured, comfortably reserved Sam responds: "How would any man feel who just sold 20 years of his life?" Although looking sad and "mournful," he anticipates what he has to look forward to - a trip to Europe with her ("I've always wanted to see London and Paris"). Fran confides that she feels liberated, vibrant, young and free, desiring more adventure and a "new life" after twenty years of domesticity:
After 20 years of doing what was expected of us, we're free...I want a new life, all over from the very beginning. A perfectly glorious, free adventurous life.
Following his retirement in the "half-baked" midwestern town of Zenith, his vain, selfish and shallow wife finally states that she has finished putting in two decades of social-climbing service (and pampered society life) to maintain a home and family for her heavily career-focused, down-to-earth industrialist husband. Now discontent to remain in the staid town with him, and with a strong desire to be seen as worldlier and younger than she actually is (she claims that everyone takes her for 32 or 30, almost 10 years younger than her real age), she demands new and youthful experiences:
But have you ever thought what Zenith means to me? You go down to the plant and deal in millions and have a marvelous time. I go down to the kitchen and order dinner. Then there's the ladies' luncheon and bridge, always the same ladies. Then dinner - the same people we dined with last week. After dinner, poker for the men and women for the women. There's talk of children and doctors and servants and the garden club...I can't go on liking the same things forever and ever...I want all the lovely things I've got a right to. In Europe, a woman of my age is just getting to the point where men begin to take a serious interest in her...After all, I've got brains and, thank heavens, I've still got looks. Nobody takes me for over 32. 30 even. Oh Sammy, darling, I'm begging for life. No, I'm not. I'm demanding it.
Foreshadowing what will happen, he agrees to "enjoy life now if it kills me - and it probably will." It is revealed that Sam was offered $100,000, after the sale, to be head of the production of UMC's cars, but he turned it down. He tells his banker, his oldest and closest friend Tubby Pearson (Harlan Briggs), that his life is about to change: "I'm out to make a new life for myself. I'm out to learn how to enjoy my leisure, now I've retired." He repeats his wife's words about having always done what is expected of him, but now has a desire to feel freer: "I'm about to see some of the world I haven't seen and get a perspective on the USA. I might get to know myself at the same time. I might even get to know my wife."
Sam turns to his wife and delivers one of the film's most-remembered and sincere compliments:
Did I remember to tell you today that I adore you?
The well-heeled couple are onboard the luxury liner the Queen Mary bound for Europe, and just before departing, they are given a surprise send-off by their newly-married daughter Emily Dodsworth McKee (Kathryn Marlowe) and her husband Harry McKee (John Payne), who have just flown in from the Bahamas. Immediately after departure, Sam shows boyish enthusiasm and joy for voyaging "at sea" with his wife, with no work interference, exclaiming that they are on a second honeymoon: "This is the happiest day of my life....This is the first time we've ever really started out together as lovers?...I love you more than ever now that I've got time for it."
Dressed awkwardly for dinner the first night in a formal tuxedo while waiting for his wife at the ship's bar, suave, debonair playboy Capt. Clyde Lockert (David Niven) introduces himself to Sam. Over dry martinis at a table, Lockert flirtatiously offers compliments to Sam's "lovely" and attractive wife, although Sam is strangely unaware and dismissive of the amorous attention. Later on the ship's deck with the smooth Lockert, Fran appears ashamed of her cultureless midwestern roots, although projects her insecurities by denigrating fellow traveling Americans - calling them "dreadful" - while Lockert adds that they are also "snobs." He offers to put himself in charge of Fran's "safety and sanity."
While dancing with Fran in the ballroom a few days later, on the last night of the voyage before arrival, Lockert adds: "I'm making great plans for us in London." Sam is childishly enthralled by a view of a sea captain's navigational map and a view of Bishop's Light, an English coastal lighthouse that he has observed, reminding him of his English roots. He rushes into the ballroom, where he is oblivious to the fact that Fran and Capt. Lockert are locked together in a slow dance. He enthusiastically drags them onto the windy, cold deck to view his thrilling discovery - a swinging beam of light across the night sky's horizon - although they are unenthusiastic (vain Fran complains about the freezing cold and the effects of the dampness on her wind-tossed hair). After he allows them to return to the ballroom, he orders a drink to quiet his nerves. He hears an off-screen, husky-voiced suggestion:
Why don't you try stout, Mr. Dodsworth?...You asked for something quieting, and I prescribed stout.