1944
The winner is listed first, in CAPITAL letters.
Actor:
BING CROSBY in "Going My Way", Charles Boyer in "Gaslight", Barry Fitzgerald in "Going My Way", Cary Grant in "None But the Lonely Heart", Alexander Knox in "Wilson"
Actress:
INGRID BERGMAN in "Gaslight", Claudette Colbert in "Since You Went Away", Bette Davis in "Mr. Skeffington", Greer Garson in "Mrs. Parkington", Barbara Stanwyck in "Double Indemnity"
Supporting Actor:
BARRY FITZGERALD in "Going My Way", Hume Cronyn in "The Seventh Cross", Claude Rains in "Mr. Skeffington", Clifton Webb in "Laura", Monty Woolley in "Since You Went Away"
Supporting Actress:
ETHEL BARRYMORE in "None But the Lonely Heart", Jennifer Jones in "Since You Went Away", Angela Lansbury in "Gaslight", Aline MacMahon in "Dragon Seed", Agnes Moorehead in "Mrs. Parkington"
Director:
LEO MCCAREY for "Going My Way", Alfred Hitchcock for "Lifeboat", Henry King for "Wilson", Otto Preminger for "Laura", Billy Wilder for "Double Indemnity"
---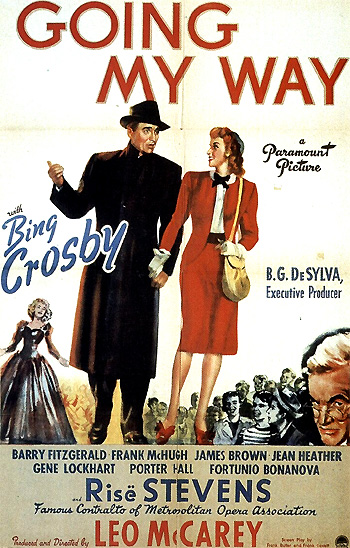 From 1944 on, the Academy standardized the number of Best Picture nominees. Only five films would be nominated for the Best Picture Award rather than the customary ten or twelve films in the past. And this was the first year in the competition when every Best Picture nominee had at least one nominated performance. Also, this was the first year that the entire Awards ceremony was nationally broadcast by ABC.
Director Leo McCarey's sentimental musical/comedy Going My Way - a sweet, "feel-good" film about a happy-go-lucky priest assigned to an insolvent Roman Catholic parish, was a favorite and the big winner in 1944 (it shared a total of ten nominations with Wilson). Besides being the top-grossing film of the year, it took seven Oscar awards: the Best Picture, Best Actor, Best Supporting Actor, Best Director, Best Original Story, Best Screenplay, and Best Song awards. Both Bing Crosby and Barry Fitzgerald won acting awards - in the lead and supporting categories respectively. And in an unusual occurrence, Irish-born actor Barry Fitzgerald was nominated in two categories for the same film (the first and last time this was possible, after a change in the rules).
The Oscar-winning comedy was about how the young, athletic, gushing, and progressive priest Father Chuck O'Malley (crooner Crosby) was able to breathe fresh air into the poor parish of crusty, irascible, elderly and conservative Irish Father Fitzgibbon (Fitzgerald), bring the religious institution out of debt, and improve the lives of delinquent street kids by turning them into a choir.
Incredibly, Going My Way, the only Best Picture-nominated comedy in 1944, won over its other Best Picture competitors:
Three of the directors of the five Best Picture nominees received Best Director nominations, except that two of the directors, George Cukor (for Gaslight) and John Cromwell (for Since You Went Away), were replaced by Alfred Hitchcock (with his second nomination for Lifeboat) and Otto Preminger (for Laura).
Producer, director, and screenwriter Leo McCarey was the first person to receive three Oscar Awards for the same picture (as producer, director, and writer) - Going My Way. However, it must be noted that Paramount took the best-picture award, as was the custom then, so McCarey literally carried home only two statues. [Other directors who have duplicated his achievement include Billy Wilder for The Apartment (1960), Francis Ford Coppola for The Godfather, Part II (1974), James L. Brooks for Terms of Endearment (1983), and James Cameron for Titanic (1997).]
Both male leads in Going My Way took home awards for Best Actor and Best Supporting Actor. Bing Crosby (with his first nomination of three career nominations and sole Oscar win) won the Best Actor award in the role of young priest Father Chuck O'Malley. In the film, he sang Too-Ra-Loo-Ra-Loo-Ral and Swinging on a Star, and clashed with his own co-star who was nominated for both Best Actor and Best Supporting Actor - Barry Fitzgerald (with his first and only nominations and sole Oscar win) portrayed St. Dominic's stubborn, yet loveable old priest Father Fitzgibbon.
The other Best Actor nominees were:
Swedish-born beauty Ingrid Bergman (with her second of seven career nominations) was awarded with the Best Actress award - her first Oscar win - for her performance as a menaced, confused wife being slowly driven mad by her sinister husband (Charles Boyer) in the moody psychological thriller Gaslight, based on the Broadway's Angel Street. [Bergman's award was presented to her while she was working on The Bells of St. Mary's (the next year's sequel to this year's Best Picture winner). Bergman's win has been considered a consolation prize or make-up Oscar for the previous year's loss for her nominated role in For Whom the Bell Tolls (1943) and her non-nominated starring role in the Best Picture winner Casablanca (1942), a win similar in nature to James Stewart's 1940 consolation award for The Philadelphia Story (1940)].
Bergman's competitors for Best Actress were a fierce lot - three of them were previous award winners, and with her strongest competition from Barbara Stanwyck:
Irishman Barry Fitzgerald, who was also nominated for the same role in the Best Actor category, won the Best Supporting Actor award as the crusty old priest Father Fitzgibbon in Going My Way. [Historical footnote: Barry Fitzgerald has the distinction of being the first - and only - actor to be nominated for both Best Actor and Best Supporting Actor for the same role in the same year. The Academy changed the rules so that it couldn't happen again. A large number of nominees have had simultaneous acting nominations for different films since then, e.g., Sigourney Weaver's dual loss in 1988 - a Best Actress nomination for Gorillas in the Mist and Best Supporting Actress nomination for Working Girl, and Al Pacino's single 1992 win as Best Actor for Scent of a Woman with a loss in the same year as Best Supporting Actor for Glengarry Glen Ross.]
The other Best Supporting Actor nominees included:
65-year old Ethel Barrymore (of the famous legendary Barrymores) with the first of four career nominations won the Best Supporting Actress award - her first and sole Oscar win - for her performance as wastrel Londoner Cary Grant's dying, cancer-stricken shopkeeper-mother Ma Mott in None But the Lonely Heart (1944) - it was her first film after eleven years, since she preferred acting before live audiences on Broadway. [Her elder brother Lionel won a Best Actor Award in 1930-31 for A Free Soul. That made them the first brother and sister to win acting awards. Their younger brother John was never nominated for an Oscar.]
The other Best Supporting Actress nominees included:
Oscar Snubs and Omissions:
Neither Fred MacMurray (as Pacific All-Risk insurance salesman Walter Neff) nor Edward G. Robinson (as insurance claims investigator/adjuster Barton Keyes), the two principal actors in the dark, sleazy film noir Double Indemnity were nominated for their unforgettable performances. In fact, both MacMurray and Edward G. Robinson were never nominated for an Oscar. Director/screenwriter Billy Wilder and co-writer Raymond Chandler were nominated for the adaptation of James M. Cain's original novel, but lost to Frank Butler and Frank Cavett's loose, episodic screenplay for Going My Way. Although a critical and box-office success with seven nominations and one of the best film noirs ever made, Double Indemnity came away empty-handed when competing against the 'feel-good' themes of the ultimate Best Picture winner - especially given the war-time climate of the time.
Cary Grant's nomination for None But the Lonely Heart was the second of his two unsuccessful career nominations - his first was for Penny Serenade (1941). He acted in many memorable, but un-nominated roles (often as a suave romantic lead), often in comedies, including: The Awful Truth (1937), Bringing Up Baby (1938), Holiday (1938), Gunga Din (1939), Only Angels Have Wings (1939), His Girl Friday (1940), The Philadelphia Story (1940), Notorious (1946), An Affair to Remember (1957), North By Northwest (1959), Operation Petticoat (1959), That Touch of Mink (1962), and Charade (1963) - he retired from films in 1966.
1944 was also the year of one of director Vincente Minnelli's and Judy Garland's best films ever, the beautiful musical Meet Me In St. Louis - it was almost entirely overlooked by the Academy with only four minor nominations, including Cinematography, Original Screenplay, Score, and Song (its "The Trolley Song" was nominated and lost to Crosby's "Swinging on a Star" from Going My Way) - except for Margaret O'Brien, who received an Honorary Award as the most "outstanding child actress" of the year.
Both of Preston Sturges' 1944 comedies, The Miracle of Morgan's Creek, and Hail the Conquering Hero, received a sole nomination for Best Original Screenplay - both lost to Lamarr Trotti's script for Wilson. Neither film was nominated for its performances, such as young actress Diana Lynn for her role as Betty Hutton's wise-cracking younger sister Emmy, or Eddie Bracken for his role as a discharged Marine (for chronic hay fever) - mistaken for a war hero.
Director Howard Hawks' wartime adventure masterpiece To Have and Have Not was devoid of nominations, with memorable roles for both Humphrey Bogart (as an unmarried ex-patriate American and charter-boat captain/privateer Harry Morgan) and his first teaming with young Lauren Bacall (in her startling movie debut at 19 years of age as young, sultry, and stranded American Marie Browning) with her often-quoted erotic line: "Anybody got a match?" - co-star Walter Brennan was similarly neglected.
And although another classic film, Laura received a few nominations including a Best Director nomination for Otto Preminger, and a Best Supporting nomination for Clifton Webb in his role as the acid-tongued writer Waldo Lydecker, it only won for Black and White Cinematography. Gene Tierney's heroine role as the feared-dead, intriguing, beautiful ad designer Laura (memorable in her own apartment's fireplace portrait) was obviously snubbed.
Edward Dmytryk's great noirish crime thriller Murder, My Sweet went un-nominated. The superb film with its haunting score should have been nominated for Best Picture. Hitchcock's Best Director nomination for the skillfully-filmed Lifeboat was his second nomination - he would never win an Oscar.