Background
---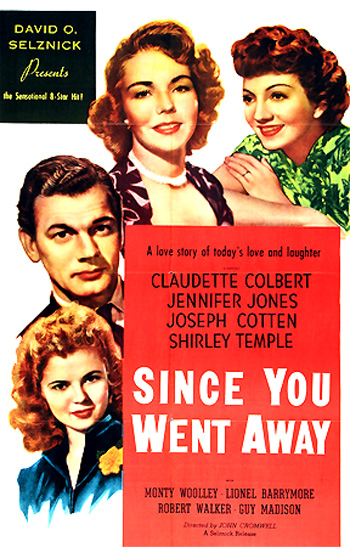 Since You Went Away (1944) is a vivid, sentimental portrait of the World War II homefront with its trials, fears, heartbreaks, and its tribute to American family values. One of the poignant film's posters declared it:
"A love story of today's love and laughter."
At the time, it was the longest and most expensive Hollywood film since producer David O. Selznick's own Gone with the Wind (1939). Producer David O. Selznick's lavish film was an attempt to outdo his previous classic 1939 epic and Best Picture winner, and it was his first production since his other Best Picture Oscar winner Rebecca (1940).
Nine Oscar nominations were awarded to the film, with only one win - Max Steiner's stirring and Oscar-winning Best Score (Steiner's third career Oscar). The other nominations were: Best Picture, Best Actress (Claudette Colbert), Best Supporting Actor (Monty Woolley), Best Supporting Actress (Jennifer Jones), Best B/W Cinematography (Stanley Cortez and Lee Garmes), Best B/W Interior Decoration, Best Film Editing, and Best Special Effects.
Selznick also wrote the screenplay for director John Cromwell's epic, three-hour work, based upon Margaret Buell Wilder's 1943 novel: "Since You Went Away: Letters to a Soldier from His Wife" - composed of a collection of letters from homefront wife Wilder to her overseas husband while he was away at war.
Plot Synopsis
---
The big-budget, sentimental soap opera portrayed a genteel, idealized Midwestern family left on the home front in 1943 during World War II. The soap-operish, tear-jerking film began with a written introduction:
"This is a story of the Unconquerable Fortress - the American Home...1943."
The touching and often gripping film epitomized Hollywood's effort to boost morale during the war, with a series of vignettes showing the effects of rationing, personal sacrifices, and the many reunions and departures. The family's individual romances, jobs, triumphs, tragedies and problems were presented in this classic melodramatic weeper. In the all-star cast were:
Anne Hilton (Claudette Colbert), the matriarchal wife and mother who held her family together (including her two daughters)
Jane (Jennifer Jones in her second feature film), her eldest daughter, a high-school senior
Bridget (or Brig) (teenaged Shirley Temple in her first major post-childhood role), the younger daughter
Tim Hilton (Neil Hamilton) (completely off-screen, although pictured in a photograph), the beloved businessman father, who volunteered to serve, and was later reported lost and missing in action in the SW Pacific
Fidelia (Hattie McDaniel), the family's black maid who worked to pay her rent due to stretched finances
When her husband went off to World War II in early 1943, Anne Hilton was left behind with her two daughters. To help with increasing economic hardships, the Hilton family established a victory garden, engaged in rationing, and took on a boarder - a crusty, outspoken and retired elderly lodger Col. William G. "Bill" Smollett (Monty Woolley). The Hilton family also entertained a frequent visitor and detached observer - family friend and bachelor Navy Lieutenant Commander Anthony "Tony" Willett (Joseph Cotten), who had always been in love with Anne. He showed her attention while Anne's husband was absent. As a temporary guest in the household, he became the focus of the anxious emotional feelings and tribulations of the family during war-time, especially when Jane developed an infatuated crush on him.
While on leave and awaiting orders, Col. Smollett's shy and estranged grandson Cpl. William G. 'Bill' Smollett II (Robert Walker), a naval officer who was Anne's old beau, entered into a brief but intense romance with Jane. [Note: Walker was Jennifer Jones' estranged, real-life husband at the time, although she would soon divorce and marry producer Selznick.]
The sweethearts' railroad station parting scene was one of the most unforgettable, tear-jerking sequences of all-time. In the most memorable scene, recently-engaged girlfriend, Jane experienced a heart-rending parting at the railroad station with her young fianceé Corporal Smollett who was being transported to the warfront. They exchanged her class ring and his grandfather's pocket watch, and as the midnight train pulled away, she ran alongside the train talking and shouting the heart-wrenching, "I love you, darling," until it was no longer possible to keep up. Harsh war-time realities came into focus when a telegram arrived announcing the death of Jane's boyfriend during combat at Salerno.
All of the family members sacrificed their future plans during the war effort: Anne took a job as a shipyard factory welder, Jane postponed college to become a nurse's aid in a military hospital, and everyone pitched in to raise money at an airplane hangar dance.
In the film's surprise ending after tremendous heartbreak following earlier news of the loss of Anne's husband, on Christmas Eve, she then received a cablegram by telephone informing her that he was actually safe and returning home, and she and her daughters joyfully embraced.