1984
The winner is listed first, in CAPITAL letters.
Actor:
F. MURRAY ABRAHAM in "Amadeus", Jeff Bridges in "Starman", Albert Finney in "Under the Volcano", Tom Hulce in "Amadeus", Sam Waterston in "The Killing Fields"
Actress:
SALLY FIELD in "Places in the Heart", Judy Davis in "A Passage to India", Jessica Lange in "Country", Vanessa Redgrave in "The Bostonians", Sissy Spacek in "The River"
Supporting Actor:
HAING S. NGOR in "The Killing Fields", Adolph Caesar in "A Soldier's Story", John Malkovich in "Places in the Heart", Noriyuki "Pat" Morita in "The Karate Kid", Ralph Richardson in "Greystoke: The Legend of Tarzan, Lord of the Apes"
Supporting Actress:
PEGGY ASHCROFT in "A Passage to India", Glenn Close in "The Natural", Lindsay Crouse in "Places in the Heart", Christine Lahti in "Swing Shift", Geraldine Page in "The Pope of Greenwich Village"
Director:
MILOS FORMAN for "Amadeus", Woody Allen for "Broadway Danny Rose", Robert Benton for "Places in the Heart", Roland Joffe for "The Killing Fields", David Lean for "A Passage to India"
---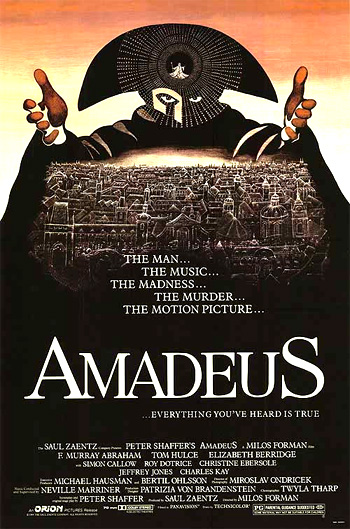 Most of the nominations-totals for 1984's Best Picture nominees were very close, and two 'prestige' pictures were tied for eleven nominations each:
Amadeus - eleven
A Passage to India - eleven


The Killing Fields - seven
Places in the Heart - seven
A Soldier's Story - three
Ultimately, the 1984 awards were monopolized by Amadeus with eight wins, the Saul Zaentz-produced, Milos Forman-directed film. The musical quasi-biopic/epic won the following awards: Best Picture, Best Actor (F. Murray Abraham), Best Director, Best Screenplay Adaptation (Peter Shaffer for the transformation of his own Broadway/London stage hit), Best Art/Set Direction, Best Sound, Best Costume Design, and Best Makeup. It became the 7th film in Oscar history to win eight Oscars.
The Best Picture winner was visually and musically superior and focused on the court rivalry between flamboyant, genius composer (and scatologically-obsessed buffoon) Wolfgang Amadeus Mozart and the less-talented, intensely-jealous Antonio Salieri, both composers for Hapsburg Emperor Joseph II. Its tagline described: "The man... The music... The madness... The murder... The motion picture...AMADEUS ... Everything you've heard is true."
The other Best Picture nominees included strong contenders:
British director David Lean's A Passage to India - the film was an imposing, triumphant return to the screen (and last picture) for the 76 year-old director (known for his two Best Director awards for The Bridge On The River Kwai (1957) and Lawrence of Arabia (1962)). The lavish epic film (with eleven nominations and two wins - for Best Supporting Actress (Peggy Ashcroft) and Best Original Score - for Maurice Jarre - his third Oscar for a David Lean film) was based on E. M. Forster's 1924 novel about the romantic adventures of a young Englishwoman
writer/director Robert Benton's Places in the Heart (with seven nominations and two wins - Best Actress and Best Screenplay by Benton himself), was based on the director's own childhood memories in Waxahachie, Texas where a young widow attempts to save her farm
producer David Puttnam's and director Roland Jaffe's The Killing Fields (with seven nominations and three wins - Best Supporting Actor, Best Cinematography (Chris Menges), and Best Film Editing), was based on the experiences of NY Times correspondent Sydney Schanberg during the Cambodian civil war and the country's take-over by the Khymer Rouge; three years earlier, producer David Puttnam's Chariots of Fire (1981) had won Best Picture
director Norman Jewison's A Soldier's Story (with three nominations and no wins) was a murder mystery/drama based on Charles Fuller's 1981 Pulitzer Prize-winning play about racial hatred in a segregated, all-black Southern Army Camp during World War II
Milos Forman's second Oscar win as director for Amadeus was a follow-up to his successful collaboration with Saul Zaentz nine years earlier in One Flew Over The Cuckoo's Nest (1975), a five Oscar winner. Director Norman Jewison was the only director of a Best Picture nominee who was denied a Best Director Oscar nomination for A Soldier's Story. His spot was taken by Woody Allen for Broadway Danny Rose (with two nominations and no wins), a film about a legendarily hapless talent agent. David Lean was nominated as Best Director, and for Best Screenplay Adaptation and Best Editor for A Passage to India, but he failed to win any of the awards.
The two winners of the lead and supporting actor Oscars were basically unknowns - and both won for their first nomination!
The Best Actor award was won by F. Murray Abraham (with his sole career nomination and Oscar) in his remarkable role as Antonio Salieri, a jealous, mediocre court composer who is consumed and made insane by his distaste for a rival composer, 26 year-old prodigy Wolfgang Amadeus Mozart in Amadeus. [Note: Abraham was the first actor of Arab descent to win the Best Actor Oscar.] Another Best Actor nominee was the title role character in the same film, played by Tom Hulce (with his sole career nomination).
The other three Best Actor nominees were:
Albert Finney (with his fourth nomination, and second consecutive Best Actor nod) as self-destructive alcoholic Geoffrey Firmin drinking himself to death in the shadow of a Mexican volcano in director John Huston's Under the Volcano (with two nominations and no wins)
Sam Waterston (with his first nomination) as Pulitzer Prize-winning American journalist Sidney Schanberg in The Killing Fields
Jeff Bridges (with his third nomination) as the alien extra-terrestrial in director John Carpenter's science fiction/love story, Starman (the film's sole nomination)
With her second Best Actress nomination, Sally Field won her second Oscar for her moving performance (her first was for a similar role in Norma Rae (1979)) as a 1930s depression-era penniless Texas farm widow of a murdered policeman, the determined, indomitable Edna Spaulding who must face a bank foreclosure, a greedy cotton-dealer, and a tornado, in Places In The Heart. She has become the best-remembered and most-quoted Oscar winner ever (with the possible exception of James Cameron's declaration, "I'm the King of the World" for Titanic (1997)), with her exclamatory, infamous speech after the win:
"The first time (referring to her Best Actress win for Norma Rae (1979) five years earlier) I didn't feel it, but this time I feel it. And I can't deny the fact you like me - right now, you like me! You really like me!"
Field joined two of the other Best Actress nominees who were also playing strong matriarchal roles as rural women/farmers who found themselves in life-death struggles to keep their properties in male-dominated, chauvinistic circumstances:
Jessica Lange (with her third nomination) as 1980s Iowa farm-wife Jewell Ivy struggling to hold on to the farm during foreclosure proceedings in Country (the film's sole nomination)
Sissy Spacek (with her fourth nomination) as a member of a farming family battling a severe storm, floods, and foreclosure in director Mark Rydell's The River
The other two Best Actress nominees in the category were:
Vanessa Redgrave (with her fifth nomination - her fourth unsuccessful Best Actress nomination, out of a career total of six nominations) as suffragette Olive Chancellor in the film adaptation of Henry James' novel by director James Ivory, The Bostonians (with two nominations and no wins)
Australian actress Judy Davis (with her first nomination) as the young Englishwoman Adela Quested in the film adaptation of Forster's novel about sexual repression and racial prejudice in early 20th century India, A Passage to India
Among the five Best Supporting Actor nominees, three were first-time movie performers. The Best Supporting Actor winner was Cambodian native Haing S. Ngor (a non-professional actor in his film debut who actually survived Cambodia's horrors) as a Cambodian refugee doctor and advisor/interpreter Dith Pran for a photojournalist (Sam Waterston) who miraculously survives the horrors and tortures of war and Pol Pot's regime in producer David Puttnam's British film The Killing Fields. Ngor became the first Asian performer to win a Best Supporting Actor Oscar. [Tragically, he was murdered 12 years later in February of 1996 by a gang of drug dealers in a Los Angeles parking garage.]
The losing nominees for Best Supporting Actor were:
John Malkovich (with his first nomination in his debut film) as the blind boarder Mr. Will in Places in the Heart
Adolph Caesar (with his first and sole nomination, and his film debut) as the tough and hated black drill Sgt. Waters who is murdered and the subject of an investigation in A Soldier's Story [A year later, Caesar died of a heart attack on the set of the Kirk Douglas-Burt Lancaster film Tough Guys (1986)].
Noriyuki 'Pat' Morita (with his first nomination) as sage Japanese handyman/karate tutor Miyagi in director John Avildsen's The Karate Kid (the film's sole nomination)
Ralph Richardson (with his second unsuccessful nomination and in his final film role) as Tarzan's eccentric grandfather - the 6th Lord of Greystoke - in director Hugh Hudson's Greystoke: The Legend of Tarzan, Lord of the Apes (with three nominations and no wins - and faithful to the classic Edgar Rice Burroughs pulp books). [Richardson died on October 10, 1983, just before he would have learned that he was nominated for the Best Supporting Oscar.] [Note: Writer Robert Towne used the name of his sheepdog P.H. Vazak for the screenwriter credit - and received a nomination -- an Academy first!]
Talented British stage actress Peggy Ashcroft (with her only nomination and Oscar win) won the Best Supporting Actress award as Judy Davis' prospective mother-in-law Mrs. Moore, a Raj matron in frail health in A Passage to India. [At the age of 77, Ashcroft's win made her the oldest winner of the Best Supporting Actress Oscar in Academy history.]
The other four nominees were:
Geraldine Page (with her seventh unsuccessful nomination of a total of eight career nominations) - as a corrupt policeman's mother in The Pope of Greenwich Village; with this nomination, Page joined both Richard Burton and Peter O'Toole as the most nominated performers in Academy history with no Oscar wins; however she went on to win Best Actress the following year for The Trip to Bountiful (1985)
Christine Lahti (with her first nomination) as Goldie Hawn's neighbor Hazel Zanussi in the 1940s-era romance - director Jonathan Demme's Swing Shift (the film's sole nomination)
Glenn Close (with her third consecutive nomination) as Iris (Robert Redford's virtuous childhood sweetheart and naive girlfriend) in the film adaptation of Bernard Malamud's novel about the world's greatest baseball player, director Barry Levinson's fairy tale The Natural
Lindsay Crouse (with her first nomination) as Margaret Lomax (the sister of Sally Field's character) in Places in the Heart
This year, all five nominees for Best Original Song were well-known radio hits, something fairly rare. Stevie Wonder won for his song "I Just Called to Say I Love You," from the film The Woman in Red, thereby becoming the first blind Academy Award winner. The Best Song category was fiercely competitive, with nominees including Phil Collins' title song ("Against All Odds (Take a Look at Me Now)") from Against All Odds (its sole nomination), two nominations from Footloose (for "Footloose" and "Let's Hear It For the Boy"), and the title song from Ghostbusters .
This year's honoree with an Honorary Oscar was the venerable James Stewart, who had won a Best Actor Oscar forty-four years earlier for The Philadelphia Story (1940) - his only win out of five Best Actor career nominations (he had also been nominated in 1939, 1946, 1950, and 1959). He was honord for "his fifty years of memorable performances. For his high ideals both on and off the screen. With the respect and affection of his colleagues."
Oscar Snubs and Omissions:
Writer/director James Cameron's low-budget, science-fiction action film The Terminator - with Arnold Schwarzenegger as the threatening, leather-clad cyborg, and Linda Hamilton as the rescued Sarah Connor by Kyle Reese (Michael Biehn) was entirely absent from any awards categories. So was Australian director Paul Cox's touching yet kinky Man of Flowers, as was writer/director/star Rob Reiner's quasi-documentary spoof This Is Spinal Tap about an aging British heavy metal band. And Sergio Leone's final film, Once Upon a Time In America, went completely unnominated, with its lead performances by Robert DeNiro (as 'Noodles') and James Woods (as 'Max') as childhood friends/rivals spanning four decades, Elizabeth McGovern's supporting role as Deborah, and Ennio Morricone's score. Its neglect by Academy voters was attributed to a disastrous studio cut which severely truncated the film -- had the original nearly four hour running time version been released, the film might have been given far more consideration.
Tri-Star, a new studio, released its first film - Barry Levinson's sports drama The Natural, with four unsuccessful nominations - Best Art Direction, Best Cinematography, Best Original Score, and Best Supporting Actress. And the biggest box-office earner of the year, Beverly Hills Cop, with Eddie Murphy in a star-making role as Axel Foley, was overlooked.
Although Jeff Bridges received a Best Actor nomination (the film's sole nomination), director/co-screenwriter John Carpenter's Starman was neglected in these other categories: Best Picture, Best Director, Best Actress (Karen Allen as Jenny Hayden), Best Supporting Actor (Charles Martin Smith as scientist Mark Shermin), Best Original Score (Jack Nitzsche) and Best Original Screenplay. [Bridges' nomination was the only nomination ever given to any of John Carpenter's films.] British director and co-writer Michael Radford's faithfully-adapted Nineteen Eighty-Four was also overlooked in all categories with zero nominations, bypassing performances by John Hurt (as Winston Smith), Richard Burton (as O'Brien), and Suzanna Hamilton (as Julia), and the cinematography of acclaimed Roger Deakins.
Many other actors were denied award opportunities:
Robert Englund in a unique, infamous, otherworldly role as burn victim terrorizer Freddy Krueger in Wes Craven's A Nightmare on Elm Street (with no nominations)
Victor Banerjee as Dr. Aziz in A Passage to India
Steve Martin as mind-body switched lawyer Roger Cobb (possessed by his dying wealthy client Lily Tomlin) in director Carl Reiner's All of Me
Howard E. Rollins, Jr. as black investigating officer Capt. Davenport and Denzel Washington as Pfc. Peterson in Norman Jewison's A Soldier's Story
Keir Dullea in a difficult reprise of his 2001 Dave Bowman role and Bob Balaban as Dr. Chandra in 2010 (with five unsuccessful nominations)
George Burns in a dual role as God and the Devil in the third (and final) film of the series - Oh God! You Devil (with no nominations)
Tom Hanks as Allen Bauer and Daryl Hannah as mermaid Madison in director Ron Howard's Splash
two actors in the Coen Brothers' un-nominated debut film - a modern day film noir titled Blood Simple - M. Emmet Walsh as sleazy private detective Visser and Dan Hedaya as repugnant Texas strip-bar owner Julian Marty
Kathleen Turner as romance novelist Joan Wilder in the entertaining action-adventure film Romancing the Stone and as prostitute China Blue in Ken Russell's violent and sexually-explicit Crimes of Passion
Taxi TV sitcom star Danny DeVito's star-making role as diminutive, foul-mouthed, sarcastic Brooklyn mobster Ralph in Romancing the Stone
Molly Ringwald as alienated, teenaged high school student Samantha Baker in director John Hughes' debut film Sixteen Candles
Lesley Ann Warren as small bar owner Eve in Alan Rudolph's romantic comedy/drama Choose Me
Elizabeth Berridge as Constanze Mozart, and Jeffrey Jones as Holy Roman Emperor Joseph II in Amadeus
Mia Farrow - unrecognizable as Tina Vitale, a NJ mobster moll in Broadway Danny Rose
Robert Preston (in his last major film role and screen appearance) as intergalactic, alien recruiter Centauri (modeled after his Harold Hill character in The Music Man (1962)) in The Last Starfighter
Like TRON (1982) two years earlier, the innovative CGI effects of The Last Starfighter, with its use of CGI to replace model miniatures for all its spaceship shots -- were overlooked. Ivan Reitman's Ghostbusters was nominated in two categories (without winning either): Best Song (Ray Parker, Jr.) and Best Visual Effects. It should have been recognized in other categories as well - Best Actor (Bill Murray), Best (Supp.) Actress (Sigourney Weaver), Best Original Screenplay (Aykroyd, Ramis, and Torokvei), Best Production Design (John De Cuir), and Best Cinematography (Laszlo Kovacs and Herb Wagreitch).