1997
The winner is listed first, in CAPITAL letters.
Best Picture


TITANIC (1997)


L.A. Confidential (1997)


As Good As It Gets (1997)


Good Will Hunting (1997)


The Full Monty (1997, UK)
Actor:
JACK NICHOLSON in "As Good As It Gets", Matt Damon in "Good Will Hunting", Dustin Hoffman in "Wag the Dog", Robert Duvall in "The Apostle", Peter Fonda in "Ulee's Gold"
Actress:
HELEN HUNT in "As Good As It Gets", Judi Dench in "(Her Majesty) Mrs Brown", Helena Bonham Carter in "The Wings of the Dove", Kate Winslet in "Titanic", Julie Christie in "Afterglow"
Supporting Actor:
ROBIN WILLIAMS in "Good Will Hunting", Robert Forster in "Jackie Brown", Anthony Hopkins in "Amistad", Greg Kinnear in "As Good As It Gets", Burt Reynolds in "Boogie Nights"
Supporting Actress:
KIM BASINGER in "L.A. Confidential", Joan Cusack in "In & Out", Minnie Driver in "Good Will Hunting", Julianne Moore in "Boogie Nights", Gloria Stuart in "Titanic"
Director:
JAMES CAMERON for "Titanic", Peter Cattaneo for "The Full Monty", Atom Egoyan for "The Sweet Hereafter", Curtis Hanson for "L.A. Confidential", Gus Van Sant for "Good Will Hunting"
---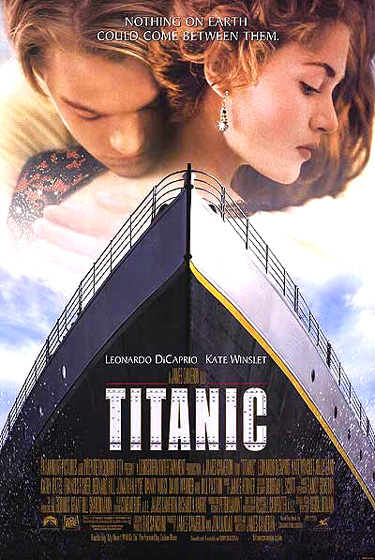 Director-producer-screenwriter James Cameron's three-hour mega-hit, Titanic - both the most expensive film ever made AND the number one, most successful box-office film of all-time (shared by 20th Century Fox and Paramount Studios), was the fictionalized account of the 1912 White Star Line cruise-ship disaster. Its tagline was: "Nothing on Earth could come between them."
It was the first Best Picture winner to gross over $1 billion (worldwide), and $600 million (domestic). Cameron's film was both a love story surrounded with the special-effects sinking of the 'unsinkable' Titanic on its maiden voyage from Southampton, England to New York. The reconstructed ship in the film was three-quarters actual size.
Titanic had a record number of nominations and wins - fourteen, tying the all-time record set by All About Eve (1950). That made it the second of only two films to receive 14 Academy Award nominations, including Best Picture.
It was also the second film to win 11 Academy Awards, including Best Picture - it tied Ben-Hur (1959) with eleven Oscar wins - the most Oscar wins of any film in Academy Awards history. [The Lord of the Rings: The Return of the King (2003) would equal the feat in six years with 11 wins.]
Both Titanic and Ben-Hur (1959) failed to win Best Original Screenplay (Titanic wasn't even nominated in the category), although both films won Best Picture and Best Director honors. To date, it was the last film to win Best Picture without a Screenplay nomination (Adapted or Original); the last Best Picture to not have its screenplay nominated was The Sound of Music (1965).
[The earlier version, Titanic (1953), lacked nominations for Best Picture and Best Director, but had two nominations, including Best Art Direction and it won an Oscar for Best Story and Screenplay - by Charles Brackett, Walter Reisch, and Richard Breen.]
Its fourteen nominations included: Best Picture, Best Director, Best Actress, Best Supporting Actress, Best Art Direction, Best Cinematography, Best Costume Design, Best Film Editing, Best Make-up, Best Score, Best Song ("My Heart Will Go On"), Best Sound, Best Sound Effects Editing, and Best Visual Effects. Titanic lost only three awards for which it was nominated - its two acting nominations, and the Best Make-up nomination. The film wasn't even nominated for its screenplay, and it lost its two actress nominations, making it less of an acting film and more of a technical, craft-related masterpiece. Leonardo DiCaprio in a lead role opposite nominated Kate Winslet was denied a nomination. And 87 year-old veteran actress Gloria Stuart was denied an Oscar - the award would have made her the oldest recipient of an Oscar.
Titanic was the first Best Picture winner to be produced, directed, written and edited by the same individual - James Cameron. Cameron's win put him fifth in a long line of directors who have triple wins for director, writer, and producer for the same film: Leo McCarey for Going My Way (1944), Billy Wilder for The Apartment (1960), Francis Ford Coppola for The Godfather, Part II (1974), and James L. Brooks for Terms of Endearment (1983). Ontario-born James Cameron became the first Canadian to win the Best Director award.
Its competition for Best Picture honors included other big-studio films (unlike the previous year's nominations):
co-writer/director Curtis Hanson's hard-boiled, film-noirish crime drama based on James Ellroy's novel, L.A. Confidential (with nine nominations and two wins - Best Supporting Actress and Best Adapted Screenplay) about many levels of corruption (journalistic, political, police, etc.) in a racially-tense 50s Hollywood; it was overwhelmed by the big-budget production and star power of the ultimate winner
co-writer/director James Brooks' entertaining romantic comedy As Good As It Gets (with seven nominations and two wins - Best Actor and Best Actress) - a successful follow-up vehicle to Brooks' own Best Picture-winning film Terms of Endearment (1983) and the Oscar-less Broadcast News (1987)
independent director Gus Van Sant's Good Will Hunting (with nine nominations and two wins - Best Supporting Actor and Best Original Screenplay) from the debut screenplay of actors Matt Damon and Ben Affleck about a troubled young genius Will Hunting from Boston's working class who must work out his anger
British director Peter Cattaneo's amusing British comedy The Full Monty (with four nominations and one win - Best Musical Score) about a group of unemployed Yorkshire mill workers who striptease to make ends meet
Every director with a Best Picture nomination was a first-time Best Director nominee. The winner of the Best Director award was James Cameron for Titanic. The only director with a Best Picture nomination who wasn't included (and was snubbed) in the group of Best Director nominees was James Brooks. His spot in the Best Director line-up was taken by Canadian director/writer Atom Egoyan for his adaptation of Russell Banks' novel The Sweet Hereafter (with two nominations and no wins) about the aftermath of a tragic schoolbus accident in a small British Columbia town.
Amazingly, both top acting awards were won by the main lead performers in the same film, a comedy - As Good As It Gets. This marked the seventh time in 70 years that the two best acting Oscars were awarded to the same film. The wins made it, to date, the last Best Picture nominee to receive Best Actor and Best Actress wins.
Jack Nicholson won the Best Actor Oscar (his second) for his role as the rich, bigoted, obsessive-compulsive romance novelist in New York named Melvin Udall, who frequents the same restaurant every day and successfuly romances waitress Helen Hunt in As Good As It Gets

[It was Nicholson's third Oscar win - he had won earlier as Best Actor for One Flew Over The Cuckoo's Nest (1975) and as Best Supporting Actor for Terms of Endearment (1983). Nicholson's co-star in One Flew Over the Cuckoo's Nest also won the Best Actress Oscar, so he became a two-time recipient (the only one in Oscar history) of a top award with his co-star. This nomination was his eleventh career nomination. His surpassed his two nearest competitors for the most nominations - Laurence Olivier with ten nominations and Spencer Tracy with nine nominations. Walter Brennan had won three Best Supporting Actor nominations in 1936, 1938, and 1940. And Ingrid Bergman had also won three Oscars - in 1944, in 1956, and in 1974. Only one person had more Oscars - Katharine Hepburn (with four).]


Helen Hunt (with her first nomination and Oscar win), the only American actress among the Best Actress nominees, won the Best Actress Oscar as struggling, working-class single-mother/waitress Carol Connelly in As Good As It Gets.

[With her win, she became the first actress to win an Oscar while simultaneously starring in a TV-sitcom (Mad About You). The same feat had been duplicated in the Best Supporting Actress category, by winners Goldie Hawn (in 1969 while on Laugh-In), and Cloris Leachman (in 1971 while on The Mary Tyler Moore Show). Hunt also was the first (and only) actress to win an Academy Award - and a Golden Globe (both for As Good As It Gets), and an Emmy (for Mad About You) in the same year.]
The remaining Best Actor nominees were:
Matt Damon (with his first nomination) - the only Best Actor nominee newcomer - for his title role as a brilliant physics genius and janitor at MIT who must work on his anger, the result of childhood abuse in Good Will Hunting (instead of winning the acting award, Damon and co-writer Ben Affleck won the Best Original Screenplay Oscar)
Dustin Hoffman (with his seventh nomination) as Hollywood producer Stanley Motss hired by White House officials to divert attention in director Barry Levinson's film based on David Mamet's adapted screenplay Wag the Dog (with two nominations and no wins)
actor/writer/director Robert Duvall (with his fifth nomination) as Texas Pentecostal preacher Eulis ("Sonny") Dewey who becomes 'The Apostle' of God in Louisiana to escape his past in The Apostle (the film's sole nomination)
veteran actor Peter Fonda (with his first acting nomination) as Ulysses ("Ulee") Jackson, a widowed, ex-Vietnam vet and beekeeper in director Victor Nunez' Ulee's Gold (the film's sole nomination)
The other nominees in the Best Actress category, all British competitors, included:
Judi Dench (with her first nomination) as the withdrawn, grieving Queen Victoria in director John Madden's (Her Majesty) Mrs. Brown (with two nominations and no wins)
Helena Bonham Carter (with her first nomination) as well-bred, penniless Kate Croy in director Iain Softley's beautiful romance inspired by Henry James' 1902 novel The Wings of the Dove (with four nominations and no wins)
Kate Winslet (with her second nomination) as upper-class debutante Rose DeWitt Bukater in Titanic
Julie Christie (with her third nomination - coming 32 years after her Oscar win in 1965 and 26 years after her previous Oscar nomination in 1971) as ex-B-movie actress Phyllis Mann in director Alan Rudolph's Afterglow (the film's sole nomination), about two couples with marital difficulties who mix and match
In the Best Supporting Actor category, Robin Williams (with his fourth nomination and first win) won his first Oscar for his performance as psychotherapist Sean McGuire, who assists the young working-class genius Will in Good Will Hunting.
The other four Best Supporting Actor competitors were:
Robert Forster (with his first nomination) as bail bondsman Max Cherry in writer/director Quentin Tarantino's crime film, an adaptation of Elmore Leonard's Rum Punch, Jackie Brown (the film's sole nomination)
Anthony Hopkins (with his fourth nomination) as ex-President and slave defender John Quincy Adams in director Steven Spielberg's Amistad (with four nominations and no wins)
Greg Kinnear (with his first nomination) as Simon Bishop - co-star Jack Nicholson's gay next-door neighbor with a dog who often asks his disapproving parents for money in As Good As It Gets
Burt Reynolds (with his first nomination) as adult film director Jack Horner in writer/director Paul Thomas Anderson's Boogie Nights (with three nominations and no wins), a look at the decadent porn industry in the 70s and 80s
In the Best Supporting Actress category, Kim Basinger (with her first nomination) won her first Oscar for her role as glamorous, sultry movie-star look-a-like (a la Veronica Lake) - a high-priced prostitute Lynn Bracken in the noirish L.A. Confidential.
The other Best Supporting Actress nominees were:
Joan Cusack (with her second nomination) as fiancee Emily Montgomery, engaged to high school English teacher (co-star Kevin Kline) who is outed as gay - in director Frank Oz' In and Out (the film's sole nomination)
Minnie Driver (with her first nomination) as Will's (Matt Damon) affluent British girlfriend Skylar, a Harvard College student on her way to medical school at Stanford in California, in Good Will Hunting
Julianne Moore (with her first nomination) as cocaine-addicted porn star Amber Waves in Boogie Nights
favored 87 year-old Gloria Stuart as Old Rose - the 101 year-old survivor of the disastrous ship accident in Titanic
[It was the first time in Oscar history that two performers - Kate Winslet as young Rose, and Gloria as Old Rose - were nominated for playing the same character in the same film. (This would also occur in 2001, when Judi Dench and Kate Winslet were both nominated for playing Iris in Iris (2001).) Gloria Stuart's nomination made her the oldest performer ever nominated for an Academy Award for Best Supporting Actress. Her closest elderly performer was 82 year-old Jessica Tandy nominated for Best Supporting Actress for Fried Green Tomatoes (1991). Tandy, who won the Oscar two years earlier for Driving Miss Daisy (1989), was the oldest performer ever to win a Best Actress Oscar.]
This year's Honorary Oscar was awarded to 73 year-old Stanley Donen, a legendary choreographer/director who helped to revolutionize the musical, "in appreciation of a body of work marked by grace, elegance, wit, and visual innovation. He had never been nominated in his entire career - for such films as Cover Girl (1944), Anchors Aweigh (1945), On the Town (1949), Take Me Out to the Ball Game (1949), Royal Wedding (1951), Singin' in the Rain (1952), Seven Brides for Seven Brothers (1954), It's Always Fair Weather (1955), The Pajama Game (1957), Funny Face (1957) and Damn Yankees (1958). He was also responsible for Indiscreet (1958), The Grass is Greener (1961), Charade (1963), and Two for the Road (1967).
Woody Allen's Best Original Screenplay Oscar win for Deconstructing Harry - his thirteenth nomination in that category (in 1977, 1978, 1979, 1984, 1985, 1986, 1987, 1989, 1990, 1992, 1994, 1995, and 1997), was one more than Billy Wilder's record of 12 screenplay nominations (in 1939, 1941 (twice), 1944, 1945, 1948, 1950, 1951, 1954, 1959, 1960, 1966).
Oscar Snubs and Omissions:
Kevin Spacey wasn't nominated as Best Supporting Actor for his role as Hollywood celebrity detective Jack Vincennes in L.A. Confidential, nor was Philip Seymour Hoffman for his performance as adult film soundman Scotty in Boogie Nights. And Rupert Everett lacked a nomination for his role as editor George Downes - Julia Roberts' gay confidante in the popular romantic comedy My Best Friend's Wedding, as did Ian Holm for his performance as defense lawyer Mitchell Stephens in Atom Egoyan's drama The Sweet Hereafter.
Three films were completely neglected:
Ang Lee's dramatic tale of dysfunctional families in 1973 suburban Connecticut in The Ice Storm, with Sigourney Weaver and Joan Allen as the two married Connecticut housewives: adulterous Janey Carver and Elena Hood; Kevin Kline took the role of distant husband Ben Hood, who was engaged in an affair with Janey; Christina Ricci also starred as 14 year-old daughter Wendy Hood, and Tobey Maguire portrayed 16 year-old son Paul
David Fincher's psychological thriller The Game, with Michael Douglas as investment banker Nicholas Van Orton
Neil LaBute's script and directorial effort (his debut film) for In the Company of Men, featuring Aaron Eckhart as slimy, evil and misogynistic businessman Chad, and Stacy Edwards as victimized and fragile deaf secretary/typist Christine - presumably, the film's mature, brutal and sordid themes, that also contributed to its difficulty in finding a US distributor, made it difficult for the mainstream Academy to honor it -- although it received accolades at the Sundance Film Festival
And Mike Newell's gangster film Donnie Brasco, with Al Pacino as aging mobster Benjamin 'Lefty' Ruggiero and Anne Heche as Maggie Pistone, was recognized with only one nomination - for Best Adapted Screenplay. Alison Elliott was not nominated for her supporting performance as dying, terminally-ill heiress Millie Theale in The Wings of the Dove, Robin Wright Penn was neglected for her transformative role as white-trash junkie Maureen in She's So Lovely, and Parker Posey was bypassed for playing incest-obsessed, neurotic twin Jackie in the underated Wendy MacLeod play adaptation The House of Yes.