1998
The winner is listed first, in CAPITAL letters.
Best Picture


SHAKESPEARE IN LOVE (1998)


Elizabeth (1998, UK/US)


Life is Beautiful (1997, It.) (aka La Vita E Bella)


Saving Private Ryan (1998)


The Thin Red Line (1998)
Actor:
ROBERTO BENIGNI in "Life is Beautiful", Tom Hanks in "Saving Private Ryan", Ian McKellen in "Gods and Monsters", Nick Nolte in "Affliction", Edward Norton in "American History X"
Actress:
GWYNETH PALTROW in "Shakespeare in Love", Cate Blanchett in "Elizabeth", Fernanda Montenegro in "Central Station", Meryl Streep in "One True Thing", Emily Watson in "Hilary and Jackie"
Supporting Actor:
JAMES COBURN in "Affliction", Robert Duvall in "A Civil Action", Ed Harris in "The Truman Show", Geoffrey Rush in "Shakespeare in Love", Billy Bob Thornton in "A Simple Plan"
Supporting Actress:
JUDI DENCH in "Shakespeare in Love", Kathy Bates in "Primary Colors", Brenda Blethyn in "Little Voice", Rachel Griffiths in "Hilary and Jackie", Lynn Redgrave in "Gods and Monsters"
Director:
STEVEN SPIELBERG for "Saving Private Ryan", Roberto Benigni for "Life is Beautiful", John Madden for "Shakespeare in Love", Terrence Malick for "The Thin Red Line", Peter Weir for "The Truman Show"
---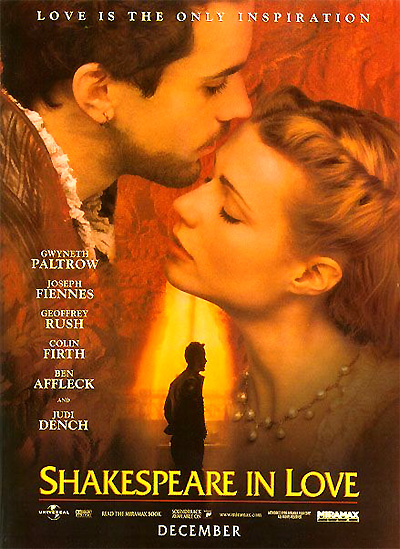 There were two notable firsts for this year's Oscars awards ceremony broadcast on ABC-TV. The 71st annual Academy Awards show was held on March 21, 1999 and hosted by Whoopi Goldberg to honor 1998's films. It marked the first time the ceremony was held on a Sunday, and it was the longest ceremony ever held up to this point, clocking in at 4 hours and 2 minutes.
The Best Picture nominees for 1998 included five films with only two major subjects areas or settings: World War II and Elizabethan England.
The Best Picture Oscar winner and over-all Oscar champ, in a major darkhorse upset, was the light-hearted, factual and fanciful romantic comedy/costume drama Shakespeare in Love about the struggling, writing-blocked, and romantically-afflicted bard in 16th century London. It told the fanciful background story of how the romantic love story, Romeo and Juliet, was composed, when the the bard was writing an earlier version titled "Romeo and Ethel, the Sea Pirate's Daughter." Its tagline was: "LOVE IS THE ONLY INSPIRATION." The film was a hybrid blend, but could be considered the first romantic comedy to win Best Picture since Annie Hall (1977). [Note: It was the last comedy film, to date, to win Best Picture.]
The film had thirteen nominations and seven Oscars (Best Actress, Best Supporting Actress, Best Original Screenplay (co-written by Marc Norman and Tom Stoppard), Best Costume Design, Best Art Direction, and Best Original Musical or Comedy Score). [It has the most Oscar awards (7) for a film that didn't win Best Director.] Shakespeare in Love gave Britisher John Madden his first Best Director nomination - his previous work consisted of only three little-known feature films, one of which was Mrs. Brown (1997). [Only two other films in Oscar history have had more nominations: Titanic (1997) and All About Eve (1950) - each with 14.] Two of the film's three performance nominations were awarded Oscars - only Geoffrey Rush failed to win his bid.
The second runner-up in Oscar awards and nominations was Best Director-winning Steven Spielberg's realistic war epic Saving Private Ryan with eleven nominations and five awards - mostly in technical categories (Best Director, Best Cinematography (Janusz Kaminski), Best Film Editing (Michael Kahn), Best Sound, and Best Sound Effects). (Five-time Oscar winner John Williams received a nomination for Best Score - his 36th nomination. He had already won the Oscar for Best Score three times for previous Spielberg films - Jaws (1975), E.T.: The Extra-Terrestrial (1982), and Schindler's List (1993).)
Saving Private Ryan was a harrowing tale of eight WWII soldiers sent into enemy territory to rescue the sole surviving son of a family. Its vivid opening sequence of the blood-bath attack on Omaha Beach on D-Day was cinema verite at its finest, based on actual veterans' accounts of their experiences. [Spielberg had bounced back, after misfiring with the contrived sequel The Lost World: Jurassic Park (1997) and the uneven slavery saga Amistad (1997). He had returned a fourth time to the war film genre, after three previous attempts at war films: 1941 (1979), Empire of the Sun (1987), and Schindler's List (1993).]
The remaining three Best Picture films tied with seven nominations each, and the first two earned only one Oscar between them:
writer/director Terrence Malick's poetic, ethereal, and meditative work The Thin Red Line (with no wins) from James Jones' 1962 novel documented the Pacific's WW II Battle of Guadalcanal; this unusual war film was Malick's first film after a twenty-year gap and it suffered in the wake of Spielberg's more Oscar-friendly war film
Indian director Shekhar Kapur's big-budget historical costume drama Elizabeth (with only one Oscar, Best Makeup)
the wildly successful, bittersweet, comedy-drama Italian Holocaust fable Life is Beautiful (with seven nominations and three wins), the first film since Z (1969) to be nominated for both Best Picture and Best Foreign Language Film (it won the latter awards distinction, as did Z (1969)). [In awards history, this was the sixth non-English language film to be nominated for Best Picture.]
The Italian film Life is Beautiful, which won three Oscars (Best Actor, Best Foreign Language Film, and Best Dramatic Score), was the 12th Italian film to win for Best Foreign Language Film. It was the second film in Academy history to be nominated both as Best Picture and Best Foreign Language Film in the same year. It opened as the comedic story of Benigni as a clownish, accident-prone Jewish waiter and bookshop owner named Guido and his eager, clumsy courtship of upper-class Dora (Benigni's real-life wife Nicoletta Braschi), a Catholic schoolteacher. After their marriage, they were deported with their five-year-old son Giosue to a WWII concentration camp, where the inspired, Chaplin-esque Guido disguised the fear of the horrors of the extermination camp and bravely shielded his son with an inventive game of hide-and-seek with the Nazis, by promising a tank for the winner.
[Life is Beautiful was the first foreign language film to receive seven nominations - the most-honored foreign-language film in Oscar history up to that time (until surpassed by Crouching Tiger, Hidden Dragon (2000) with 10 nominations). Previously, Das Boot (1982) and Fanny and Alexander (1983) had received six nominations. Z (1969), director Costa-Gavras' French political thriller, was the first film nominated as Best Foreign Language Film that also received a nomination for Best Picture. It also won the Foreign Film Award, but not the Best Picture Oscar.] Life is Beautiful was only the third sub-titled film in Oscar history to be nominated for Best Picture. [The previous two subtitled, Best Picture-nominated films were Z (1969) and Il Postino (1995).]
Miramax backed both Life is Beautiful (as distributor) and Shakespeare in Love (as producer) with millions of dollars in an expensive publicity blitz before Oscar time, and their aggressive efforts paid off handsomely - with a total of 20 nominations between them (and 10 wins).
With his fifth Best Director nomination (and sixth career nomination), Steven Spielberg won the Best Director award for the second time for Saving Private Ryan (his first directorial Oscar was for another war epic - Schindler's List (1993) and previous nominations were for Close Encounters of the Third Kind (1977), Raiders of the Lost Ark (1981), and E.T.: The Extra-Terrestrial (1982)). Spielberg's win marked the first time in nine years that the Best Picture Oscar was awarded to a film whose director was not also honored. (In 1989, director Bruce Beresford's Driving Miss Daisy (1989) won Best Picture when Oliver Stone was named Best Director for Born on the Fourth of July (1989).)
Curiously, of the five Best Picture nominees, only Elizabeth's director was not nominated as Best Director. Although Australian film-maker Peter Weir (who had previously been nominated as Best Director for Witness (1985) and Dead Poets Society (1989)) was nominated as Best Director (his third nomination) for the big-budget satire on celebrity, The Truman Show, his film was not nominated for Best Picture. [His fourth Oscar nomination was a Best Screenplay nomination for Green Card (1990).] Terrence Malick, who had previously directed the lovers-on-the-run film Badlands (1973) and the cinematically-gorgeous Days of Heaven (1978) received a Best Director nomination (his first career Oscar nomination) for The Thin Red Line. It marked his return to film-making after two decades. (Malick was also nominated for Best Adapted Screenplay for the same film.)
Roberto Benigni's Best Actor Oscar win (his first nomination) was only the second time a nominee won an acting Oscar for a Foreign Language film role. His win made him the first male actor in Oscar history to win for a foreign language film role. (He was also the first Italian (foreign-born) to win an Oscar for Best Actor.) [The first occurrence of an acting Oscar for a Foreign Language-film role was Sophia Loren's Best Actress win for Two Women (1961) - thirty-seven years earlier. Italian actress Anna Magnani also won the Best Actress Oscar for The Rose Tattoo (1955), in an English-speaking role.] Benigni was also the first director in 50 years (since Laurence Olivier for Hamlet (1948)) to win a Best Actor Oscar under his own direction - in other words, he was the second performer-actor to direct his own Oscar-winning performance.
Double-Oscar winner Roberto Benigni was a three-time nominee in 1998 as co-author, star, director - and husband!, and officially nominated as Best Director, Best Actor, and Best Screenplay (co-written directly for the screen with Vincenzo Cerami) for Life is Beautiful. [Benigni's triple-nomination was a rare achievement - only Orson Welles (in 1941 for Citizen Kane), Woody Allen (in 1977 for Annie Hall) and Warren Beatty (in 1981 for Reds) have also received simultaneous nominations as actor, director, and writer.]
The other Best Actor nominees were:
Ian McKellen (with his first nomination) as the tormented, homosexual, Universal Studios horror film director of the 30s James Whale - in the low-budget independent film and biopic Gods and Monsters
Nick Nolte (with his second nomination after The Prince of Tides (1991)) as the abused, mentally-ill small-town cop Wade Whitehouse in Affliction
Edward Norton (with his second nomination after a Best Supporting nomination for his role as a psychopathic choirboy in Primal Fear (1996)) as the violent, racist, Neo-Nazi L.A. skinhead Derek Vinyard in American History X
Tom Hanks, already a two-time Oscar winner (for Philadelphia (1993) and Forrest Gump (1994)) received his fourth Oscar nomination for his role as the restrained Captain John Miller in Saving Private Ryan
In 1998, it was the first time that two nominees in the Best Actress and Best Supporting Actress categories were chosen for playing the same character in the same year but not in the same film: England's monarch Queen Elizabeth I - at two different stages of her life. (In 1997, both Kate Winslet and Gloria Stuart were nominated for playing the role of Rose (as a 17 year old and as a 101-year old survivor) in the same year and in the same film! -- Titanic (1997). This would also reoccur in 2001 when Judi Dench and Kate Winslet were both nominated for playing Iris in Iris (2001).):
Australian actress Cate Blanchett (with her first nomination), nominated as Best Actress for her performance as the coming-of-age, coltish, feminist-minded Queen Elizabeth I in Elizabeth
English actress Judi Dench (with her second nomination and first Oscar win) won the Best Supporting Actress Oscar for her eight-minute on-screen performance as the regal, mischievous, authoritative, ornately-costumed Queen Elizabeth I in Shakespeare in Love. (Dench's first nomination was for her portrayal of Queen Victoria a year earlier in Mrs. Brown (1997), also directed by John Madden)
Gwyneth Paltrow (with her first nomination) won the Best Actress Oscar for her role as the struggling bard Shakespeare's irresistible love-interest Viola De Lesseps, who hid her real gender as Thomas Kent through female-to-male cross-dressing, in Shakespeare in Love.
[Note: Reportedly, she said a record 23 "Thank yous" during her acceptance speech.]
The other three Best Actress nominees included:
Emily Watson, who received her second nomination for her role as the title character in Hilary and Jackie - the late Jacqueline du Pre, an acclaimed classical cellist/musician afflicted with multiple sclerosis (after her Best Actress nomination two years earlier for her big-screen debut in Breaking the Waves (1996))
famed Brazilian actress Fernanda Montenegro (with her first nomination) as ex-schoolteacher Dora in director Walter Salles' Central Station
two-time Oscar winner Meryl Streep (for Kramer vs. Kramer (1979) and Sophie's Choice (1982)), with her eleventh career nomination for her role as mother figure Kate Gulden in an adaptation of Anna Quindlen's 1994 novel, One True Thing. [Note: This was Streep's 9th Best Actress nomination. Streep's nomination pushed her past 10-time nominee Bette Davis, and edged her closer to Katharine Hepburn's record of 12 nominations.]
In the Best Supporting Actor category, James Coburn with a long acting career, the only first-time nominee was the winner (his first career Oscar win!) - for his role as Nick Nolte's tyrannical, abusive and alcoholic father Glen "Pop" Whitehouse in the poignant film Affliction.
Three of the actors in the Best Supporting Actor category (Geoffrey Rush, Billy Bob Thornton, and Ed Harris) were second-time nominees:
Australian actor Geoffrey Rush for his role as the buffoonish, debt-ridden Elizabethan theater owner and impresario Philip Henslowe in Shakespeare in Love. (Rush won the Best Actor Oscar in 1996 for his role as piano savant David Helfgott in Shine (1996), defeating Billy Bob Thornton who was also nominated as Best Actor for his role as Karl Childers in Sling Blade (1996) in the same year.)
Billy Bob Thornton for his portrayal as the dim-witted Jacob Mitchell in director Sam Raimi's tale of crime A Simple Plan. (Rush and Thornton were facing each other again as they did in 1996.)
Ed Harris for his role as the omnipotent, beret-wearing Christof, the creator of The Truman Show. (Harris was previously nominated three years earlier as Best Supporting Actor for Apollo 13 (1995).)
The final nominee in the Best Supporting Actor category was one-time Oscar-winner Robert Duvall (his sixth career nomination after previous nominations in 1972, 1979, 1980, 1983 and 1997) as Bostonian corporate defense attorney Jerome Facher opposed to John Travolta's crusade in A Civil Action. [Duvall won the Best Actor Oscar sixteen years earlier for Tender Mercies (1983).]
Four of the five Best Supporting Actress nominees were experiencing their second nomination:
Judi Dench (see above)
Australian actress Rachel Griffiths, the only first-time nominee, for her role as the less-gifted, eclipsed older sister Hilary in Hilary and Jackie
Kathy Bates for her role as Southern political veteran Libby Holden in Primary Colors. (She won the Best Actress Oscar for her role as a psycho-fan in Misery (1990))
British theatrical actress Brenda Blethyn for her portrayal of the drunk and widowed mother Mari in Little Voice (She was nominated as Best Actress two years earlier for her third film Secrets and Lies (1996))
British actress Lynn Redgrave, for her role as James Whale's devoted Hungarian housekeeper Hanna in Gods and Monsters (She had been nominated thirty-two years earlier for Georgy Girl (1966))
This was the controversial year that Elia Kazan, who 'named names' during the McCarthy hearings for the HUAC, was given an Honorary Oscar award "in recognition of his indelible contributions to the art of motion picture direction." In his career, he had been nominated as Best Director five times with two wins: Gentleman's Agreement (1947) (win), A Streetcar Named Desire (1951), On the Waterfront (1954) (win), East of Eden (1955), and America, America (1963). He also had one unsuccessful nomination for Best Original Story and Screenplay for America, America (1963).
Oscar Snubs and Omissions:
Jim Carrey was denied a nomination as Best Actor for his central role as unwitting TV show star Truman Burbank in Peter Weir's The Truman Show (a film also denied a Best Picture nomination), and Bill Murray for Best Supporting Actor as eccentric business millionaire in love with first-grade school teacher Miss Cross (Olivia Williams) in Wes Anderson's off-beat comedy Rushmore. [Bill Murray was also solid as a lawyer in the trashy film Wild Things.]
And Joseph Fiennes was denied a nomination in the title role as Will Shakespeare in the Best Picture winner Shakespeare in Love. Lisa Kudrow was un-nominated for her role as uptight school teacher Lucia DeLury, and Christina Ricci was also unrecognized for her role as bitchy, manipulative, and cunning teenager Dede Truitt in writer/director Don Roos' black comedy and independent film The Opposite of Sex (with no nominations). James Urbaniak was ignored for his performance as a janitor named Simon Grim who discovers his gifted talent for writing in Henry Fool.
Jane Adams was not nominated for her role as eternally-optimistic Joy Jordan, and Dylan Baker was also snubbed for his courageous performance as the disturbed and sick pedophile and psychologist Dr. Bill Maplewood - who was obsessed with his 11-year-old son Billy's classmate Johnny Grasso (Evan Silverberg), in writer/director Todd Solondz's controversial study of sexual humiliation titled Happiness.
None of the ensemble cast members of Malick's The Thin Red Line were nominated for acting awards: Sean Penn, Nick Nolte, Elias Koteas, Ben Chaplin, or Jim Caviezel. American History X (with one Best Actor nomination) had other notable, unnominated performances by Beverly D'Angelo and Edward Furlong. Bill Condon's Gods and Monsters (with three nominations: Best Actor, Best Supporting Actress, and a win for Condon's Best Adapted Screenplay) ignored Brendan Fraser's performance as hunky gardener Clayton Boone. And the great actress Meryl Streep was ignored for her role in the Irish drama Dancing at Lughnasa, as the oldest of five spinster sisters, a schoolteacher named Kate, awaiting a missionary brother's return from Africa in the mid-30s.
And there was no nomination for The Celebration as Best Foreign Language Film, or for the following: the Coen Brothers' The Big Lebowski, Darren Aronofsky's directorial debut feature film Pi, Alex Troyas' tech noir thriller Dark City, or Alfonso Cuaron's modern-day retelling of Charles Dickens' Great Expectations featuring Robert De Niro's supporting performance as Magwitch-like crook Lustig.
A nomination for Best Score (Harry Gregson-Williams and John Powell engaged an 85-piece orchestra and 25-member chorus to perform the lively music) for Antz was displaced by the Best Musical or Comedy Score nomination (for Randy Newman) given to another insect-related score, A Bug's Life.